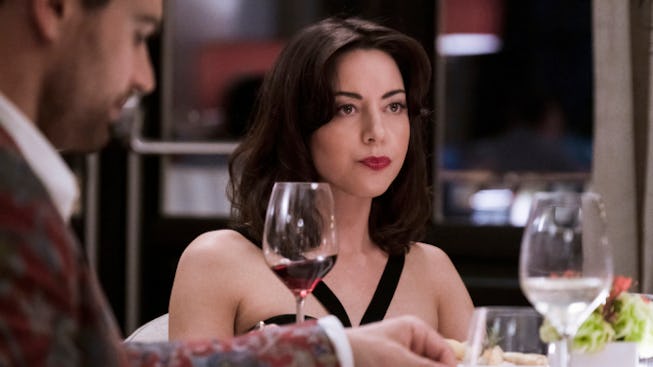 HBO
The White Lotus Season 2 Trailer: Italian Sleaze, Vespas, & Scandal
Plus, Jennifer Coolidge reprises her role as Tanya McQuoid, the spiritual and delusional socialite.
HBO Max's The White Lotus, the whodunnit social satire about a group of super rich people vacationing at a luxury hotel in Hawaii, is gearing up for its second season.
The miniseries, which premiered in July 2021, generated tons of Twitter buzz — especially due to the influx of the many "We just realized how good of an actor Jennifer Coolidge is!" profiles, and exploded in popularity, where it seems like every other person was making some kind of joke about how Jake Lacy's character is still reading Malcolm Gladwell's Blink, ranking the evilness of its characters in approval matrixes, and more.
The White Lotus has been compared to Succession, a welcome substitute for our prestige television-starved brains hungry to watch the wild antics and emotional entanglements of lonely, greedy people. The six-part series was helmed by Mike White, who also created — no big! — School of Rock, where he played Ned Schneebly, Sarah Silverman's passive, enabling bf; Enlightenment, the phenomenal but supremely slept-on HBO series starring Laura Dern; and was a writer and producer on Freaks and Geeks. To top it off, White also competed in two seasons of The Amazing Race as well as Survivor, making him one of the most bizarrely well-rounded talents in Hollywood.
Find everything you need to know about White Lotus Season 2, below.
When did Season 2 get announced?
HBO announced the show will have a second season even before the premiere of the season one finale in August — something they also did with Big Little Lies. (Though, hopefully, the second season of The White Lotus won't become the Nicole Kidman courtroom drama we didn't need.) HBO execs' pockets are most certainly filling with cash as we speak, and the decision was probably an easy one: According to Deadline, The White Lotus was the No. 1 series on HBO Max in August and its audience only grew week after week.
The White Lotus Season 2 will move onto another luxury hotel
The Deadline report says Season 2 will follow a different group of wealthy freaks — though White told IndieWire that maybe some of the cast could return as the same characters — as they work and stay at another White Lotus hotel, this time swapping the beaches of Hawaii for somewhere in Europe. Hmmm...where else is cursed? Paris?
"I don't think you can credibly have [all the Season 1 guests] on the same vacation again," White told TV Line. "But maybe it could be a Marvel Universe type thing, where some of them would come back. We only made one-year deals with the actors, so we'd have to find out who is even available."
Season 2 is premiering on October 30
Nearly a year after The White Lotus was renewed for a second season, a date has been set for the Season 2 premiere...kind of. You'll be able to check back into The White Lotus on HBO Max in October, as reported by Variety. We don't know the exact date has not been set yet, but it is strategically the month after the Emmy Awards, for which Season 1 is nominated for 20. Along with the announcement comes the first image of the series' second season, which is of Jennifer Coolidge reprising her role as the spiritual and delusional socialite, Tanya McQuoid, as well as a teaser trailer.
The White Lotus Season 2 cast is fully stacked
The White Lotus universe gave us some good news to start off 2022: Aubrey Plaza and Sopranos star Michael Imperioli will be joining the cast of White Lotus Season 2, alongside Season 1 fan fave Jennifer Coolidge. In mid-January, Variety reported that F. Murray Abraham of Homeland, Tom Hollander of the Pirates of the Caribbean franchise, Adam DiMarco of The Order, and Haley Lu Richardson of The Edge of Seventeen will be joining the Season 2 cast.
Plot details are trickling in
Imperioli, noted meditation expert and My Bloody Valentine superfan, best known for his role as Christopher Moltisanti in The Sopranos, will play Dominic Di Grasso, who travels to the White Lotus resort with his elderly father — played by Abraham — and college-aged son — played by DiMarco. Plaza will play Harper Spiller, a woman on vacation with her husband and his friends. Hollander will play Quentin, an English expat vacationing with his friends and his nephew, while Richardson will play Portia, a young woman traveling with her boss.
In October, TV Line reported Jennifer Coolidge, who played Tanya McQuoid, the spacey middle-aged socialite visiting Hawaii to sprinkle her mother's ashes and have a lot of white wine breakdowns, will be returning to the cast for Season 2. White has not yet announced whether Coolidge will reprise Tanya, or if she'll come back as an entirely new character. Sarah Paulson and Ryan Murphy, watch out: There's a new anthology series in town!
Season 2 will take place in Sicily
As reported by Variety, Season 2 of White Lotus is going to be set in Sicily, a locale that couldn't be more perfect for our Sopranos-obsessed culture or boundless love for Imperioli.
A source close to the show confirmed that the Four Seasons Hotel in San Domenica Palace in the exclusive Sicilian resort town of Taormina will stand in for the White Lotus hotel. (The Four Season Report Maui was used for the first season.) According to the San Domenica Palace's website, it's closed to guests until April 1, which means the show is set to start filming soon.
Aubrey Plaza and Jennifer Coolidge probably have a scene together
When asked if Plaza and Coolidge have a scene together in an interview for Cosmopolitan, Plaza fist dodged the question, replying that she wasn't sure if she was allowed to say, before later confirming she does. "I do. I do. I do. I believe I do," Plaza said. "But most of my story is a separate story. I play a woman who's married and we're on vacation with another couple. Our story exists with our little foursome, but there are moments when some of the characters overlap, like in the first season."
More of Season 1 Cast Members May Return Than Originally Thought
After The White Lotus received 20 total Emmy nominations, its cast members are revealing more ideas showrunner Mike White may have for Season 2 of the series.
"Shane [played by Jake Lacy] and I would be on a boat, talking about other people, annoying everyone around us," Alexandra Daddario, who played disgruntled newlywed Rachel Patton, told Deadline. "Mike's brain is always working. That's the whole thing with his commentary on the world around him: He's always observing."
"Mike texted Alex and I with this idea for an episode where the two of us are talking for a half hour; it's just the banality of rich people on a boat," Lacy added.
And White is already talking about a third season
Connie Britton, who plays rich out-of-touch girlboss mother and wife Nicole Mossbacher said there was talk about Nicole returning for Season 2. It didn't work out, but she might come back for Season 3. "He wanted me to be in the second season, and there was an idea that I loved for the character. Our intention is to do it in the third season," Britton told Deadline. "A piece of casting didn't work in the second season and we're hoping to that in the third season. I would love to see a spinoff on every character in that show."
I don't think there's a White Lotus fan amongst us who wouldn't watch a spinoff of every character of the show, particularly in the Year of Sydney Sweeney.
Season 2 trailer is here promises Vespas, drama, and scandal!
At long last, the Season 2 trailer has arrived — and despite being hyped for the better part of the last year, is not at all overhyped. We see the gang in Sicily, some celebrating a honeymoon, others on a quest to learn about their Sicilian heritage, and of course Jennifer Coolidge's character Tanya McQuoid, newly married and with an assistant in tow, who's just there to have a good time. There are Vespas, family conflicts with the sleazy patriarch played by Michael Imperioli; there is a suspicious Aubrey Plaza unhappy in a new marriage; there's Imperioli's character partying with underage girls; everyone takes molly at one point. "It's just been a series of very bad decisions," we hear Tanya say. Thankfully, we won't have to wait long to find out what any of this means; season 2 premieres on October 30.
This article was originally published on