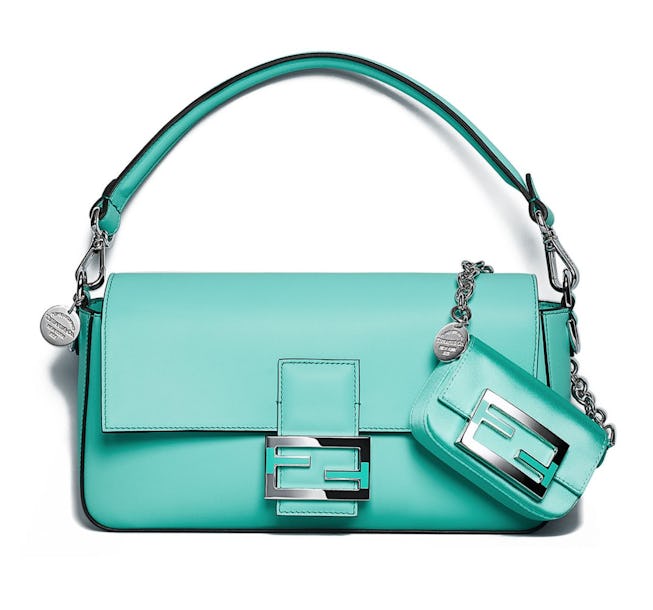 Where To Buy Fendi x Tiffany & Co.'s Baguette Bag Collection
The Fendi x Tiffany & Co.'s Baguette Bag Collection Is Here
Fendi x Tiffany & Co. release the coveted Baguette Bag in the iconic blue shade.
In fashion, few things deserve the usage of the word iconic more than Fendi's Baguette bag. One of those few things? Tiffany & Co.'s signature blue shade. For the bag's 25th anniversary, the two legacy brands have come together for a new Baguette capsule collection, all celebrating Tiffany & Co.'s legendary colors.
Created by Silvia Venturini Fendi in 1997, the Fendi Baguette was often seen on the arm of Sex and the City's resident frivolous shopper Carrie Bradshaw and in countless standout colorways over its 25 year tenure as an It Bag. Now, the Fendi Baguette's link up with Tiffany & Co. features four sizes, ranging from the nano and pico versions to the classic medium size. The capsule also includes various textures and finishes, all with Tiffany & Co.'s beloved silver hardware: smooth leather, croc finish, smooth satin, and a special, one-of-a-kind Baguette in sterling silver. The latter Baguette was made over the course of four months, and boasts engravings of lilies and roses, aka the national flowers of Fendi's Italy and Tiffany & Co.'s New York State, respectively. The Baguette is also the only bag in the collection that's part of Fendi's "hand in hand" initiative and Tiffany & Co.'s "Makers" workshop.
The capsule made its debut on the runway in September 2022, and is now available at select Fendi boutiques, as well as Fendi and Tiffany & Co.'s online stores. And for a very expected effect of two legacy brands joining together, snagging a bag of your own won't come cheap; prices range from $2,350 for the pico version, to $5,500 USD for the medium-sized Baguette. But what's a few racks for a double dose of iconic fashion?
See more photos of the Fendi x Tiffany & Co. Baguette bags, below.