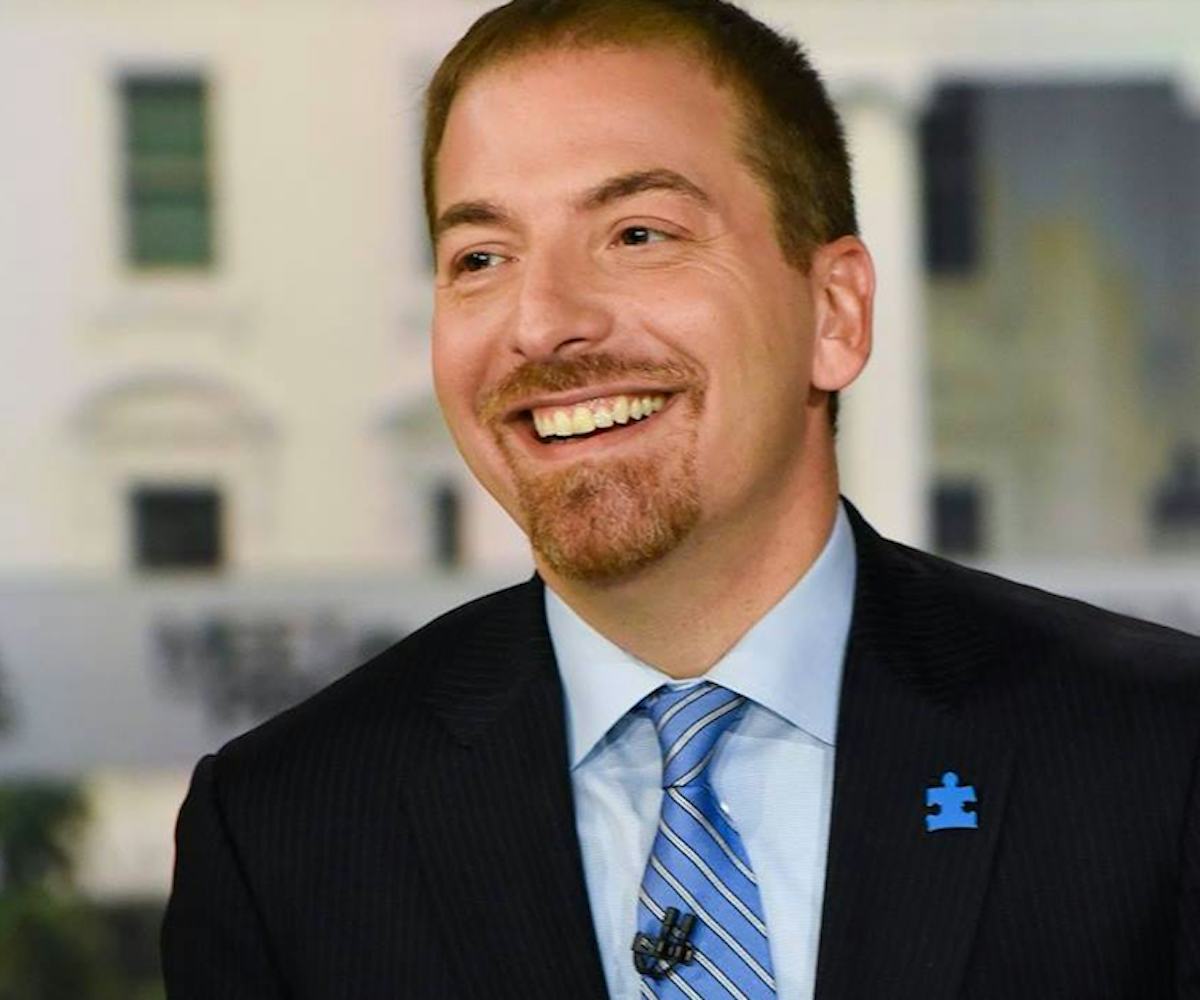 Photo via Facebook @ChuckTodd
Trump Goes On New Tirade Against The Media, Calls Chuck Todd 'Sleeping Son Of A Bitch'
What does that even MEAN?
Surprise! On Saturday, March 10th, President Trump held a campaign rally for struggling Republican House candidate Rick Saccone at Atlantic Aviation in Moon Township, Pennsylvania, and it was...a lot. In addition to calling for the death penalty for drug dealers (which he said he got from Chinese President Xi Jinping and, surprisingly, not from Philippines President Rodrigo Duterte) and boasting about his future talks with North Korean leader Kim Jung Un, Trump launched an attack on Meet The Press moderator Chuck Todd.
While talking about his 1999 appearance on the show, the president said that Meet the Press is now led by "sleepy eyes Chuck Todd" and that he is a "sleeping son of a bitch." Which, what does that even mean? President Trump is known for sleeping only a few hours each night, likely because he has upwards of 12 cans of Diet Coke coursing through his veins at any given time. So because Trump won't switch to decaf, having slept is now another thing he can use to launch baseless attacks against reputable members of the media? Sad! (Wait, what if every time Trump says "sad!" we replace it with "tired!"? Would that explain a lot?)
For his part, Todd took the insult with great poise and humor. He first joked on
, "Don't miss @MeetThePress
tomorrow! I know folks may be tired in the morning due to springing forward, so set those clocks and DVRs now before your eyes get too sleepy." He then told 
, "I bring my kids up to respect the office of the presidency and the president. I don't allow them to say anything negative, ever, about the president," adding, "It creates a challenge to all parents when he uses vulgarities like that." Todd also said that the president is still welcome on Meet The Press "any Sunday he wants."
A number of prominent journalists have come to Todd's defense. 
, "Pres Trump at a Penn rally calls my colleague and friend Chuck Todd a "sleeping SON OF A BITCH." Really classy. Explain that to your children." And Jeffrey Goldberg, editor-in-chief of The Atlantic, 
"The President of the United States is creating dangerous conditions for journalists, and for the free press itself." 
Sadly, this is certainly not the last time Trump will launch a petty, schoolyard attack at a member of the media. The scary thing is not knowing if and how his attacks will escalate as he continues to be besieged by investigations into misconduct by himself and the people closest to him.
Check out Trump's attack on Chuck Todd in the clip below.