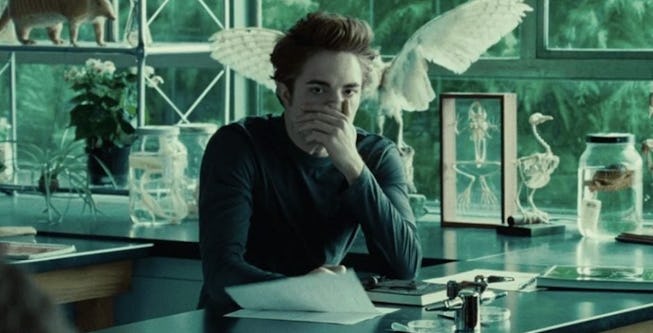 Lionsgate
Hollywood Is Adapting Twilight (Again)
In a Hollywood with no new thoughts, a perfect adaptation might be re-adapated.
There are no new ideas in Hollywood. The Twilight series, which consisted of five films from four novels published between 2005 and 2008 was one of the most successful book-to-screen adaptations of all time. Not only did they help usher in an era of vampire mania (True Blood, The Vampire Diaries, What We Do In The Shadows, etc.), the series launched the now-storied careers of Robert Pattinson and Kristen Stewart. (I guess also the career of Taylor Launter.) But for some reason, one successful adaptation of a YA vampire love story simply wasn't enough for Hollywood, and now there's talk of adapting Twilight into a television show.
According to sources, Wyck Godfrey, whose production company produced the five Twilight films is attached as an executive producer, along with Erik Feig, the former co-president of Lionsgate Motion Picture Group. One good element from this mess is that Stephanie Meyers, who wrote the novels, is expected to be involved in any potential series, as she was with the films. According to the Hollywood Reporter, Sinead Daly, whose credits include Tell Me Lies, The Walking Dead: World Beyond is attached to write the script.
It's not clear if the adaptation would follow the original four novels, or if it would take creative liberties and follow the two books Meyers has written since the films: Life and Death: Twilight Reimagined in 2005 which gender-swapped Bella and Edward, and Midnight Sun in 2020, which told the story of the first book from Edward's perspective rather than Bella's. Frankly, it feels unnecessary to mess with a good thing.
The Hollywood adaptation wheels are always greasy, but lately they have been more so — with a slew of totally redundant adaptations planned. Similarly to Twilight, the Harry Potter series is set for a TV adaptation for HBO MAX and to make matters worse, J.K. Rowling is attached to produce. And if all of this isn't bad enough, perhaps most heartbreakingly, Amazon has ordered a TV adapatation of Cruel Intentions, the 2001 psychosexual drama starring Reese Witherspoon, Ryan Phillipe, and Sarah Michelle Gellar, which is an adapation of Pierre Choderlos de Laclos' 1782 novel Les Liaisons dangereuses. It's also a perfect film. Enough is enough!