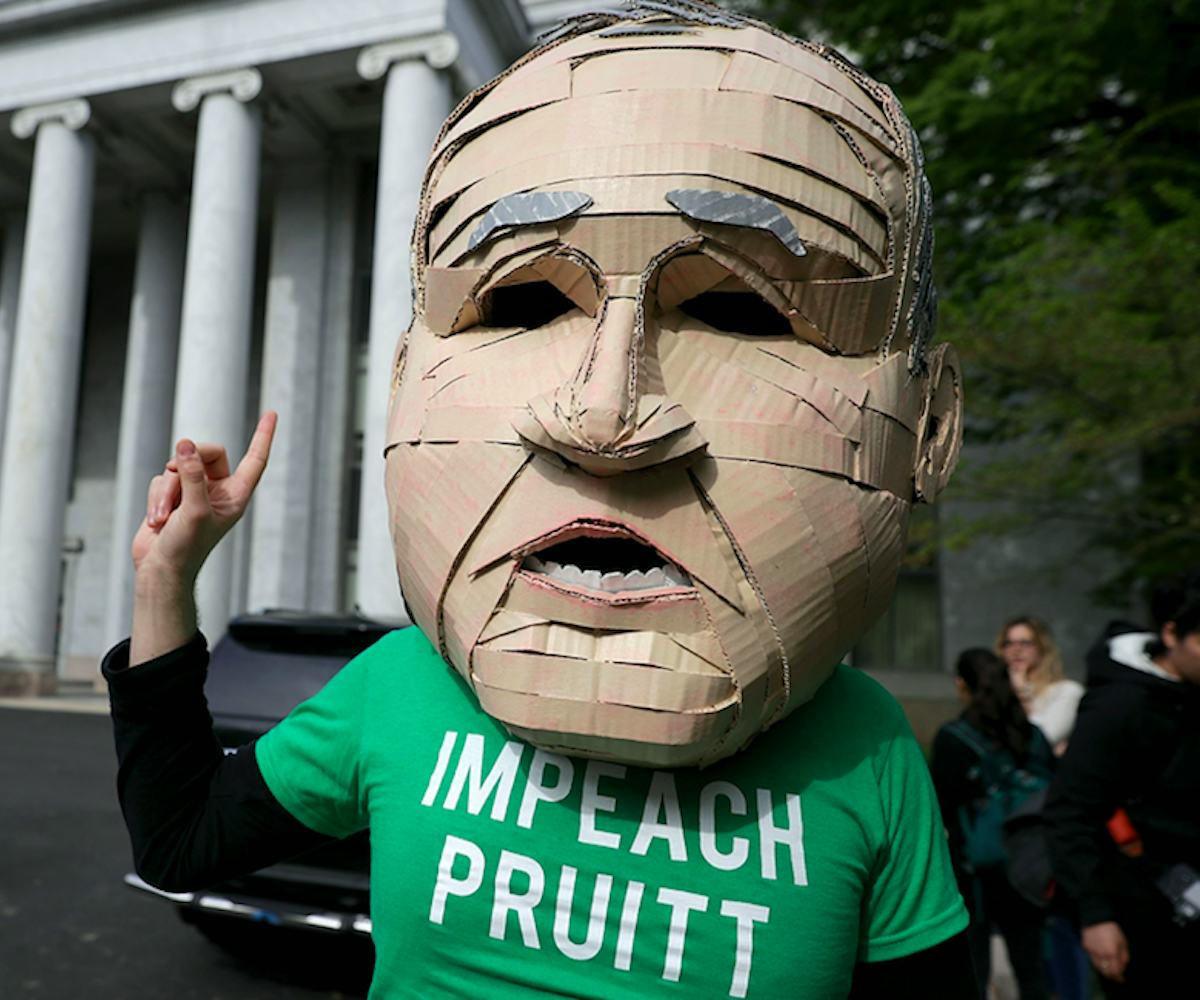 Getty Images/Photo by Chip Somodevilla
The New Acting EPA Chief Is A Climate Change Denier
A former coal lobbyist is now in charge
Today, Andrew Wheeler begins his first day as Acting Chief of the Environmental Protection Agency. This change in leadership follows the resignation of former EPA Chief Scott Pruitt, who left office amidst a web of ethics scandals, including (but not limited to) costly trips funded by taxpayer money and insisting aides perform personal tasks on his behalf; Pruitt's resignation was tendered on July 5.
Donald Trump announced via Twitter this morning that Wheeler would "assume duties as the acting Administrator of the EPA," leaving many to wonder just who exactly Wheeler is. Could he possibly be worse than Pruitt? Well, let's see. Considering he's a former coal lobbyist, we're going to say yes. And we're not alone in our concern.
"Many worry Wheeler will be more effective at implementing Trump's anti-environmental agenda than Pruitt was," Paul Bledsoe, a former Clinton White House climate adviser, said to The New York Times. Additionally, several Democratic senators voiced their fears, citing his involvement with fossil fuel companies and refusal to address the issue of climate change in a serious manner. 
Wheeler is known for associating with people who deny that that humans and our habits have a negative impact on the environment, and is on record stating that "man has an impact on the climate, but what is not completely understood is what the impact is," during his Senate hearing in November 2017, when he was named Deputy Administrator of the EPA. 
Wheeler was also once chief of staff to Oklahoma Senator Jim Inhofe, who has insisted that climate change is a "hoax" and had the audacity to bring a snowball onto the Senate floor in 2015 to prove his point. And Wheeler has previously stated that "the environment today is cleaner than it has ever been in modern times. As a nation, we have made tremendous progress since the 1970s, and we have to build upon that progress going forward." This is just untrue.
But it isn't surprising, given his work as a paid lobbyist for a number of coal companies, which led to The New York Times naming Wheeler as someone who "quietly and incrementally advance[s] the interests of the fossil-fuel industry" by "weakening or delaying federal regulations."
He's also an advocate for rolling back federal land protections and minimizing space allocated for National Parks. According to NPR, Wheeler assisted in lobbying for the devolution of Bears Ears National Monument in Utah during his time as an employee for a uranium mining firm. This is a change which was ultimately approved by Trump in 2017 as part of his administration's efforts to slash Obama-era regulations and protections. It was the largest rollback of federally protected land in U.S. history.
With the EPA already going through major regulatory changes, Wheeler's leadership is predicted to carry the agency further along the path of Trump's agenda of climate change denial. So, yeah, keep recycling.