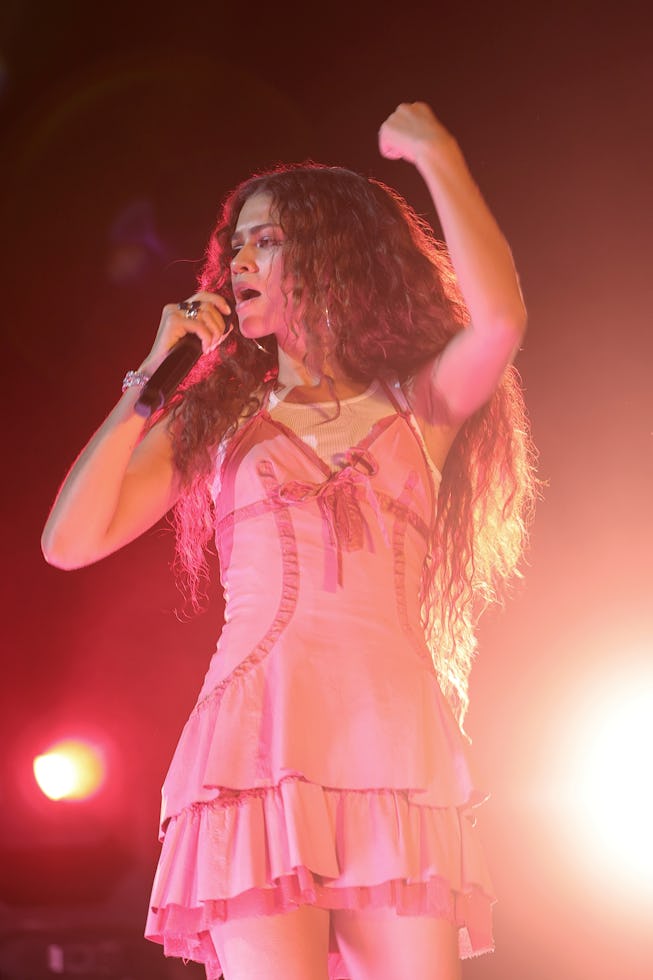 Michael Loccisano/Getty Images Entertainment/Getty Images
Zendaya Made a Surprise Performance at Coachella
Surprise! Zendaya performed at Coachella.
At the end of Coachella'a first week, the festival was in a bit of a PR crisis after Frank Ocean's very late and very brief set, which ultimately ended with him cancelling his second performance. But the beautiful thing about life is that it can turn on a dime: The biggest twist from the Coachella's second weekend is a surprise performance from Zendaya, her first in seven years.
The actress joined Labrinth for the final two songs of his set Sunday night, singing "I'm Tired" and "All for Us," which were written for Euphoria. (In fact, Zendaya co-wrote "I'm Tired.") Zendaya, a noted style icon, marked the occasion by wearing some pristine vintage: a pink Roberto Cavalli 2004 mini dress from Aralda vintage.
Zendaya wasn't the only star to make a guest appearance on the Coachella stage for Labrinth's sets, who was able to harness some serious star power. Sia and Maddie Ziegler of Dance Moms fame also made guest appearances, with Sia joining him onstage to perform "Thunderclouds." Last weekend, Billie Eilish joined him onstage to perform their collaboration "Never Felt So Alone."
After her performance, Zendaya posted an Instagram story of her performance and thanked Labrinth.
"Thank you to my brother @labrinth for inviting me and giving me the most beautiful safe space to be on a stage again," she wrote. "And to the crowd tonight … Wow. My heart is full, I can't thank you enough for the love I received tonight, [it] made my nerves melt away. I'm so grateful." She then posted a video speaking directly to the camera, telling her followers and Labrinth that she "wanted to say thank you again for such a magical, beautiful night."
A quick refresher if you were unfamiliar with Zendaya's pop beginnings: Zendaya, like many a teen star before her, had a short-lived music career. The Disney Channel star released original music in 2013 with her self-titled pop album that actually kind of holds up. Nevertheless, she pivoted away to focus on acting — a gift for us all, because she's made Euphoria everything it is. But after her brief, but powerful Coachella performance, I don't think anyone would be mad she wanted to pivot back. (Is Jack Antonoff available?)
But if you want a taste of 2013 dance pop and Zendaya's glitchy, Step Up-like dance moves, you can watch the music video for "Replay," below, but be warned, it will stay in your head all day.