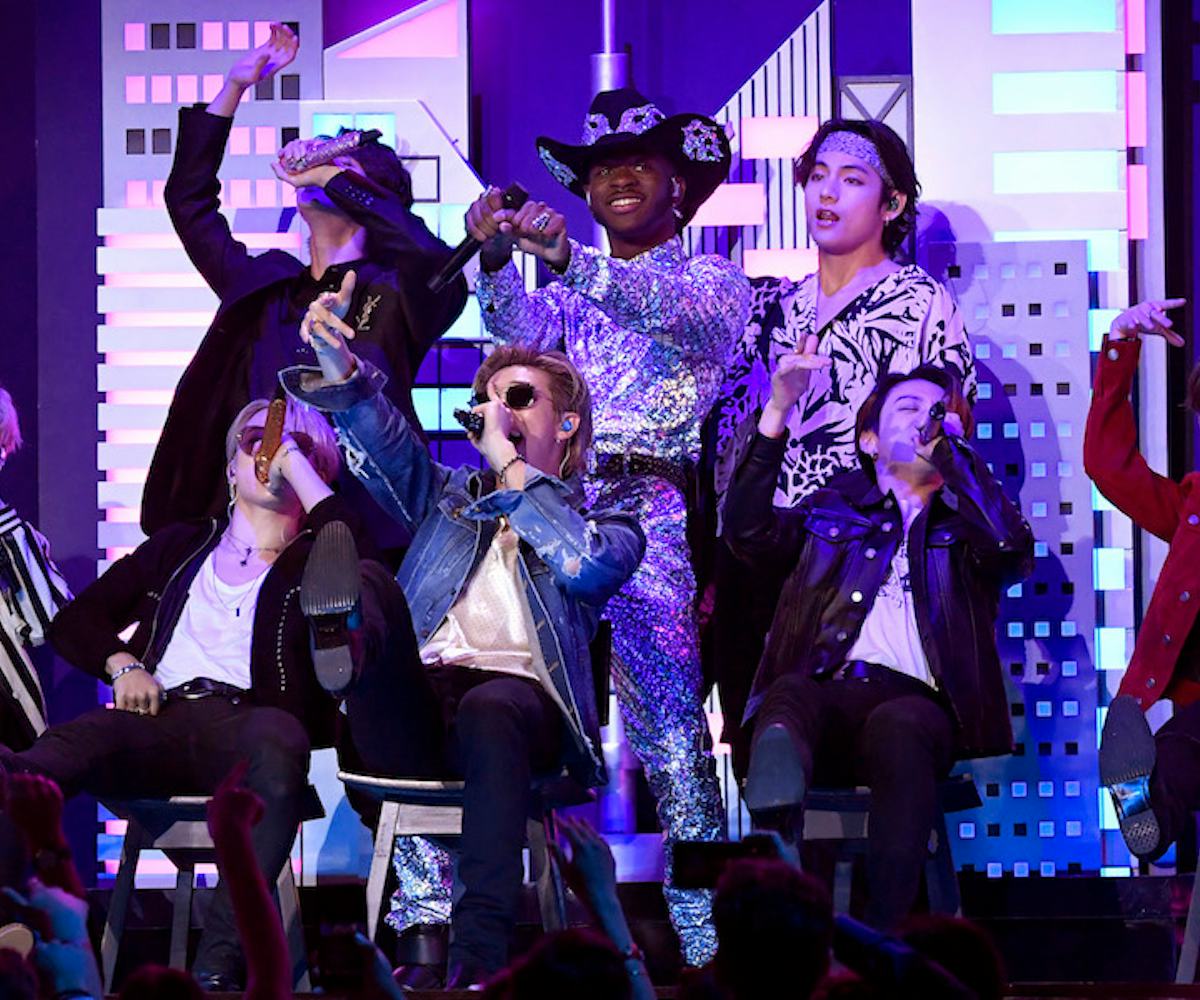 Photo by Kevork Djansezian/Getty Images
See Lil Nas X's Wild 2020 Grammys Performance Featuring Nas, BTS, & More
Lil Nas X has ridden that "Old Town Road" from Soundcloud and TikTok all the way to the 2020 Grammy Awards, and his performance lived up to the never-ending hype that preceded it. Nearly everyone who had ever touched the viral hit — including Diplo, Billy Ray Cyrus, Walmart yodeler Mason Ramsey, and K-pop sensation BTS — joined in to create one mega-collab onstage at the awards show.
Just as it once seemed that new "Old Town Road" remixes would never stop coming, Lil Nas X's Grammy performance kept the surprises rolling in. The performance began with the young rapper solo, hanging out in a bedroom set decorated with his own framed magazine covers and a subtle tribute to late legendary basketball player Kobe Bryant. He then joined all of BTS — not just RM, who appeared on the official remix — for a rowdy segment to the performance.
Lil Nas X cut the chill-sesh short with BTS to move along to the next part of his performance, joining Mason Ramsey and Diplo to up the yeehaw levels at the Grammy Awards. Billy Ray Cyrus rounded out the string of "Old Town Road" collaborators with Lil Nas X, performing in a stables covered in hot pink and glitter. Lil Nas X saved the best for last, revealing special guest Nas to deliver a killer verse on "Rodeo". According to a later Instagram post by Lil Nas X, he collaborated with Nas on a forthcoming official remix of the track, set to be released late Sunday.
At time of publishing, Lil Nas X had won two Grammy Awards during the 2020 season with "Old Town Road" ft. Billy Ray Cyrus; Best Music Video and Best Pop Duo/Group Performance.
Check out clips from the performance below.