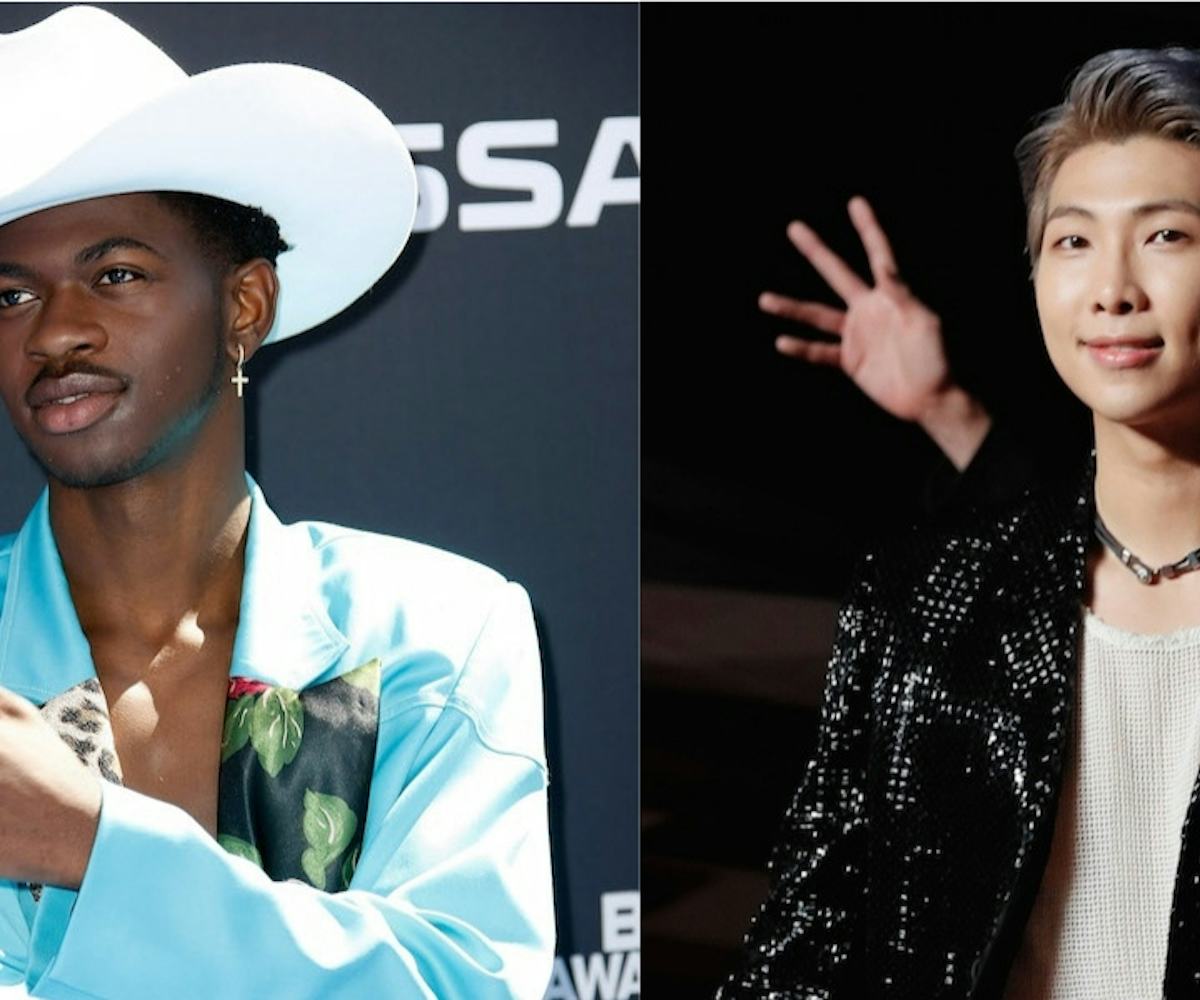 Photos by imageSPACE/Shutterstock, Kin Cheung/AP/Shutterstock
Lil Nas X Tapped BTS' RM For "Last" Remix Of "Old Town Road"
I'll believe it when I see it
Lil Nas X has released yet another remix of "Old Town Road," titled "Seoul Town Road" and featuring the only artist who might have more digital sway than him right now: BTS member RM. If anything was going to secure Nas' chance at smashing each and every chart record, it's BTS, so brace yourself to ride 'til Nas can't no more.
Nas captioned his Instagram announcement "last one y'all i promise" with a smiling devil emoji, and TBH I'll believe it when I see it. I'm fully expecting a new remix to keep popping up each month, at least through the end of the year, maybe with Dolly Parton and Megan Thee Stallion on the one that finally breaks the internet (if the BTS fanbase hasn't done that already today).
"Seoul Town Road" is the shortest remix to be released yet, concluding just six seconds shy of the two minute mark. RM flexes his yeehaw meme knowledge in his verse, singing about his "homies in the back" which would obviously refer to his BTS crew, but also to a Homi, a Korean hand plow.
As of right now, there's no music video in sight for this remix. Earlier this month, Nas dropped a remix with Walmart yodeler Mason Ramsey and Young Thug with a simple animated emoji video, and at the beginning of all the hype dropped the "Old Town Road" movie with Billy Ray Cyrus. If BTS isn't too busy, I'm sure "Seoul Town Road" could seriously benefit from their slick choreography.
Listen to "Seoul Town Road" below.