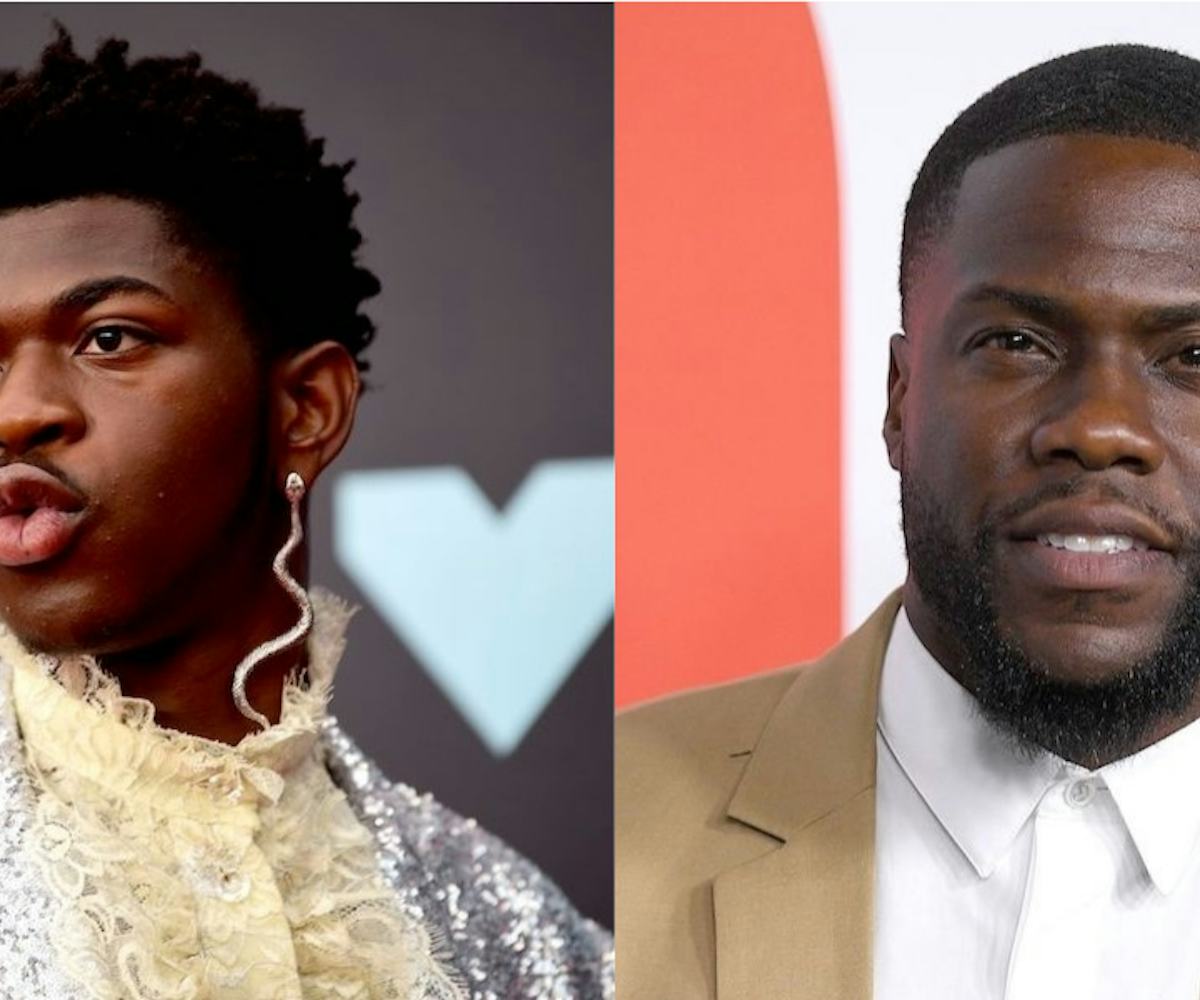 Photos by Andrew H. Walker/Shutterstock, DAN HIMBRECHTS/EPA-EFE/Shutterstock
Lil Nas X Shouldn't Have To Explain His Fear Of Coming Out To Kevin Hart
Given Hart's past comments
Lil Nas X sat down with Kevin Hart and Maverick Carter on HBO series The Shop, and in a first clip shared by the network, the viral performer's coming-out was the topic of conversation. Hart, who infamously quit his gig hosting The Oscars instead of apologizing when past homophobic statements resurfaced, pressured Lil Nas X into explaining his thought process behind coming out, asking what the big deal was about the statement.
"He said he was gay. So what," Hart asked when the topic was breached. Lil Nas X, a sweet angel of a human, calmly replied, "It's not that it's being forced. Knowing, growing up… I'm growing up to hate this shit. I'm not supposed to..." He was then cut off with more of Hart's questioning: "Hate what?" In response, Lil Nas X plainly stated, "Homosexuality. Gay people. Come on now. If you're really from the hood, you know."
Lil Nas X also brought up the importance of him coming out when he was riding on the top of the charts. "Any other time, I'm doing this [coming out] for attention, in my eyes," he says. "But if you're doing this on the top, you know it's for real. It's showing it doesn't really matter."
Lil Nas X shouldn't have had to explain any of this to anyone, but, as Twitter users pointed out, especially not to Hart. "Kevin Hart acting like he doesn't know why Lil Nas X would be scared to come out is like someone who stole the thing you lost helping you look for it," Phillip Henry wrote on Twitter, and there's not a better way to put it.
Many people on Twitter pointed to the power of how Lil Nas X quieted Hart, taking "the steam out of" him with a single line. "Kevin Hart's homophobia isn't innocuous," Joel D. Anderson wrote, "that he remains in good standing with so many powerful people is telling about what people are willing to accept—and it's a signal to the LGBTQ community."
"Kevin Hart knows exactly what the 'so what' is here and why a young black boy would closet his sexuality until he believed it was safe," GOLDIE wrote.
On a lighter note, Lil Nas X is a person of the internet—Hart is nothing compared to Barb Twitter.
All of this aside, Lil Nas X was admirable in his intent to the timing of his coming-out. "He knew he was at the zenith of his fame and CHOSE to announce he was gay," Muna Mire pointed out. He saw what it would mean to young boys like him growing up, and he chose to act on it.
Watch a clip from the new episode of The Shop below.