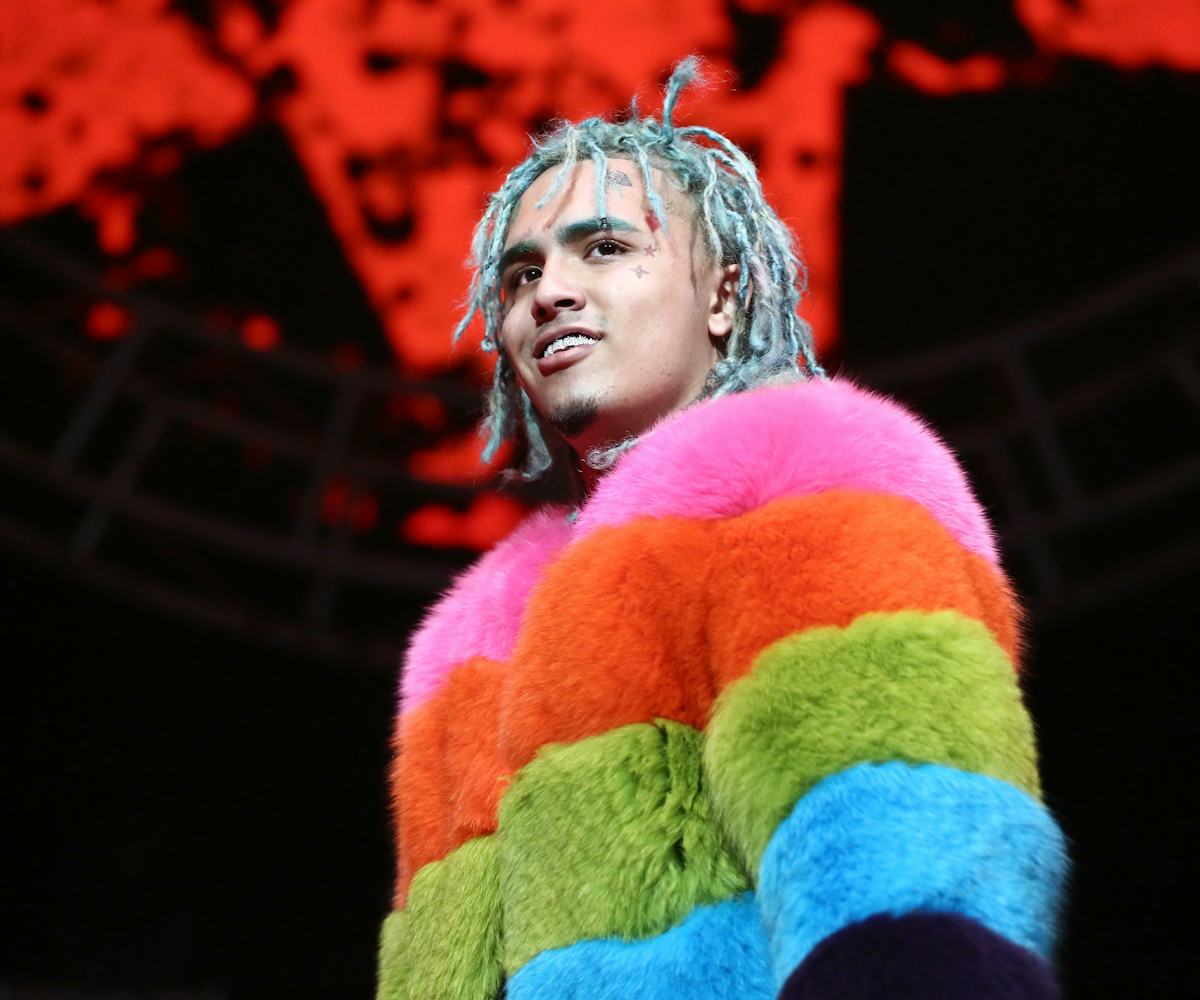 Photo by Ser Baffo / Stringer / Getty Images.
Lil Pump Isn't Giving Harvard's Commencement Speech But We Still Have Questions
Did he even go to Harvard?!
If you are like me, you have a) watched enough crime shows to feel like a detective even though you are not and b) need a distraction from all of the other horrible investigations in the news over the past couple of weeks—like Jussie Smollett's arrest and R. Kelly's additional charges. If so, might I suggest taking a look at Lil Pump instead? And no, I'm not talking about the disorderly conduct charges that were brought up against him and then dropped after body cam footage of his arrest was released to the public. I'm talking about recent claims by his record label that Pump will deliver the commencement address at Harvard University's 2019 graduation ceremony.
Like many other entertainment journalists and critics, I was minding my own business Monday morning, when I got an email from Warner Bros. Records explaining that Lil Pump—the face-tattooed, colorfully-dreaded Soundcloud rapper—was about to enter a new level of prestige. If the email was to believed, the artist famous for 2017's viral hit "Gucci Gang" and last year's "I Like It" with Kanye West, was about to join the ranks of Oprah Winfrey, Bill Gates, and Mark Zuckerberg by delivering the commencement address at one of the most prestigious universities in the country. But if 31 years of living—and following Joanne Prada on Twitter—has taught me anything: it's how to spot a possible scam. I thought getting to the bottom of it would be pretty cut and dry, but now I have just as many questions as when I started out.
Most outlets that covered the news when it broke seem to be on the same page about the fact that, despite Pump's upcoming album being called Harverd Dropout, he is definitely not giving the speech. This makes sense. At only 18 years old, he is just barely at an appropriate age to even enroll in Harvard, let alone drop out of it. The first thing I did when I got the email was check the Harvard University website. It had previously announced keynote Angela Merkel listed as the only speech deliverer at this year's event. I then reached out to both Harvard and their official radio station, which supposedly confirmed the news.
Someone from Harvard responded, oddly enough, with a request for the original press release that I had received. This was the first piece of damning evidence that this was all a PR stunt. If Harvard had approved Pump to address its graduates, surely the school's media rep would have been prepared to offer an explanation to the public. I followed up, asking if Pump would be involved in Harvard's commencement day activities in any capacity and only received the following line: "As previously announced, Angela Merkel will be Harvard's Commencement 2019 speaker," plus a link to the Harvard Gazette article announcing her address. I took this information back to the Warner Bros. rep that initially reached out to me (feeling just as accomplished as I used to back in 2001, after pulling off a successful three-way call sabotage with my best friend) hoping to finally get the real tea. I fully expected to get a playful response that explained the whole thing away in good fun. Instead, I got ghosted.
Call me paranoid, but I think there's a possibility that this isn't a normal PR stunt to promote an album. Why didn't Harvard offer a firm denial about Pump's involvement as opposed to just reminding me who the official speaker is? Are SoundCloud rappers beneath them, or is it possible that they are secretly planning on incorporating him in some other way? If this is just a way to get everyone's attention, is it even legal for Pump's team to send out that kind of false information? Why was Harvard's radio station—whom I also never heard back from—specifically named as breaking the news? Why has the Warner Bros. team refused to acknowledge my email? Did Pump actually ever go to Harvard?!
This isn't over yet and it could be bigger than all of us.