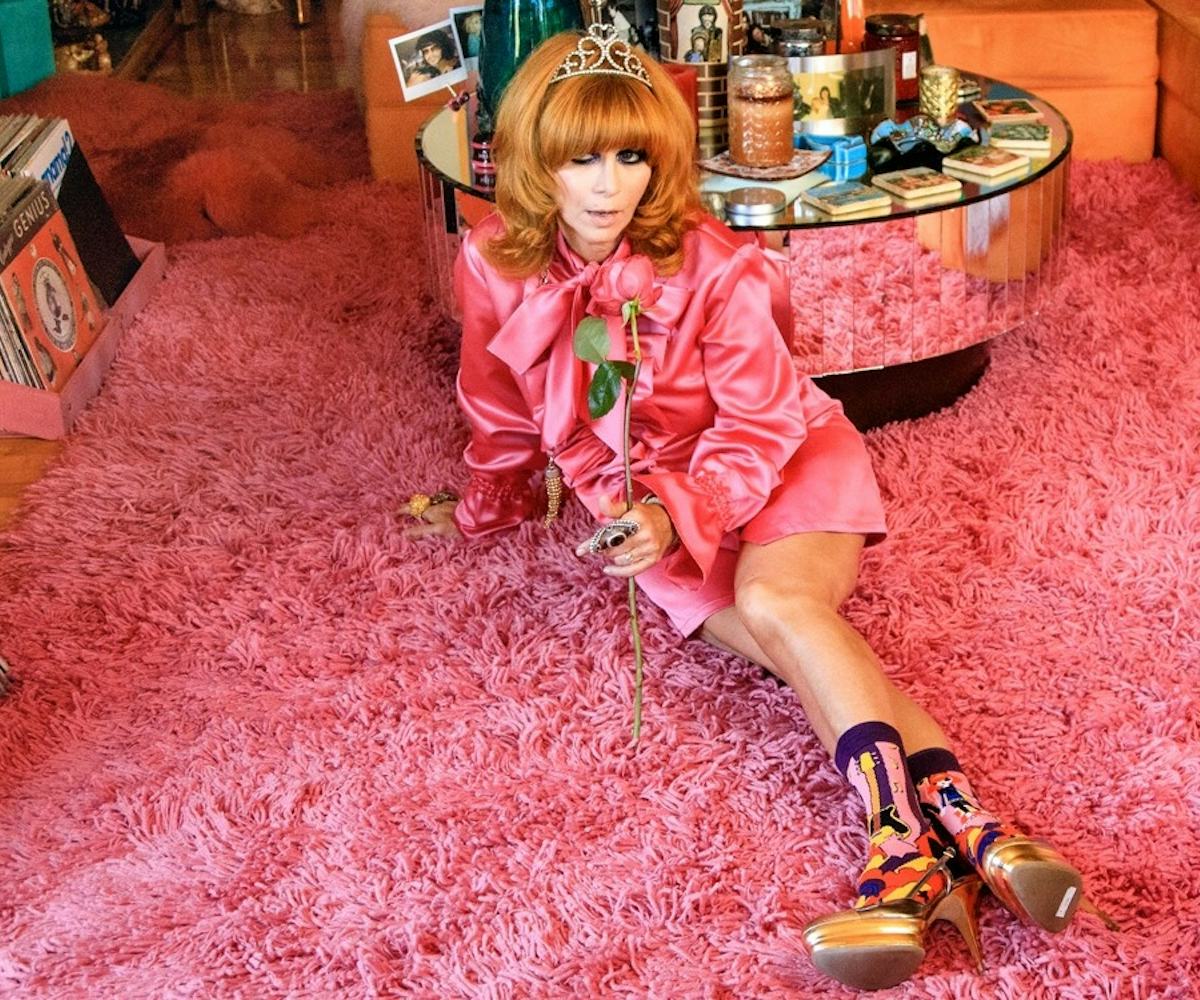 Photo Courtesy of Happy Socks
Linda Ramone's Home Was The Unexpected Inspiration For Some Very Cool Socks
The L.A. style icon teamed up with Happy Socks for a special capsule collection
Linda Ramone's home, a modest-sized ranch in Sherman Oaks that she's dubbed "Ramones Ranch," looks unassuming from the driveway. Sure, the mailbox is painted pink and there is a polka-dot Balenciaga blouse hanging in the backseat of a vintage Cadillac, but this is Los Angeles, after all. After passing through the gate into the backyard, you get a real glimpse into Ramone's personality — bright, loud, weird, and inviting — as well as her unique position in rock 'n' roll history. The home is a direct reflection of Ramone, as well as the inspiration for her latest venture, a collaboration with Happy Socks on a limited-edition capsule collection.
The vibrant home is stacked with items she and her husband, the late Johnny Ramone, collected over the years. The bright pink walls of her living room are covered in old movie posters, artwork made by their friends, and photos from their decades-long relationship. There is an unthinkable amount of stuff in the home — tchotchkes and tiaras and a taxidermied two-headed sheep — but on display in way that makes it feel like the world's coziest museum of oddball collectables.
After spending hours wandering the property, guests and passersby (of which there are many at Ramone's house) can still stumble upon something new and delightful, like a gold bird cage hanging by the bar, which was gifted to her by her friend and designer Anna Sui, or the surprisingly subtle urn holding Johnny's ashes on the fireplace, or the photo of her and Paul McCartney in the bathroom, positioned just so that it's directly in your line of sight while you sit on the toilet.
"We always knew we were gonna have an Elvis room. We always knew we were gonna have a horror room, and we always knew we were gonna have Disney," Ramone said about moving into the house from their home in New York. The Disney memorabilia is set up in what she calls "Th Disney Bathroom," complete with figurines for the faucet and Mickey Mouse hands as the toilet paper holder.
It was from some of her more meaningful pieces that gave inspiration to her capsule collection with Happy Socks, titled "True Love Stories" as a tribute to her relationship with Johnny. After seeing and loving the Beatles sock collection released back in 2017, Ramone got in touch with the company to create her own. Happy Socks' design team suggested using some iconic photos of the two of them for the designs, but Ramone had her own ideas.
"They walked around with me [in the house] and they were like, 'We want a photo of you and Johnny.' And I was like, 'A photo? That's kind of weird on a sock.' And I go, 'Oh but that painting that [artist] Kelly Tunstall did, she's my friend, that would look great,'" she explained. "And then they liked the cover, the Peter Max painting. I just had them walk around with me and I'd say, 'What do you like? What do I like?' and we just put it together."
The special-edition collection includes four pairs of socks inspired by Ramone's love for her husband, as well as her love for glitter, glam, and art. The three-box set, which retails for $48, includes Pop Art-inspired designs, one taken directly from the psychedelic mural in Ramone's living room. The Kelly Tunstall painting of Johnny and Linda, hanging on the wall between her living room and kitchen, can now be on your person via a pair of $18 knee-high socks.
Unsurprisingly, this wasn't the first time Ramone has invited people into her home to stimulate a creative process. "Gucci got a whole bunch of stuff from the Johnny Ramone tribute. Alessandro [Michele] came one year and did a lot of Gucci stuff for the tribute," she said, referring to the 2016 Johnny Ramone tribute, which inspired Michele's plaid "Hollywood Forever" jacket. "And Hedi [Slimane], right before he left Saint Laurent, came over and he put me and JD [King] in the last Saint Laurent ad and movie."
Both Johnny and Linda hail from New York, but based on their house, it's clear they did not struggle to make Los Angeles their home. It's also the city where they continued their love story and unearthed more sources of inspiration for their art. For Ramone, moving to L.A. was her only option.
"I knew I was gonna move to L.A. I always loved L.A. I came out here when I was 15 years old for summer vacation and I never wanted to go back to New York. I'm just an L.A. person, even though I was born in New York and lived in New York my whole life. I knew L.A. was the place for me," she said. "So when [Johnny] was going to retire, his mother lived in Florida and she sent us all these brochures from Florida going, 'Oh, look what you can get for half a million dollars in Florida.' And I'm like, 'Yeah, but you're living in Florida. Who cares?'"
The Ramones Ranch in Boca? That would never work.
The Happy Socks x Linda & Johnny Ramone special edition collection is available now in Happy Socks' Concept Stores, online at happysocks.com and at select retailers.
Disclosure: Happy Socks paid for my travel and accommodations to cover this new launch.