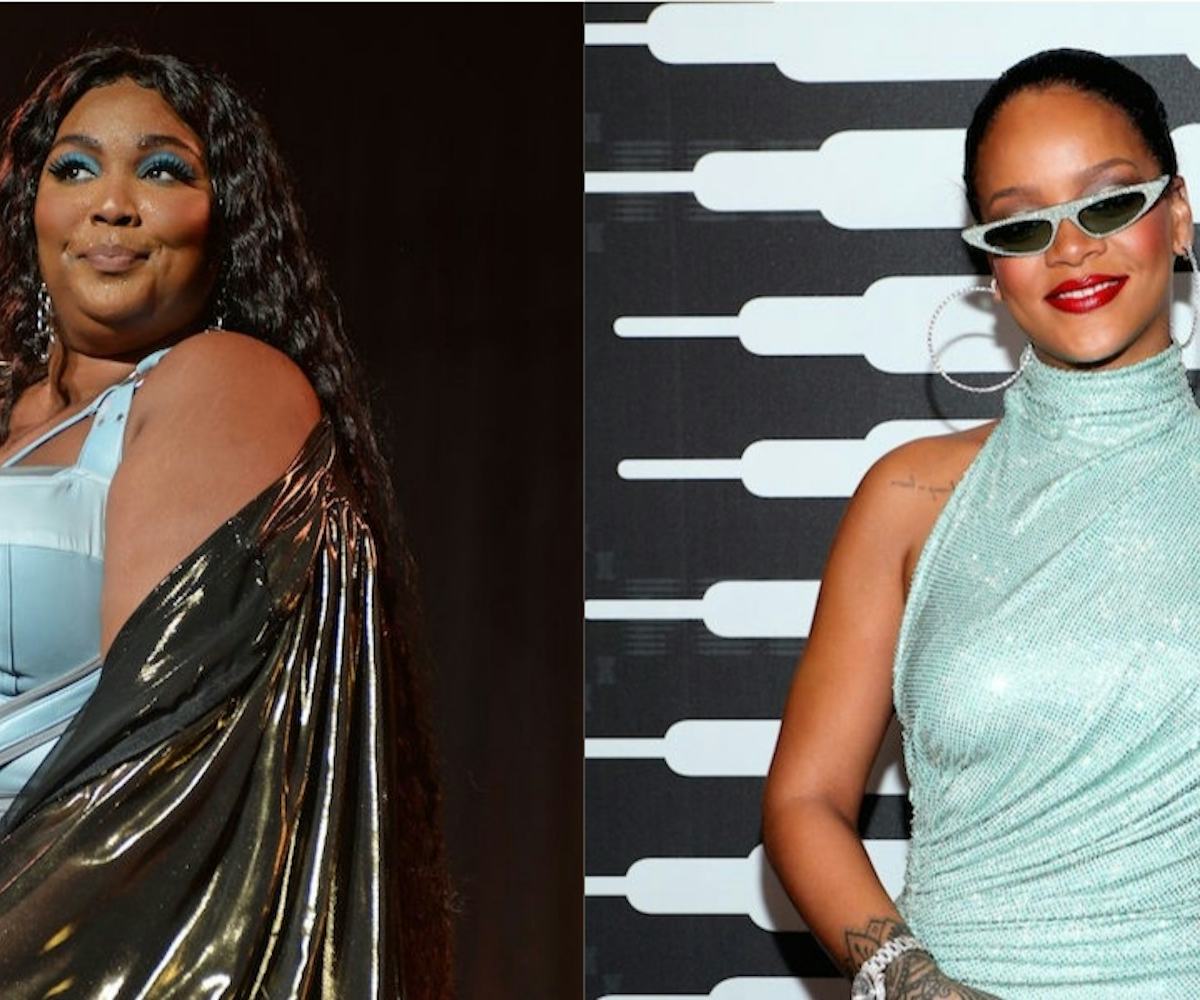 Photos by Larry Marano/Shutterstock, John Salangsang/January Images/Shutterstock
Lizzo Would Sing "Bass Drum In A Rihanna Fart" To Collab With Her
Rihanna only had the highest of praise for Lizzo when asked about the "Truth Hurts" singer on a red carpet interview at her Savage X Fenty NYFW show. And, of course, Lizzo had the best reaction to the video when she saw it on Twitter. Would Rihanna like to collaborate with Lizzo? Yes, and Lizzo is ready to do anything to make it happen. Anything.
When the interviewer brought up Lizzo, Rihanna gushed, "Gosh, I love Lizzo. She's so badass." The two singers haven't talked about collaborating *yet* but Rihanna makes it pretty clear that she's down to do so. "I would collaborate with her on lights for this interview right now," Rihanna says, adding that "she's everything that Savage stands for. A confident woman, no matter what size, color, shape."
Lizzo, ever fruitful with her social media reactions, shared the video with the perfect response: "I WOULD SING THE BASS DRUM IN A RIHANNA FART JUST TO MAKE THIS COLLAB HAPPEN." I would like to hear it! I would also like to hear a real musical collab too though.
It's no secret that the two stars love each other. Right after Lizzo's performance at the MTV VMAs last month, Rihanna slid into her DMs and, according to Lizzo, "She said I fucked the stage like it was my side bitch." At the time, Lizzo wasn't ready to jump at a collab, telling Entertainment Weekly, "Listen, we need a video of Rihanna in the studio, period," adding, "I am not going to bother her, 'cause I know what that feels like, so I am going to let her do what she ought to do." Well, I'm pretty sure this video from Rihanna supersedes any studio footage. Get that collab, girl!