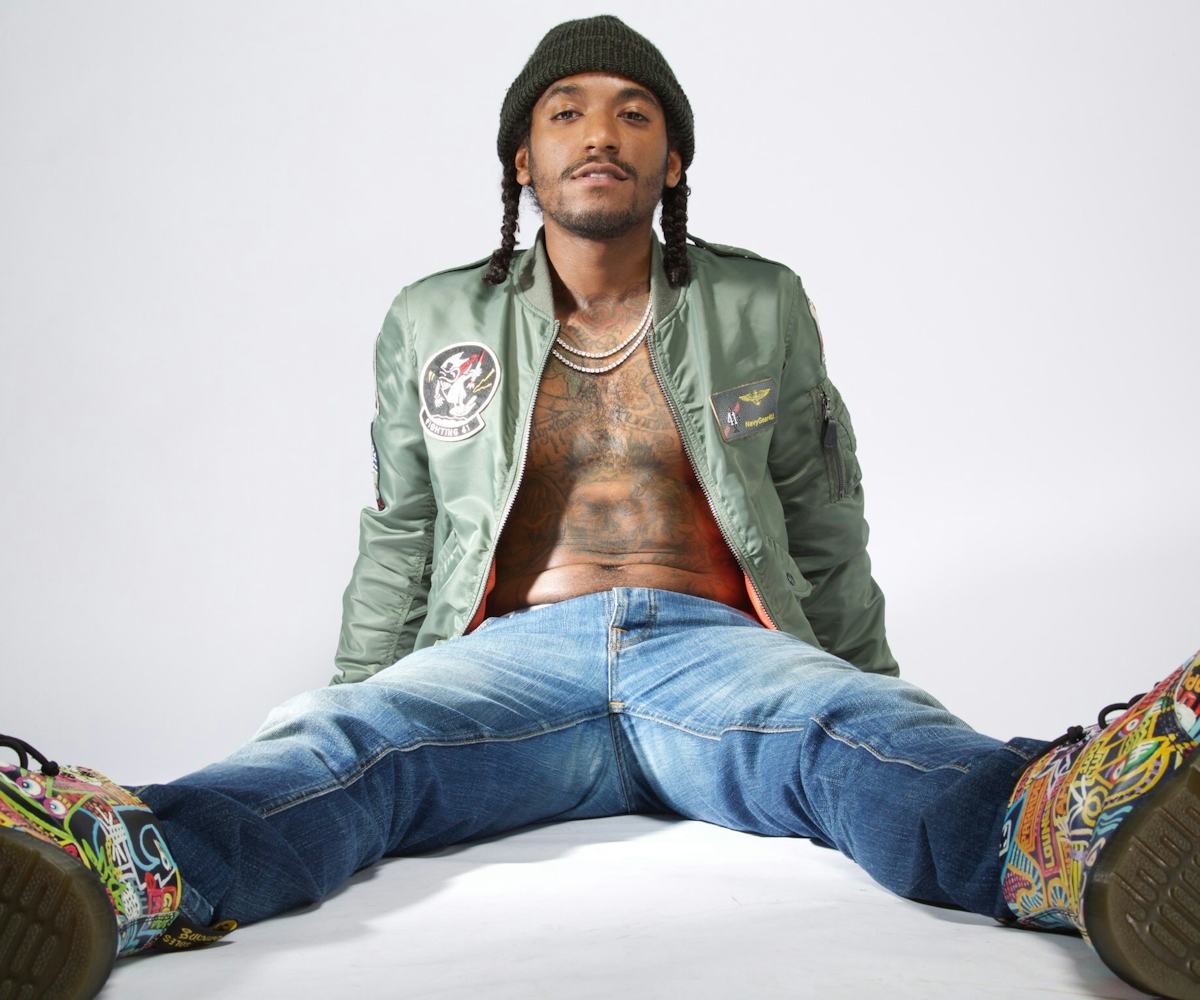 Lloyd Thought He Wasn't Good Enough—Then He Glowed Up
Catch him now on the Millennium Tour
Before he dropped his 2018 album, Tru (the one with the really provocative cover photo, but more on that later) it had been seven years since singer Lloyd released an album. What was he doing in the interim? Getting a GED, becoming a dad, learning how to play instruments, and hanging out in a secluded part of Georgia that he calls his special spot (it's the same place where he took that picture).
Now, he's taken his new music on the road with some of the other R&B heartthrobs we came to love in the aughts and 2010s—Pretty Ricky, Mario, Bobby V, and B2K—for the Millennium Tour. He also just wrapped shooting his first ever movie, a biopic about the Bobby DeBarge set to air on TV One.
But what's more important than what Lloyd was doing during his hiatus, is how he felt about it. At times, the feeling was that he simply wasn't good enough. And for him, mediocrity just wouldn't do. We're both Capricorns, so I identify when Lloyd told me recently that feels things "very deeply," even when it doesn't show outwardly. I like to think that when we spoke, he made an exception.
You're making a comeback right now. What does it feel like to be in the process of reactivating your fan-base, re-engaging, and introducing new sounds?
As a glutton for renewal, and sometimes I guess punishment even, for pain, I actually really enjoy the process of having to redefine myself. I kind of almost restructured my DNA in the process. The goal was always just to grow as a man, first. To gain a better understanding of the world, of people, my history; and also to be able to have a better understanding of music also, the music before me. I took time to do all of those things. I really embraced the process of stripping myself completely down, humbling myself, and convincing myself that mediocrity was not acceptable for me, as a songwriter and as a musician. Then really just being brutally honest with some of my aspirations in life: What do I want out of this? What's my endgame? What's my goal? I actually started to reshape those.
I took a step back from touring and releasing albums consistently, and I went back to high school. And I started to have my first child, and I started to speak to kids at other schools, and I started to read more, I started to collect vinyl albums. It's almost like when an artist starts to feel like they're not good enough, which a lot of us do, that can be a moment of reflection and growth, or it can be a moment of insecurity and insufficiency.
Right, because there's not room in the broader culture for artists to talk about that. To say, "Hey, I'm taking a break because I feel like I'm not good enough."
Well, unfortunately, sometimes the pressures of life overwhelm us. Things like desperation, despair, greed, or financial strain can prevent us from being the best us that we can actually be.
The thing about most musicians right now is that they don't have the luxury of time, financial freedom, and also patience to be able to actually see themselves reach their full potential as a singer, songwriter, producer, and an innovative force. So then they just submit to doing what's easy; or riding the wave; or hustle, put new music out for money. Unfortunately—and fortunately—that has never been my motivation.
Sometimes that causes me to take more time than I would prefer to just to be able to not ride that wave, you know what I mean? I'm tempted all the time to do what's hot, 'cause I'm a fan, but I just have to kind of fall back and take my time. I've been really blessed with a catalogue of music that I can fall back on when I feel like I need to take time away. It's never been about I need to make money. That's not why I released Tru at all. And it's definitely not about trying to compete with somebody else. It's just I think I have something to say that's really dope. I think the music is some of my best work, my vocal performance is pretty strong, and it's the first time I'm playing instruments. So it just felt right. It felt progressive.
You've been in the music industry since you were a kid. It's interesting to hear you say that you had to go through this process of growth, as a person, and that it involved having to come out of the music bubble to live a life.
Yeah, I'd been this child prodigy for a long time, and that's a beautiful blessing. In no way am I ungrateful, but sometimes when you play that role, you have to not only attempt to accomplish your own ambitions, but also the ambitions of the people around you, who want to live through you, who see certain things for you. And so, your time is not your own, your experiences are always kind of reflective of what's best for this record, or this thing.
And as a kid, I used to dream about going out with my friends to the park, to the parties, to wherever. I'm not saying that you should be unfocused as a young person, but you feel like you miss out. It's important to be able to learn, "Hey maybe I don't want to be at the park, but at least let me get there and decide for myself." So be able to kind of live your own life.
What I do know is that love never dies. If you really love something or someone, it will never die, and you'll always come back to it in some capacity. My love for music is beyond, a lot of times, my love for people. So I always knew I would be back in the game. But I do have a tremendous love for people in my life, and unfortunately there's not enough time in the day for me to do both. I wanted to dedicate myself to being the best brother, to being the best son, to being the best lover, to being the best father. And work is a part of that, but it's not the only thing in life. There's also conversations and quality time that needs to be spent to nurture people. That's really what my motivation was to leave.
So let's talk about the cover of Tru. It broke the internet.
Or the lack of cover. The cover with no cover. I didn't want to take cover, in the sense of, I didn't want to hide. A lot of times, I think people thought I was hiding from them when I was in obscurity. I heard that a lot. It wasn't so much that; it was really like I was filling up my self-love gas tank. I was really powering up. That was a moment where I felt so much self-love, so much power, that the only way I knew how to express it in a photograph for that particular shoot, was with no clothes, with my instrument, which I happened to have. I didn't want to be completely nude because I wanted it to be a bit tasteful.
But I wanted it to reflect the power of self-love, of self-respect, of appreciation for your flaws, because you are imperfect perfection, and that is all you'll ever be. You will never be anything but what you are in this moment, and there are so many people who feel insufficient—I have been one of them at times—who feel insecure, who feel unworthy, and they are the furthest thing from any of those, but that is what is projected from their mind into their reality. The mind is a strong thing. And I wanted to overcome my fear, in my mind, of being exposed, of being naked, of being judged, of being misunderstood, of being ridiculed, of all of these things. In that moment, that was my opportunity to just let that go.
I never planned on using that photograph, that was never the goal. The pictures I released for the Tru EP were kind of more what my idea was. It was kind of more covered, I was still free, but it was still obscured. When I decided to turn it into an album, I revisited some of the photographs I took that day.
Talk to me about "Caramel" and working with City Girls. It's not what I was expecting but it was such a dope record.
It is one thing to do something dope, right? That's cool. It's another thing to do dope things with dope individuals. To acknowledge someone who is special, to use your platform or your opportunity to shed light on their beauty, to have camaraderie in your heart, to have a well-developed palette of music and style and background and culture in your life, I think, is really cool and important. On top of [it is] my love for female MCs—because there's something about a woman who raps and the power she exudes into the world. It is a powerful thing to be able to stick your chest out and really speak your mind. I think that is so necessary and so dope, and it was some of my early inspiration in rap, like [Lil] Kim. Especially when I see [Yung] Miami, this beautiful caramel queen, and she's exuding her style into the world, and I'm like, I want some of that. I want to bring that into my world. I want to show the camaraderie that I feel in my heart even before I knew her. After I met her, I was really relieved. Just like you said you would have never expected this [sound] because you had a preconceived notion in your mind of what you thought you wanted. It's the same thing I felt before I met her. I had a preconceived notion of what she might have been like, and I prepared myself for that: for a loud, over-the-top type of personality. But she was very sweet, very humble, very professional, and very open to ideas. Not diva-ish at all, in that aspect (once they start filming, it's a different story). But in between shots, she was communicative and cool as anybody I've ever worked with. It was a testament, to me, of the ignorance of a man. That is the worst enemy of all of us, is our ignorance.
When I decided to go with Miami, my fans voiced this disappointment in the comments. And I was upset because they'd never heard it, they didn't know what was going on. Initially when I announced I was filming the video, I asked the fans to be a part of the video—I said I was looking for a lead, and if you want to be in it, submit your video and your style and show me why, you know? And I got a lot of videos, and I put them aside for the video, but people didn't know that. So when I showed the first screenshot of me and Miami filming the video, people said, "Oh you're not gonna use the fans? This sucks! I'm not gonna listen to this, she sucks, she's so ratchet, she ain't caramel, she already famous, what about us?" What they didn't know is that she didn't play the lead role, she played the sister. You know what I mean? Which is why, when you watch us together, I don't treat her like she's my love interest, I treat her like she's my partner! She's deserving of that. I used a lot of fan video, but I really don't want my fans to represent ignorance or prematurity. I want my fans to not be the people who speak up too soon about things, to give things time, just the same way I have in my creative process.