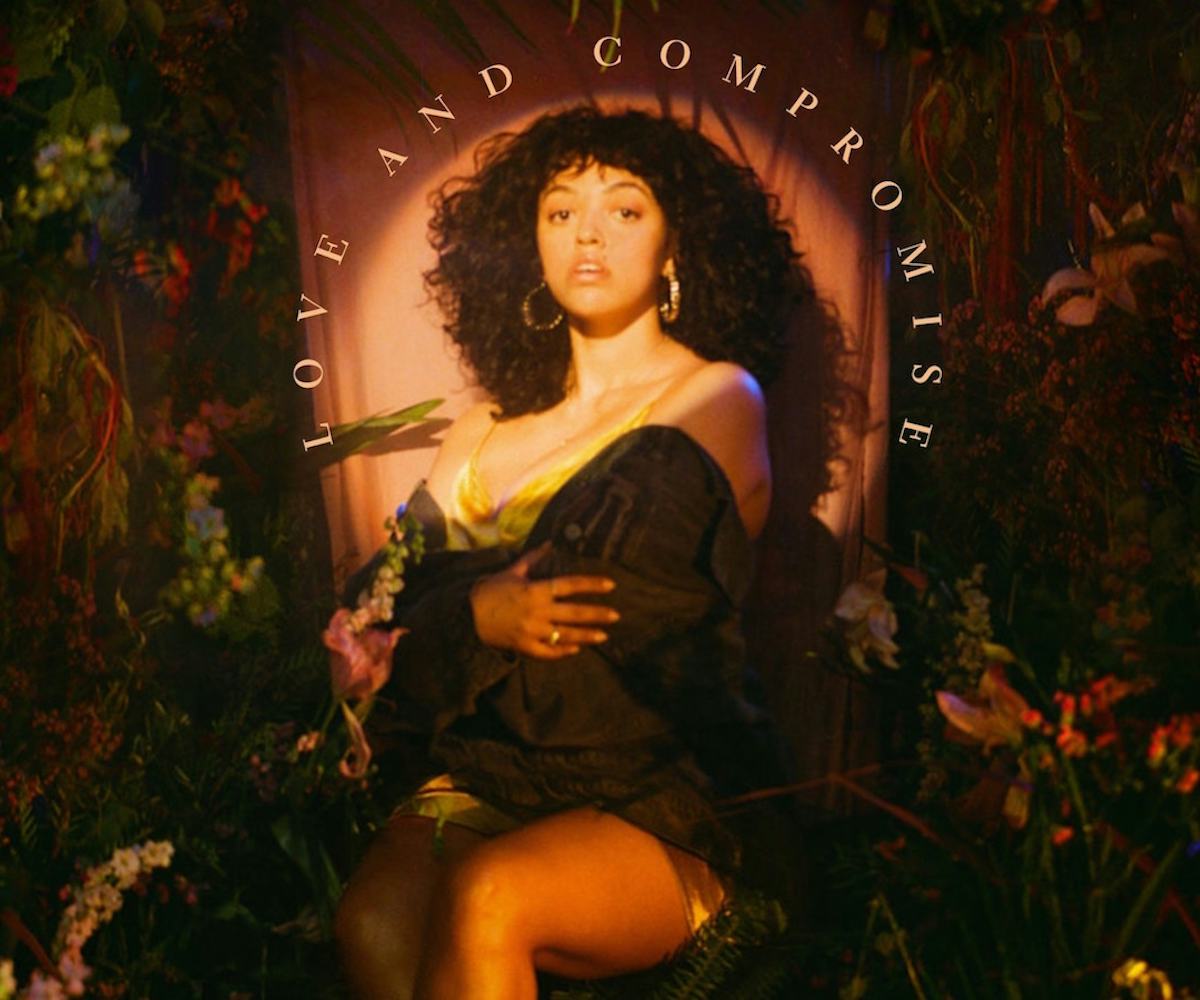 Courtesy of Atlantic
Artist To Watch Mahalia Hates Drama, But Not The Music It Helps Her Create
We talked with the singer about her U.S. debut and newfound confidence
"My boobs are big," Mahalia says, gesturing to the oversized hoodie she's wearing. "My boobs are big, big, big. Big, big, big, big."
The U.K.-based R&B singer-songwriter brings this up almost unprompted as we discuss her current tour in support of Love and Compromise, her recent debut album. It is on this tour that she decided she was done wearing bras, including onstage, in a move that was partially political, and totally personal. With just a handful of shows left when we spoke before her gig in Brooklyn in mid-October, she'd succeeded in doing so. At first, according to her, she felt strange going braless — "even just the way you move is different" — but now she's never going back. "I felt so loose and so free," she exclaims. "I have this real problem with the fact that bigger breasts are so overly sexualized in the media, and just in fucking general. It's just like we do the whole 'free the nipple' thing, but we're only really talking about smaller boobs."
Mahalia credits adoring fans with solidifying her decision. "The confidence that I've built on this tour has been crazy," she says. "Coming out with a little crop top on and all of my little bits on my back hanging out, and my boobs, and seeing how they react… fucking 500 people screaming at you, saying, 'You're a fucking queen,' all that time. After a while, that shit's going to sink in."
This is far from the only unexpected reaction that she received during her first time in the States — in fact, she didn't expect her shows to sell out as she struggled to find her groove prior to the shows. "When I had rehearsals for the tour, I hated how I was sounding. It was like a whole new show. I wasn't learning the songs, because I wrote them, but I was learning how to sing songs in a live environment. And so before I came [to the U.S.], I was really anxious, but it was incredible," she recalls. "I genuinely wasn't expecting [it to sell out], but the crowds every single night are so much fun. They're chatting and laughing with me and dancing. I've just genuinely been on stage for an hour and a half every night having the time of my life."
Mahalia admits she's experienced catharsis performing Love and Compromise on the road for the first time since releasing it this past September. It was written "in the eye of the storm," as all of her best writing is, just after she'd broken up with her boyfriend. "It was really strange because we were middle school loves," she says, noting that they reconnected as adults. "When we got older and we kind of tried it again, it was really hard to do because you're a whole different person from when you were 12... It felt like it had been seven years of me never knowing what it was like to be with that person. When that ended, I felt a really big hole form. And the album started at that moment." It was then that she wrote "I Wish I Missed My Ex," now her most-streamed song and the lead single off Love and Compromise. A pop anthem that captures the longing for a former relationship, the song features lyrics like, "Talk about you need closure/ Too many missed calls, too many texts/ Damn, I wish I missed my ex."
"My mom says to me, 'God, you love the drama.' And I'm like, I actually don't love the drama, I just like what it makes me create," she says. "I hate drama." Her nights on tour are most often spent with a few glasses of red wine and crime thriller novels. She's finished three alone this tour, all by U.K. author Claire Douglas. These simple "vices," along with the new Snoh Aalegra album that she's finally gotten into while on the road, are what she says will get her through the next leg of the tour over in Europe, which wraps just a few days before Christmas.
"My mom says to me, 'God, you love the drama.' And I'm like, I actually don't love the drama, I just like what it makes me create"
Following Europe is when she doesn't have it all figured out — save for the few weeks she'll go backpacking in Indonesia. "I bought two tickets," she says. "I've not decided who [I'm going with] yet." She jokes, "I read too many psychological thrillers… Part of me wanted to go alone, but I'm too anxious for that shit. I just think everybody's going to kill me." Should she find her bearings in Indonesia in the two weeks she spends with whoever is lucky enough to go along with her, Mahalia thinks she might try to stay a little longer, just until her Australian tour picks up in February.
After that, she's going to wait until the storm hits again and she's ready to write more music. "I'm kind of getting that itch already, but I know that it's best to wait until I'm dying inside," Mahalia says. "When [I'm] literally on the floor like, Please let me release this. Just get off of me. At that point, I'll be in it."