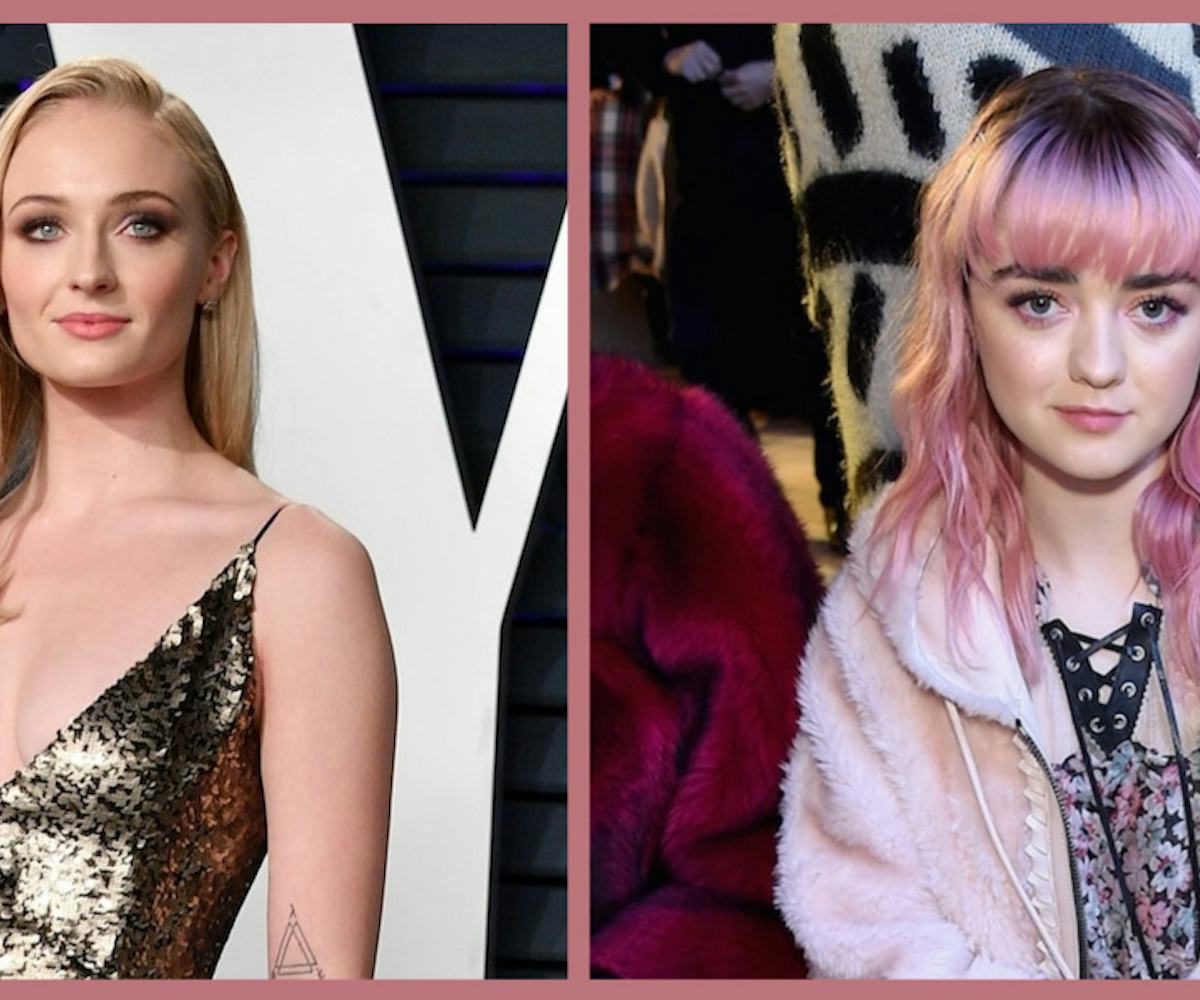 Photos by Dia Dipasupil, Jamie McCarthy/Getty Images
Sophie Turner And Maisie Williams Tried To Kiss While Filming 'Game of Thrones'
As if Maisie Williams and Sophie Turner couldn't get any closer, the pair have revealed that they tried to kiss while filming their shared Game of Thrones scenes. In a new interview with British Glamour, the BFFs and co-stars revealed that, despite not dating (and despite how much I'd prefer this story to be Super Gay), they enjoy showing each other plenty of platonic affection.
Turner joked: "People always think Maisie and I are a couple. I mean, I am obsessed with her, so you never know… I've got an addiction to Maisie Williams. I actually stalk her hashtag on Instagram!" She then talked about set antics, saying, "Even though we are sisters [in Game of Thrones], we tried to sneak a kiss into every scene we did together to freak everyone out a bit. It kept them on their toes, making sure they were following the script." I get it, Sophie, Joe Jonas is cool and all, but I think everyone would collectively support you running off into the sunset with Maisie on your arm instead.
The two have been warming my lil queer heart for quite some time now with their #galpal habits. Turner revealing that the two would get high, sit in bathtubs, and rub makeup brushes on their faces during their nightly sleepovers was a particularly adorable revelation to be able to enjoy. Williams even revealed in the Glamour interview that they take each other's self care very seriously, and that Turner is the one who urged her to go to therapy.
The last season of Game of Thrones, and the final chance to witness Williams and Turner's sisterly love, comes to HBO on April 14.