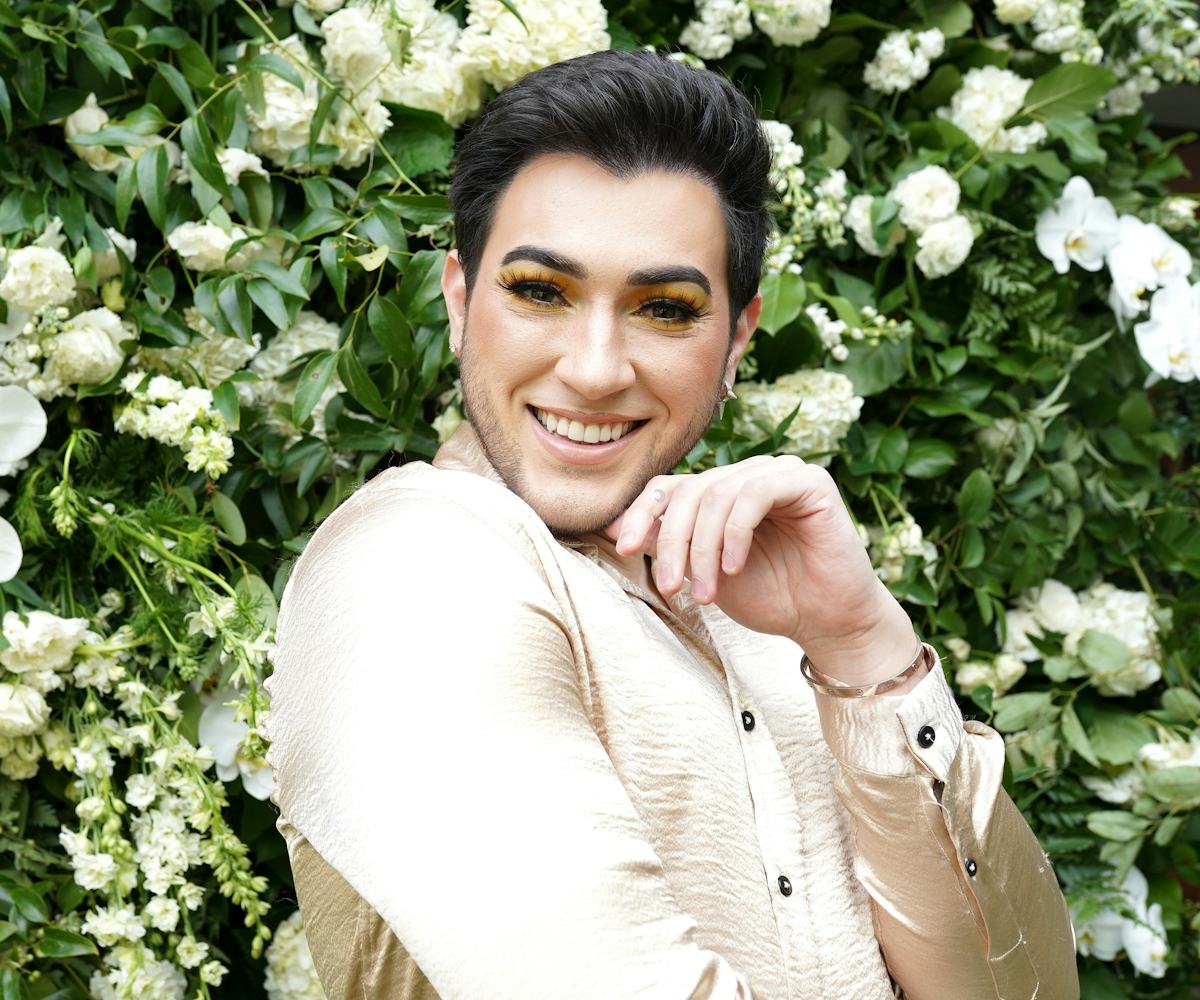 Photo by Presley Ann/Getty Images for Wishful Skin
Makeup Revolution Pulls Product Following Manny MUA's Copying Accusations
The Glass Beauty collection will no longer include a highlighter
Nearly one month after launching its Glass Skin makeup collection, Makeup Revolution has come under fire for allegedly copying Manny MUA. In a video posted on Sunday, March 15, the YouTuber, whose real name is Manny Gutierrez, pointed out the packaging similarities between his Lunar Beauty Venus Moon Prism Powder and Makeup Revolution's Glass Illuminator Face & Body Highlight.
The YouTube MUA begins his video with a confession, saying that he never thought he would have to create such a clip for his channel. He goes on to explain that the following content is solely his opinion, and while what he says isn't fact, it is his opinion and how he feels.
As for how he feels, Gutierrez makes it clear that he believes the packaging of his highlighter is very similar to packaging used in the highlighter released by Makeup Revolution last month. According to Gutierrez, he received numerous direct messages about the design and he had also noticed comments comparing the products on an Instagram post from TrendMood. In the video, he explains that he worked exclusively with a factory to decide on the design, and he expressed his thoughts on the turn of events.
"What's frustrating to me as a small, indie brand, to have another brand allegedly copy my design is so frustrating especially when it's a big brand who has big budgets," he said. He notes that although Makeup Revolution is known for duping other products, the dupes typically don't share this close of a similarity. "Dupes are one thing but copying and ripping off is a whole other thing and to put the nail in the coffin it's a highlighter too."
Like Manny MUA notes in the video, Makeup Revolution has duped others in the past. In fact, Cosmopolitan UK notes that a 2017 release from the brand received similar copying criticism from Charlotte Tilbury. At the time, Makeup Revolution denied the accusations, saying it "never knowingly infringe any design, copyright, or patent" any of its releases.
Since the video was posted, Makeup Revolution has responded in an Instagram statement shared on Monday, March 16. "We were unaware of Lunar Beauty's product launch. On launch of our product, Lunar Beauty's legal team contacted us, but, despite our requests, failed to supply any evidence of his alleged copyright or trade dress right in his design, or even to identify or provide images or illustrations of the product that he claimed were at issue," the brand writes.
Makeup Revolution goes on to confirm it no longer intends to sell the product, writing, "As a matter of courtesy and out of an abundance of caution, we have taken the immediate steps to remove the product from sale and will notify our distributors to do the same." The post continues, reading, "Our intention is not to crush the spirit of entrepreneurialism. Our intention is to make beauty trends affordable for all. We do our best not to make mistakes like this, but if we do, we take steps to make things right. And for that reason, we have acted quickly and passionately."
Manny MUA hasn't yet publicly responded to the statement, but Makeup Revolution noted that it has "reached out to Manny to discuss this privately."
See Makeup Revolution's Instagram response, below.