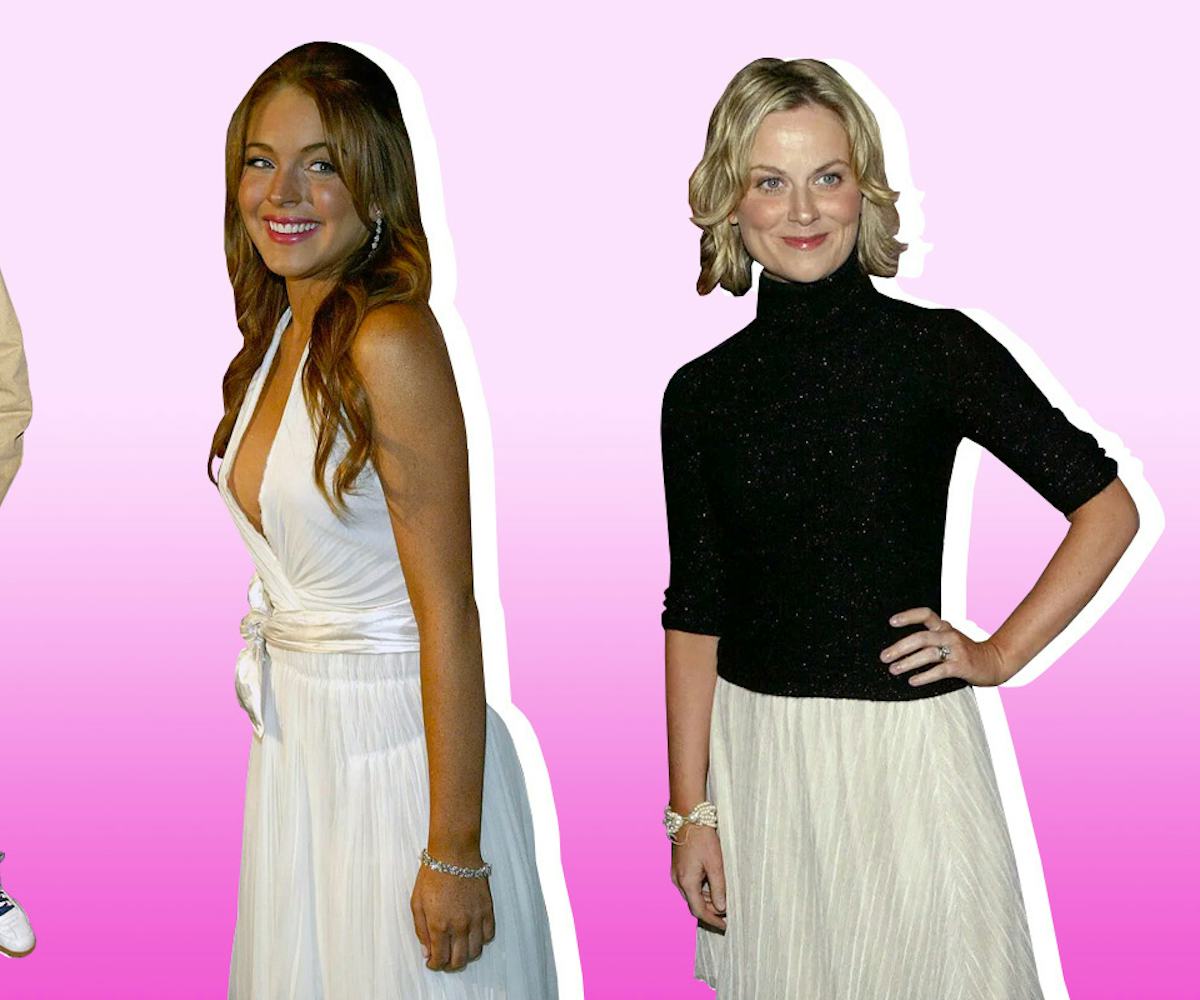 15 Years Later, The Fashion At The 'Mean Girls' Premiere Is Something To Behold
A very cringe-y throwback
Tomorrow marks the 15th anniversary of Mean Girls, and while, sure, we could discuss the many lines from the movie still quoted today or the multiple scenes that have become pop culture canon, instead, we'd like to take a look back at the red carpet moments from the 2004 movie.
Red carpet culture is a totally different thing in 2019 than it was in 2004—to say nothing of what it was like in the '90s. Whereas now, virtually no celebrity would attend a premiere without being styled within an inch of their lives, back then, dress was far more casual, and it's doubtful that many celebs thought that their outfits would ever be seen by people who weren't at the premiere. But while that might lead to secondhand sartorial embarrassment as we cringe at the fashion choices from long ago, it also led to the creation of brilliant Twitter account @NightOpening, which showcases the red carpet fashion of the '00s and '90s to great effect.
Julio, the creator of @NightOpening, says that he was inspired to start the account once he realized how casually dressed the world's most famous people were. He explains his awakening this way: "At first it was like, Hey, look, Val Kilmer looks nonchalant at The Saint. Then it's like, Whoa, Val Kilmer must have been doing laundry during the premiere of Austin Powers: The Spy Who Shagged Me. And then it was like, Okay, Val Kilmer is showing up to Muppets in Space without a care in the world—in flip-flops."
Which brings us to the Mean Girls premiere, where the vibe was very much "school dance" rather than movie premiere, Julio says. For example, there's actor Daniel Franzese (Damian) in a leather blazer, striped shirt, orange tie, and dark-wash jeans; he's accompanied by a date wearing a denim mini skirt and a white T-shirt that reads "They're Real." And then there's actor Tim Meadows (Principal Duvall) in a bucket hat, khaki jacket, and jeans.
While it took us a second to recognize a blonde Lizzy Caplan (Janis), once we did, we now have it burned in our brains that she chose to wear a knitted, asymmetrical cape situation over a little black dress. And then a very tan Lindsay Lohan channeled Marilyn Monroe, while Amy Poehler and Tina Fey both channeled middle school teachers.
"It was a very mall chic event, which, hey, they're kids!" Julio says. "Of course they want to wear the freshest gear they got at the mall. It'd be weird to see them in suits for Mean Girls, it's not like they were going to Helen Mirren's The Queen."
That's true, but the sight of these outfits still make us shudder. Maybe the hardest part of looking back at them is the fact that this time doesn't seem so long ago—could it really be possible we were all dressed so badly?
"It truly feels like 2004 was 30 years ago just on the way people opted to dress," Julio says. Or maybe it's not secondhand embarrassment we feel, but rather a weird nostalgic longing. "I think people are envious that maybe they didn't relish this period of time, when they didn't have smartphones and seemed so carefree," Julio says. "You can dress like your luggage was switched at the airport and it wouldn't matter. These photos represent a time of no social media scrutiny for wearing a full mesh dress."
What a time to be alive.