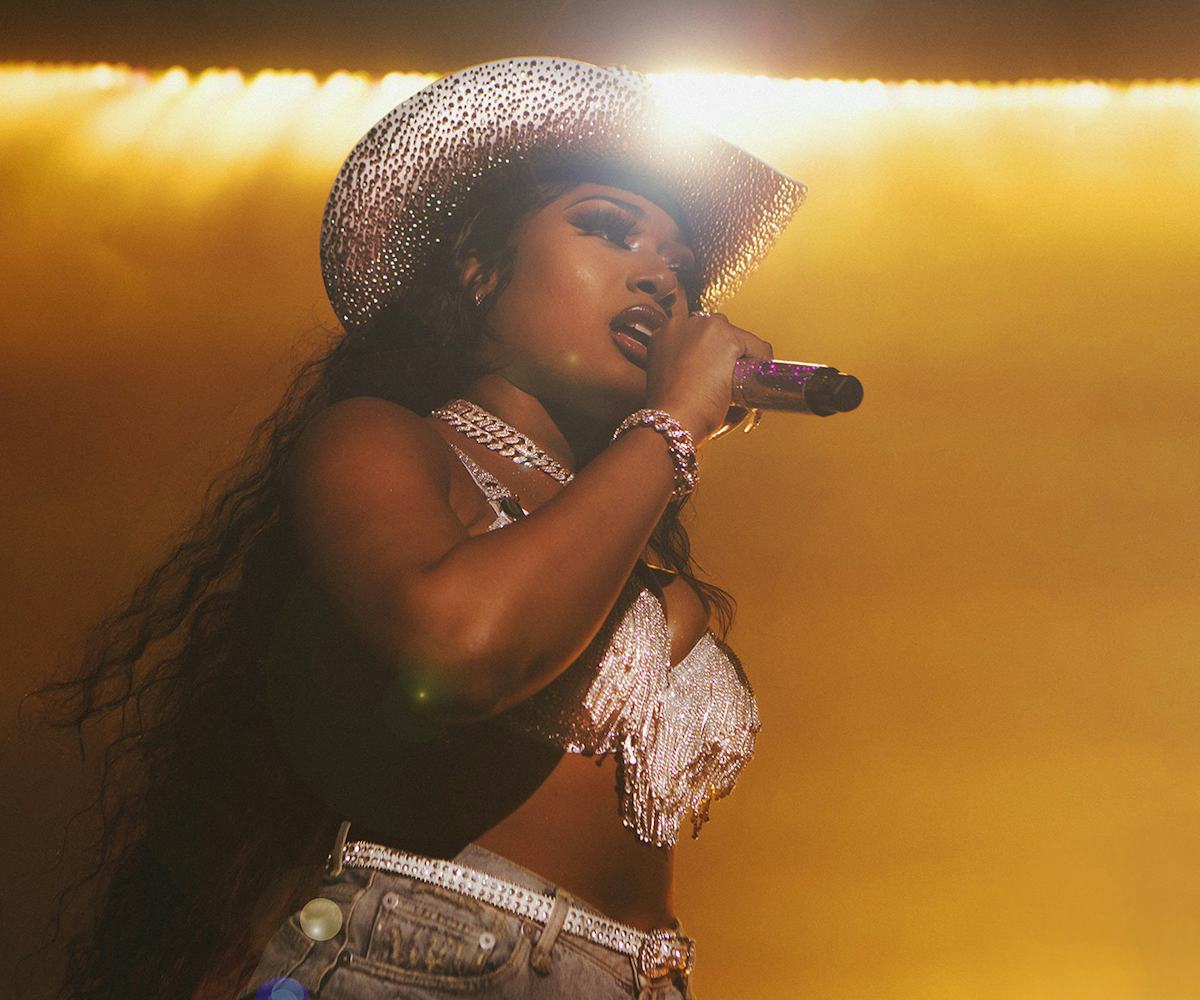 Photo by Justin J Wee
Hottie Homecoming: Inside Megan Thee Stallion's Year-End Houston Show
The artist capped off a stratospheric year with a show for her hometown fans
On the evening of Dec. 3, all of Houston's Hotties turned out to the White Oak Music Hall for the sold out Red Bull Presents: Thee Outlaw. There, juiced-up cars lingered out front of the venue, where a steady stream of fans filed in to watch their newest hometown hero, Megan Thee Stallion, perform. Tucked away in Southeastern Texas, Houston is the most diverse city in the nation — and Megan's hometown show certainly reflected that diversity; the common denominator among audience members was seemingly an affinity for cowboy gear. Local legends Slim Thug and Paul Wall got the crowd hyped with a set before the show began, and "Party In The USA" got as many cheers as The Pharcyde. Before Megan and her dancers, clad in white-fringe body suits, took the stage, a classic Southern marching band performed several skits and numbers for the eager audience. When Megan finally appeared — clad in denim shorts, a sparkling bra and boots, her smile gleaming as she writhed on a silver pony statue on a pole — the audience's energy was palpable.
"I came from New York just for the day," artist and stylist Farren Andrea told NYLON. "Megan's energy is just good to be around, so real and authentic. The show was inspiration to not skip leg day in the gym. That ass to thigh ratio will inspire anybody to tighten up. And she's my top played in my Apple Music, so I knew all the words and was hype she performed songs from her earlier mixtapes. 'Cause there are some iconic tunes from those earlier days."
For some lucky concert-goers, the intimate (by major stadium standards) show even allowed for them to get some one-on-one time with the rapper. "I was able to catch her outside and she was very nice; and even though she was being pulled into her vehicle to leave, she took a moment to step out and take a photo with me which I appreciated," said chef and food blogger Tenee' Congo. "She was humble and had an amazing energy."
"I go to a lot of concerts and this was the show I most looked forward to all year," Houston-based writer and filmmaker Sama'an Ashrawi says. "We truly haven't seen a Houston rapper make such a fast ascension to the top like this since Mike Jones. I think Meg will stick around much longer, though, because of her humility. Jesus turned water into wine, Meg lets people drive the boat... what really is the difference? The rise of her stardom, coupled with the way her album, Fever, gave womxn an endless supply of mantras to fuel their freedom of expression, made it very easy and fun to root for her."
As Meg Thee Stallion has made America aware of her Hot Girl status, the heat of her rocket launch into fame has radiated well past the borders of her hometown of Houston, Texas. In 2019, the 24-year-old rapper has amazed audiences with her preternatural flow and very visible work ethic, after she launched into the mainstream this year on the strength of two singles ("Big Ole Freak" and "Cash Shit" featuring fellow newcomer DaBaby) and an ingenious catchphrase, all while continuing her studies in health administration at Texas Southern University.
This summer, as corporations and brands latched onto Megan's "Hot Girl Summer" appeal to sell their wares, the artist kept her head down and hustled, releasing her debut album, Fever, and hosting parties for her Hotties (as her fans are called) around the country. It's not hard to understand Megan's appeal: A woman who has not only taken control of her image to celebrate her own sexuality, but whose unifying message across artistic mediums is for others to do the same, is one that will resonate with audiences no matter what. It doesn't hurt that she's truly talented and has the co-sign of hip-hop originals like Q-Tip backing her up. Real rap credentials plus commercial viability is a rare combo, and Megan's unmistakably got both.
"Meg's presence is important because she's expanding what it means to be a Houston rapper," Ashrawi says. "The Houston rap we grew up on emphasized a slower tempo, slab culture, and a more laid back, freestyle approach to rapping... but Meg's raps are in your face and she can even rap fast when she wants to."
Megan often credits her Houston upbringing — as the daughter of a rapper, her late mother, no less — as the incubator for her talent; hailing from a city responsible for an icon like Beyoncé adds a natural gravity to musical dreams. Megan is more than aware of her roots; she honors them with her sound, inflecting her tracks with the slowed down sound and braggadocious flow perfected by her Houston forebears. Clearly, the love is mutual.
See photos from Megan's homecoming show below:
Photography by Justin J Wee