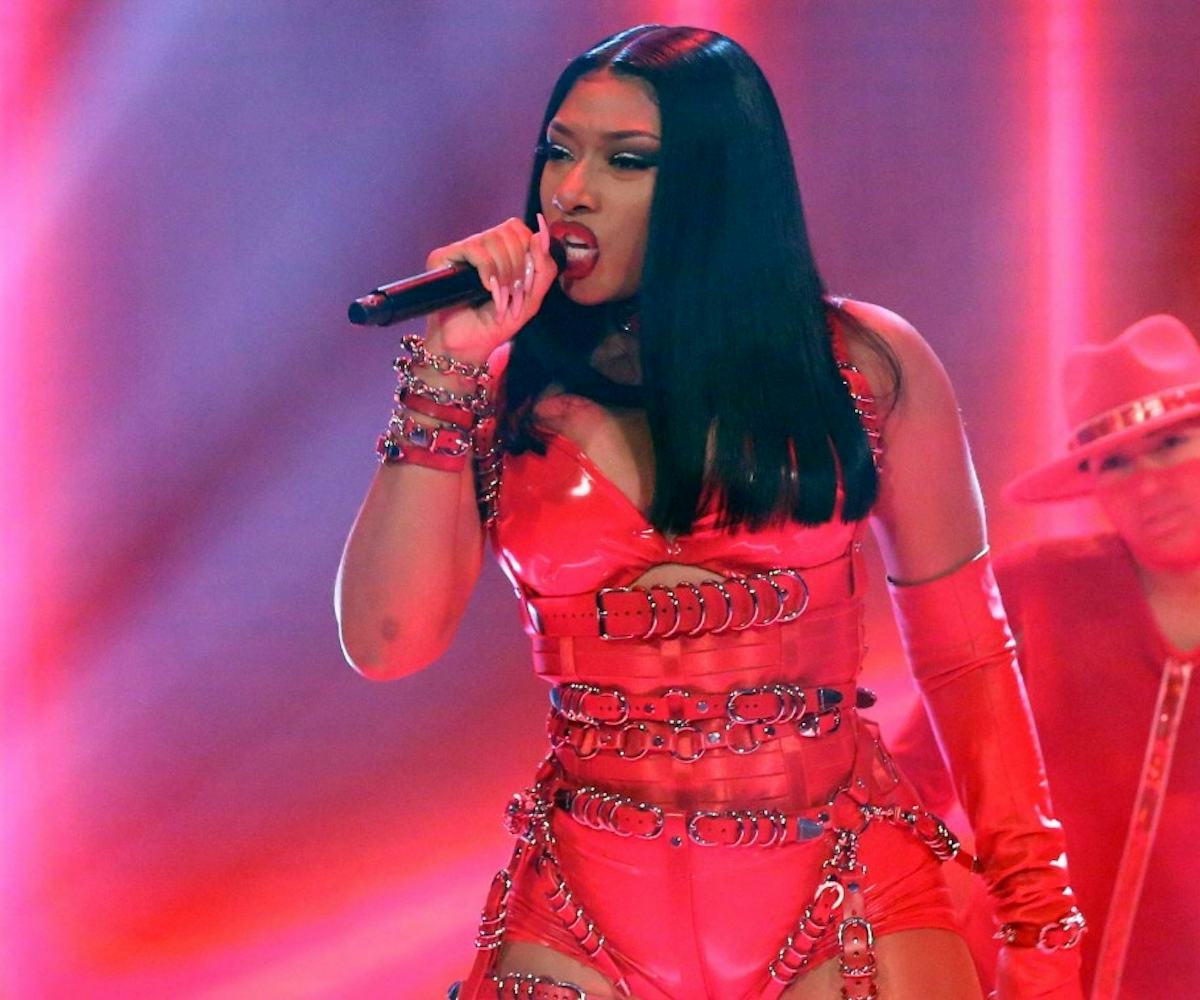 Andrew Lipovsky/NBC/NBCU Photo Bank via Getty Images
Megan Thee Stallion Says Her Label Is Keeping Her From Releasing New Music
"Megan Thee Stallion was Megan Thee Stallion before I even got over there."
The last year has been huge for Megan Thee Stallion. From collaborating with Nicki Minaj to covering Rolling Stone, the illustrious rapper has been on a roll, steadily building up more and more hype on the road to her highly anticipated next studio album, Suga, which is expected to drop sometime this year. Though we may be in the dead of winter, the anticipation for new Megan music has turned the entire year into a continuation of Hot Girl Summer. But after recent revelations, it appears that we may be waiting a bit longer than previously expected. According to the rapper herself, 1501 Certified Entertainment, the indie label she signed with a few years back, is preventing her from dropping any new music for the time being.
While doing an Instagram Live yesterday afternoon, Megan opened up to fans about why her new music has been delayed. "When I signed, I didn't really know what was in my contract," the self-appointed Houston Hottie began, while nursing a red lollipop. "I was young. I think I was like 20 and I didn't know everything that was in my contract." She then adds that, by the time she got to Roc Nation, several years later, the "real management" and "real lawyers" that came from this bigger label proceeded to ask, "Did you know that this is in your contract?"
Naturally, the performer did not, but initially thought it would be an easy fix, just a simple matter of asking the executives at 1501 to renegotiate her contract. Unfortunately, it was not that easy. "As soon as I said, 'I want to renegotiate my contract,' everything went left," she mournfully recalls. "So now they telling a bitch that she can't drop no music," she continued. "It's really just a greedy game. It's really just real greedy."
She later elaborates, explaining, "I wasn't trying to leave the label. I wasn't trying to not give nobody money that they feel they were entitled to. I just wanted to renegotiate some shit." As she admits, "I'm not a greedy person. I'm not a person that likes confrontation. I'm not a person that's a bitch. I work with everybody and I'm nice and I'm real family-oriented. But niggas gon' be niggas, and they're gonna be greedy and they're gonna be shady. And I see the shit that people in that camp be saying about me, and I be like, 'Damn, since you got so much to say, why you just won't tell them?' You mad? You mad because I don't want to roll around and bow down like a little bitch and you don't want to renegotiate my contract."
The "Cash Shit" singer concluded with, "Niggas be like, 'Oh. Yeah, they made Megan Thee Stallion.'" Well, no they didn't. As she so succinctly puts it, "Megan Thee Stallion was Megan Thee Stallion before I even got over there. I been rapping, been freestyling, been doing me. Been Meg."
BEEN. MEG. Period. Justice for Thee One and Only Houston Hottie! We want new Megan music and we want it now!
Watch Megan detail the ongoing drama with 1501 in the full clip below.