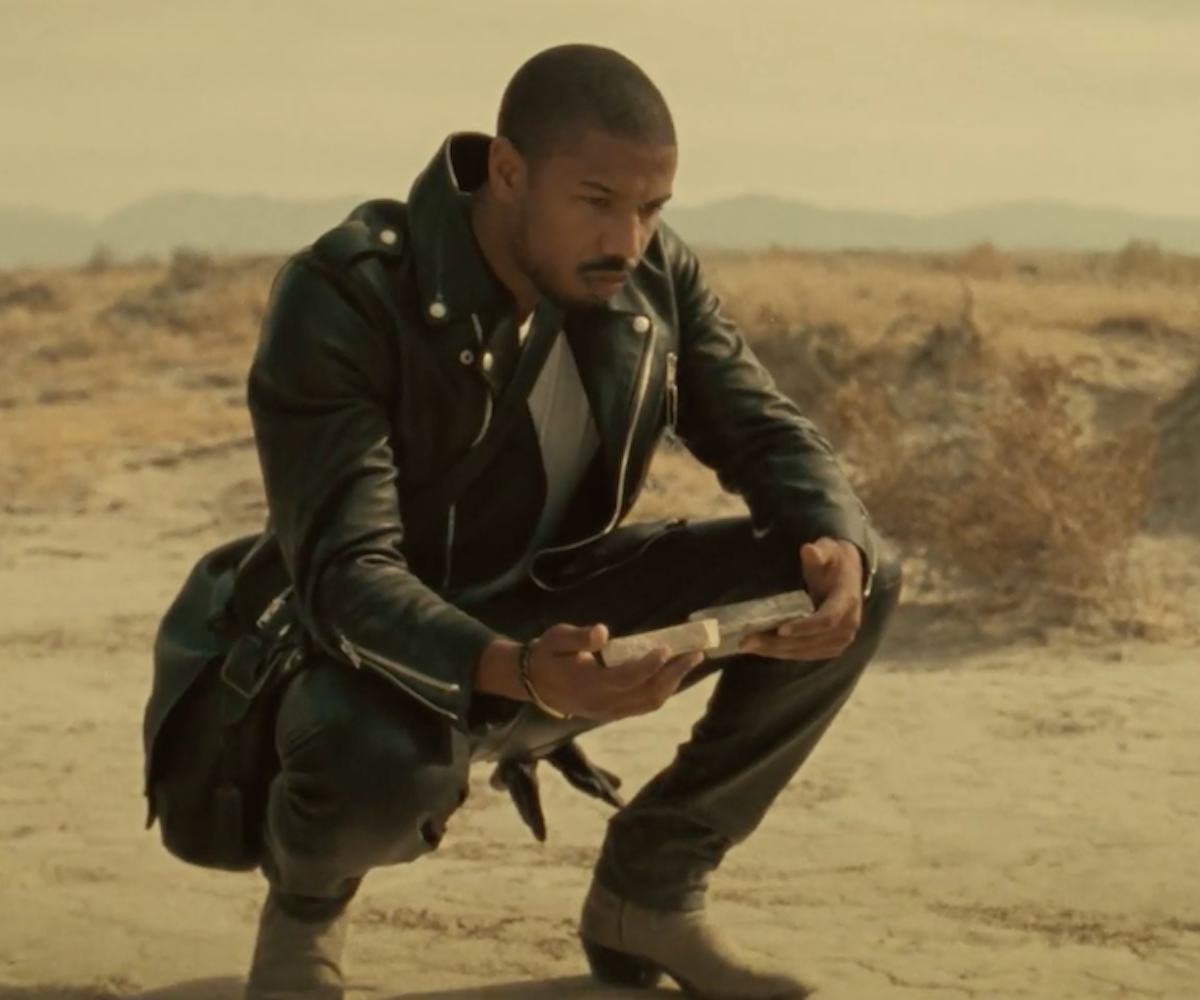 Screenshot via Youtube
Michael B. Jordan Chooses "Love" Over "Bigotry" And "Lies" In This Spike Lee-Directed Video
He looks very good in leather atop a motorcycle
Coach had recent Oscar winner Spike Lee envision my kinkiest dream and the brand's global face, Michael B. Jordan, in all leather riding through the desert on a motorcycle. He looked so good that I had to watch it again to take in the important message that the video was getting across: words matter.
In the video, after Jordan dismounts his motorbike, he stumbles across rocks in a desolate desert, with words like "hatred," "evil," "bigotry," and "lies" inscribed on them, and tosses them out. It's fitting, given how just this Sunday, the director, while accepting the Best Adapted Screenplay for his film BlacKkKlansman, urged the audience to "make the moral choice between love versus hate" and get involved in the 2020 presidential election. After laying out stones with the more positive alternatives, such as "courage," "truth," "dream," and "love," Jordan hops back onto his bike and rides off into the dust.
In the press release, Jordan expressed his excitement about working with the director. "Collaborating with the iconic Spike Lee on this short film for Coach was an inspirational experience," he said. "Spike's art has moved the cultural dial for decades. I'm proud of the powerful messaging of this film and to be working alongside a brand that cares about putting that narrative into the world as much as I do."
Lee described the time shooting in the desert as a "magical day," which is exactly how I would describe spending time next to a leather-clad Jordan under the hot sun. Lee co-wrote the visuals with his kids Satchel and Jackson.
This is the first visual of the series on the subject for Coach. Watch the first installment, and try not to get too distracted by Michael B. Jordan being, well, Michael B. Jordan, below.