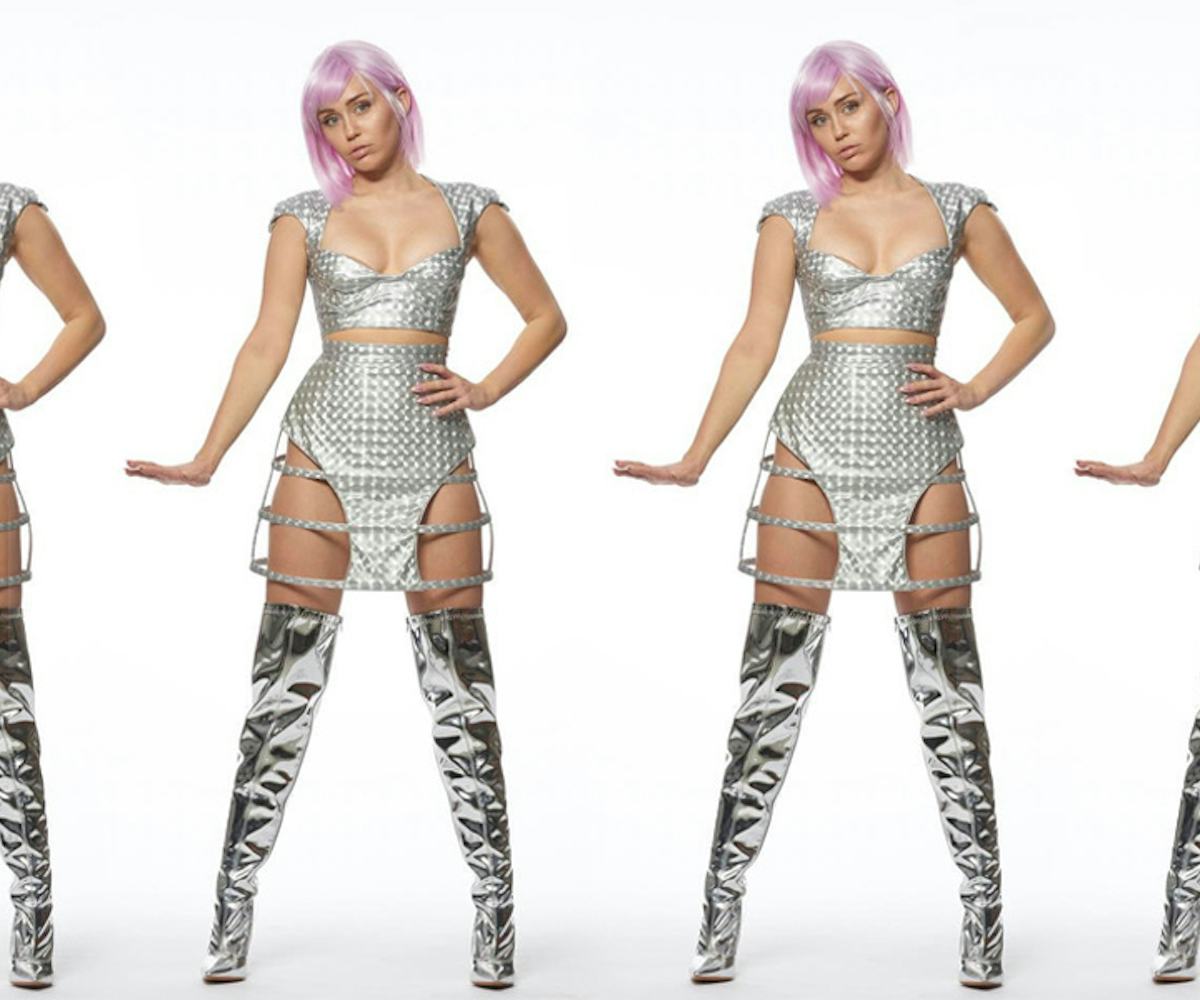 Photo via @mileycyrus on Twitter
Miley Cyrus' 'Black Mirror' Trailer Looks Like 'Hannah Montana' Set In A Dystopian Future
Miley Cyrus shared the trailer for her forthcoming Black Mirror episode, and it's basically Hannah Montana set in a dystopian future. Cyrus is a pink wig-wearing pop star named Ashley who is rolling out an in-home virtual assistant, named Ashley Too, that looks like her and shares her voice. But, as is the case with every Black Mirror episode, this technology is not as cute and fun as it's advertised to be.
In the trailer, we get the idea that Ashley is all about wanting fans to "believe" in themselves—but underneath that pink wig, maybe she doesn't feel that same self-love. After Ashley Too introduces herself to fan and new owner Rachel, promising to be her friend, we get a look at Ashley's darker side. She's depressed and tired of the pop star life. A record label executive says to several people in the room, "She doesn't understand how fragile all this is." As they consider upping her dose of medication, Ashley's life is on a downward slope. "It's getting so hard to keep doing this," she voices over glimpses of a police car chase, performances, and breakdowns backstage.
But back to the technology: Does Ashley's breakdown also mean the breakdown of Ashley Too? Looks like it. We see Rachel's virtual assistant screaming, "Get that cable out of my ass! Holy shit! Pull it out," breathing a sigh of relief as soon as they pull it out. A title card then reveals the episode name, "Rachel, Jack, and Ashley Too."
Watch the full trailer and get a full view of Cyrus' cyborg-esque pop star look, below. Black Mirror returns to Netflix on June 5.