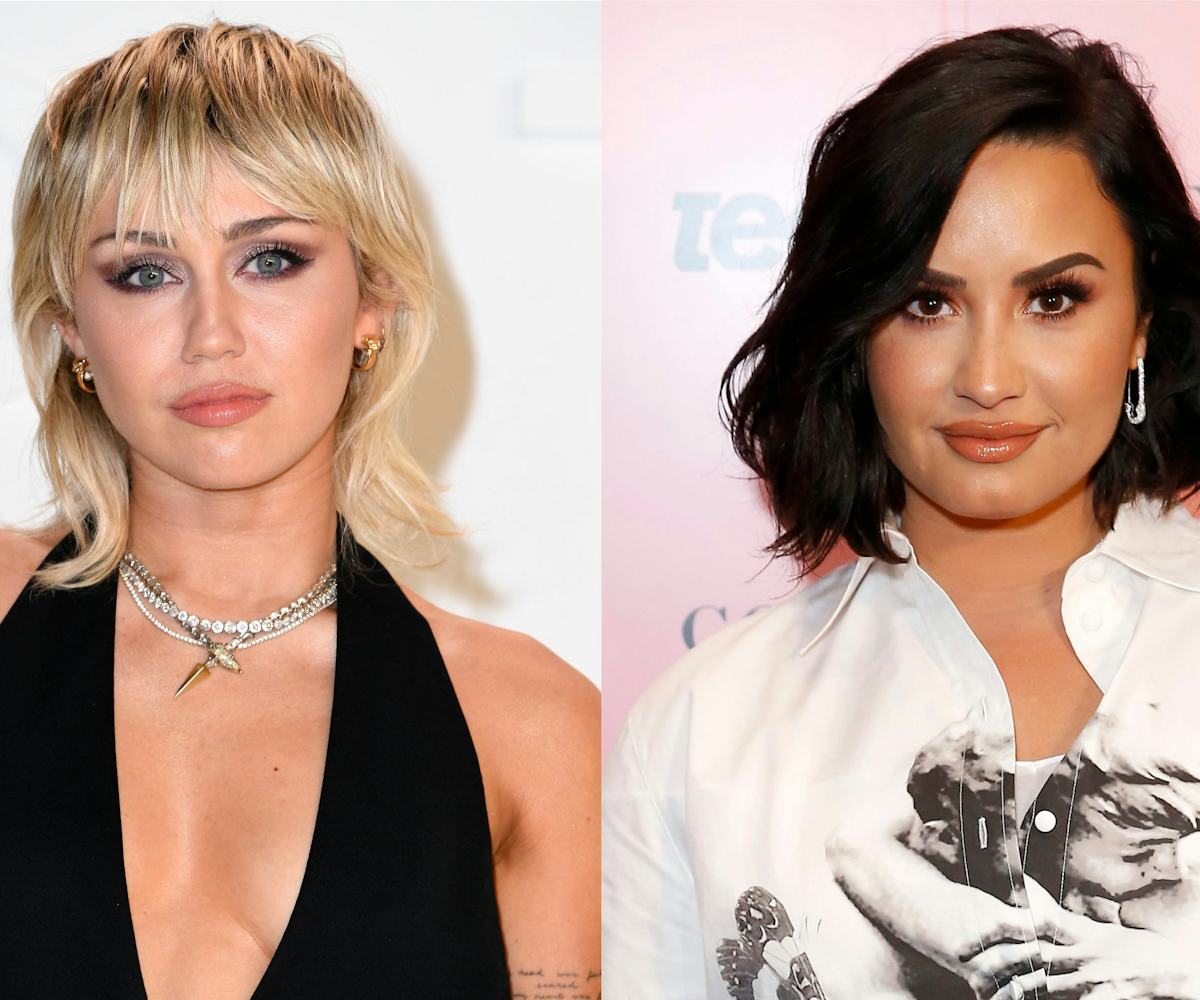 Images courtesy of Steve Granitz/WireImage; Rachel Murray/Getty Images for Teen Vogue
Miley Cyrus And Demi Lovato Share Why They Were So Close During The Disney Days
"Maybe we're just gay as f*ck"
During this time of social distancing, two former Disney Channel stars brought some much-needed joy to the internet, sharing in a virtual reunion. Miley Cyrus and Demi Lovato chatted about their past on the Disney Channel and their forever friendship during the most recent episode of Cyrus's virtual talk show, Bright Minded: Live With Miley. The new episode of the Cyrus' daily talk show certainly started off with bang, as the pair revealed the real reason they instantly connected.
Airing on Cyrus's Instagram Live, the two touched on serious topics and light-hearted moments alike, including the fact that they've remained close for a long time. While Lovato believed their long standing relationship could be attributed to the fact that they "just saw something in each other. Maybe it was because of spirituality or maybe it was just our hearts," Cyrus had other ideas. As People reports, Cyrus joked that perhaps the two got along so well because they are "gay as f*ck."
Lovato quickly reacted to the comment with prolonged laughter. Meanwhile, Cyrus continued to joke, saying, "I hate to tell ya. Next question." The pair were then speechless for a moment, laughing as they struggled to continue.
Followers on Twitter haven't yet recovered from the hilarious moment, writing, "DEMI GAY PANICKED SO HARD WITH MILEY LMAOOOOO" and "I can confirm quarantine has been worth it just to see demi's face turning red while hysterically laughing when miley talked about how gay as f*ck they are."
The light-hearted interaction wasn't the only time the friends showed support for another, People reports. Cyrus shared that she had felt body conscious after her 2013 MTV Video Music Awards performance. "Everyone started comparing me to a turkey and putting a turkey in my outfit. was just so skinny and so pasty and they kept putting me next to this turkey, and I was feeling so bad on myself that I did not wear a bikini for like two years and no one thought that that would ever made me feel some type of way," she said.
Lovato responded, acknowledging that she had no idea Cyrus had struggled with that, but despite that, she always wanted to be there for her. "I feel like we've gone through like times where we're closer and then distant — and that's fine, that's what friends do. I just wish I could've been there for you. But if that ever f*cking happens again, you better call me," she responded.
The next episode of Bright Minded airs today at 11:30 a.m. PST. In meantime, catch up on what you might have missed when Lovato stopped by.