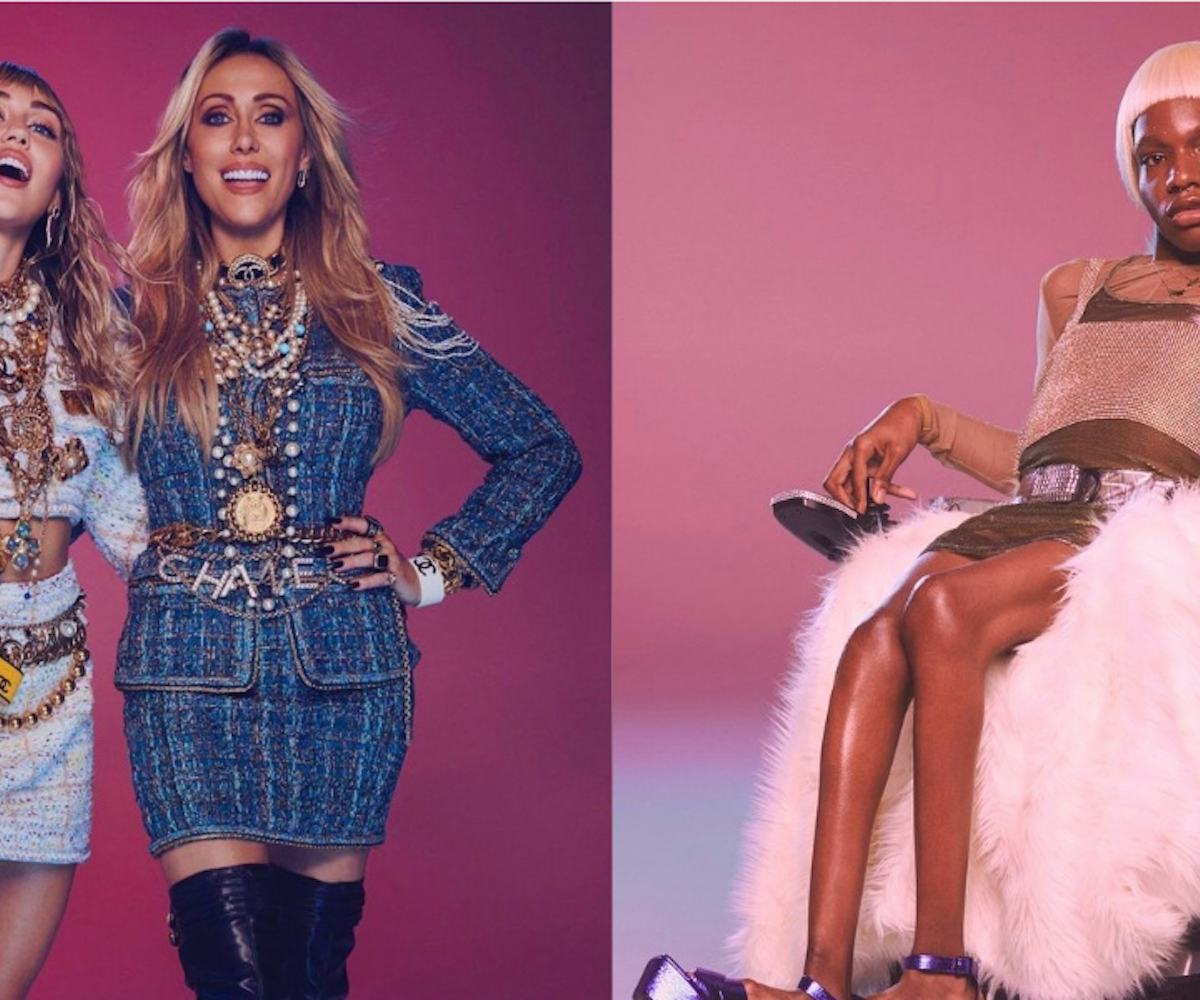 Images via @mileycyrus on Twitter
Miley Cyrus Wears Red Latex And A Vagina Dentata In "Mother's Daughter" Video
Plus, she hangs with the only squad that matters now
Miley Cyrus just unveiled the blood-red visuals for her song "Mother's Daughter," and all your faves showed up to play. Not only is Cyrus' mother, Tish, serving bougie yeehaw looks at her side, but model Aaron Phillip, skateboarder Lacey Baker, and more, all rolled up to join in on Cyrus' latest anthem.
It was already clear that Cyrus' track was all about empowerment and unity, especially with a hook like "don't fuck with my freedom," but her visuals offer new emphasis to this ethos, thanks to images of Cyrus thrashing around in red latex featuring a studded vagina dentata—the chef's kiss on an already visually stunning 'fit. And then messages like "every woman is a riot" and "not an object" flashing across the screen really drive the point home.
One particularly poignant moment occurs when the camera slowly zooms into small words written on skateboarder Lacey Baker's shirt, "they/them," drawing attention to pronouns that they had formerly not used in press.
Aaron Phillip serves looks as always; she wears metallic purple heels that pop against the otherwise grungy, warm-hued visuals. Mari Copeny, aka Little Miss Flint, is Cyrus' literal superhero in the video—and obviously, a superhero in real life, given that she's been fighting for her hometown of Flint, Michigan since she was only eight years old. Mela Murder, founder of Let's Talk Mother and star of The Florida Project, joins the group of activists with her daughter Manifest.
An Acting Angel shared the gorgeousstill of her feature in the video, along with an empowering message to Instagram. "We humans have a lot to learn, but we can start by fighting our personal biases and permitting people of all genders, races, sexualities, sizes, abilities and health levels to live harassment-free lives," Angel wrote, adding: "Don't fuck with their freedom to feel happy and beautiful right now, not just when society says its ok."
Preach—which is exactly what Cyrus did in her video.
Others to join Cyrus' video include model Vendela, trans model and artist Casil McArthur, and dancer Amazon Ashley.
Watch the video for "Mother's Daughter," below.