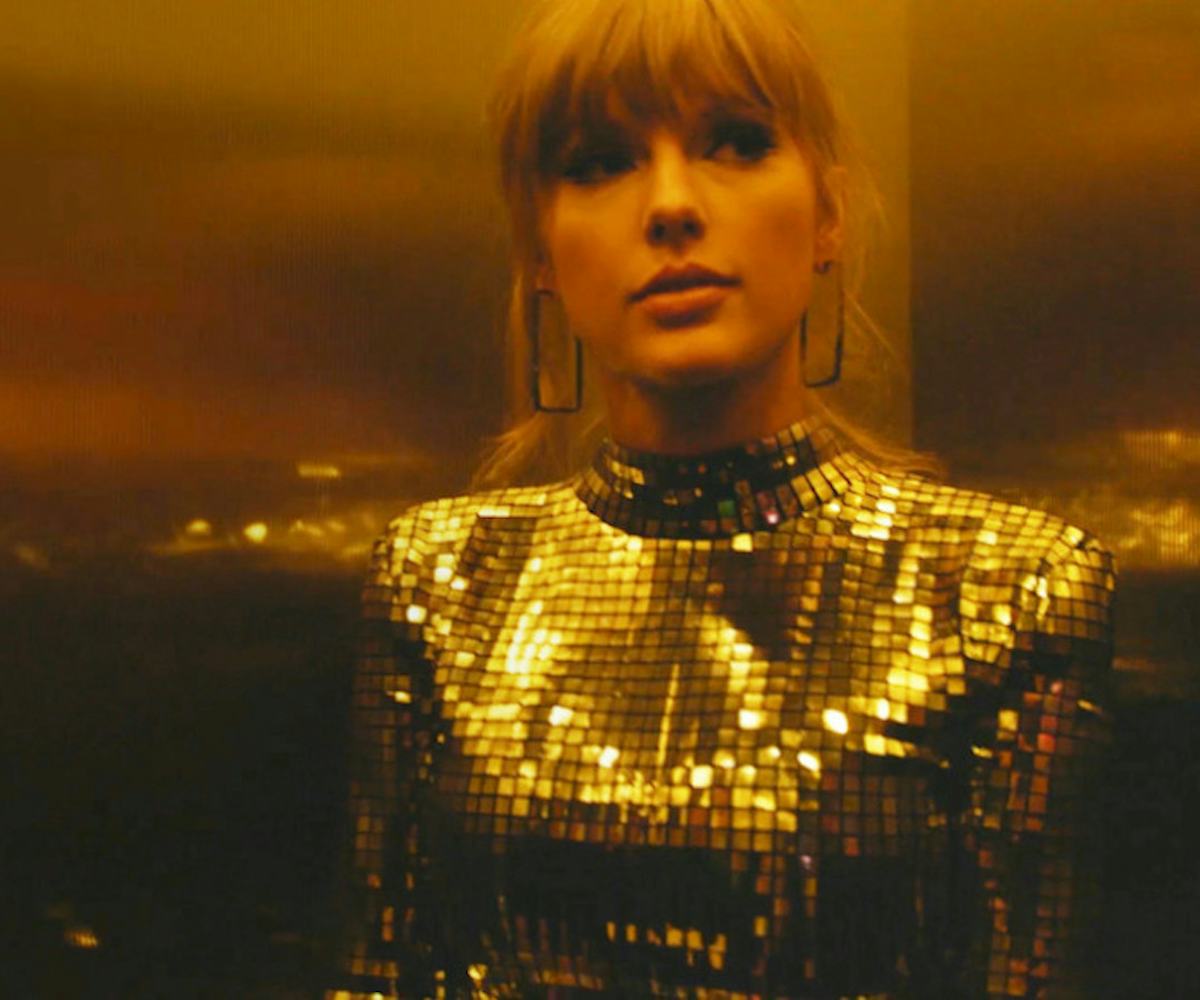 Photo courtesy Netflix
'Miss Americana' Director Lana Wilson On Capturing Taylor Swift's Life
From crafting songs to experiencing an eating disorder
How does one tackle the job of showing one of the most famous people in the world, best known for her extensive catalogue of highly personal and autobiographical songs, in a new light? That's the question documentarian Lana Wilson set out to answer with Netflix's Miss Americana, an hour and 26-minute long film that captures some of the skyscraper highs and subterranean lows of being Taylor Swift.
Shot from a mostly fly-on-the-wall perspective, Miss Americana non-chronologically documents Swift's 15-year career, with a focus on the making of her latest Jack Antonoff-produced album, Lover. It's in the details of that work that the best of Swift — and the doc — comes into focus. The film broadly charts Swift's most public controversies over the years, from her protracted bad blood with Kanye West to her disappointing silence during the 2016 election and on anything political up until October 2018. Longtime fans will be delighted to see cameos from Swift's mother, cats, and best friend Abigail of "Fifteen" fame, and Swift's revelations on experiencing an eating disorder, dealing with stalkers, the "aha" moment of her sexual assault trial are all interesting.
But most fascinating are the scenes where Swift is in her element — writing songs. Watching songs from Reputation and Lover come to life, from the beginning stages to the final recordings, is a glimpse into the process of someone whose truly mastered her craft, and as Wilson says, valuable for any creative person. It's also the first time Swift has been filmed at work in the studio, and during the making of the doc, the first interview of any kind she'd done in three years, so it's a raw and rare look, no matter your opinion on the outcome.
NYLON caught up with Wilson after the packed Miss Americana Sundance premiere to chat about the making of the film:
What it's been like to see the response to the film?
Lana Wilson: It's been amazing. You know, I made this movie in secret. No one knew about it. And there was something really surreal about it being a complete secret, and then within the first three days of the [Sundance Film] Festival, over 3,000 people had seen it, and now with it coming out on Netflix, it's been astonishing. I mean it's just beyond any dreams I ever could have had with the reception and impact. I did look at Twitter with the hashtag, and just seeing all these people writing things in dozens of different languages — there's something so moving about that. Knowing that people in all of these different countries all around the world are watching and simultaneously and having this conversation is unbelievable.
The first scene shows Taylor receiving the news that Reputation won't be nominated for a Grammy beyond Best Vocal Pop Album — peanuts for someone like her. Why did you choose to open with that?
LW: I think that it captures so much about her as an artist. She's been making music for over 15 years and I think it really shows her strength of character that if she gets kind of disappointing news, she's just like, 'Okay, I'm going to work even harder. I'm going to do even better next time.' And she goes into the studio and starts working. It also just kind of sets us off on this journey where she's writing a new album, but also evolving and growing as a person at the same time.
You caught a lot of really raw moments of her writing songs — which was trippy and captivating to watch because some were songs we've heard a million times on the radio so to witness that process happen was so wild. Was that something that you always knew you wanted to have be part of this film?
LW: No one had ever filmed her in the studio before. When I met her, no one had done an interview with her in three years. And no one had ever filmed her in the studio. So it was a big deal to do that. I think she was a little nervous about it, because understandably this is the studio and songwriting and her happy place, she's so in the zone there. We started out gradually. The first day, it was just me and a camera, and I really tried to stay planted. I kind of sat in the chair and just didn't move much. The next day I brought in a camera person and the next day we could put more microphones around. It was just a gradual build and I think in the end, it went really well. And I don't think that we interfere in the songwriting process at all.
I think even if you don't like Taylor's music, you can't not be impressed by her mastery of songwriting. There's so many things to learn for any creative person. It's this mix of being able to catch the ideas when they come and having a lot of tools for doing that.
It was amazing, too, to watch everything else going on in her life and yet she still just always snapped right back into that space of writing and creating.
LW: It's the place where she goes to process everything going on in her life.
"No one had ever filmed her in the studio. So it was a big deal to do that."
How do you decide what events to be present for and what not to when you're trying to capture a slice of someone's life?
LW: It's pretty unpredictable. You just try to film as much as possible. You try to be there for the key moments, but also in a documentary like this, the big moments like the album coming out for example are important, but the smaller, more mundane moments are just as important in a funny way. Everyone really loves the scene of her eating a burrito, for example. I think just because it's so utterly normal. I really liked being able to capture the contrast between the extraordinary and the ordinary. Her on stage in front of 70,000 people and then hard cutting to her alone in the car, just going home to her hotel room at the end of the night. Those are moments where I felt a real intimacy while filming with her and I knew that would translate to audiences at home.
You also had to make decisions about how and if to include events like 2009 VMAs and things that happened with Kanye and Kim. Those events shaped her public image and from what we see now in the documentary, also her internal dramas. What was that process like?
LW: I was less interested in Kanye West and making any evaluative judgments about him, then I was in how these events affected Taylor as someone who cared about what other people thought. When Taylor went to the VMAs in 2009, the evening started out like a fairytale. She literally arrived on a horse-drawn carriage, but then it ends with her standing alone on stage as an entire theater of people booed. When she told me about that aspect of the story, I was surprised because that was something I never heard before. And hearing that helped me understand why that event had such a big impact on her. It's not about Kanye, it's about how if you're a 19-year-old performing artist who wants applause, a room full of people booing can be a really devastating experience. And with the stuff that comes later, it wasn't, again, it wasn't about the specific event. It was about how it feels when all of these people on social media are saying "hashtag Taylor Swift is over party." It's about feeling like the world is turning against you. That's what was important.
Taylor revealed that she's experienced having an eating disorder, which was not something she had previously shared publicly. Did that come about organically?
LW: It came about organically, and I think it's so brave of her to talk about it. I was surprised to learn that and hear what her experience has been like. And I think what I really liked about that scene in the film is how you hear her thinking out loud. Like it's verbalizing this thought process, "Yeah, I do this now but it's still like, I look at a picture of myself and I start to overanalyze it and I think, 'Nope, we're not doing that again. We're changing the channel in our brain.'" I recognize that kind of thought process and it was amazing to hear her think out loud, because I think it is something that so many people, especially women and young girls will connect to.
The other thing that I'm proud of is that one of our editors had the idea to cut into that, the flashbacks to the footage of her on red carpets when she was struggling with this. When you see those images from a few years ago in juxtaposition with her now, it's really shocking. Because I think for me what I was thinking was, 'Oh whoa, these are these images that I saw in magazines and online and she's an icon of beauty.' And I never would have thought that there was anything weird about this. It's become so normalized that the bodies we see on magazine covers are very often of the exact same body type. By not showing a spectrum of body types and skin colors and gender orientation, we're doing so much damage to people who can't see people who look like them. And I thought it was really powerful to recognize.
It was pretty shocking. I remember the audience gasping at the premiere. It was also pretty surprising, in a way, to hear her saying that she felt like as she approaches 30, her time is running out, so to speak. It's hard to imagine a world where Taylor is not a globally known superstar.
LW: I was really fascinated when she talked about that stuff. I can't think of a lot of women who are not in their teens or twenties who are all over pop radio. She's doing something that not a lot of people have done before. There's no precedent for a lot of the stuff that she's doing. We don't know what's going to happen, but I do think the kind of ticking clock and the extra pressure on women in pop music, I think that's real. My industry is the film industry, and certainly talk to any actress in the film industry about what it's like to be over the age of 35 and what happens to the roles that are offered, the possibilities for them, the freedom they might've had before. Things really change. You're much more limited. And I think that's something that we're all responsible for in our society and in our culture. For the limitations that are in our collective imagination over what women over the age of 35 can do and be.
Miss Americana is now streaming on Netflix.
This interview has been lightly edited and condensed.