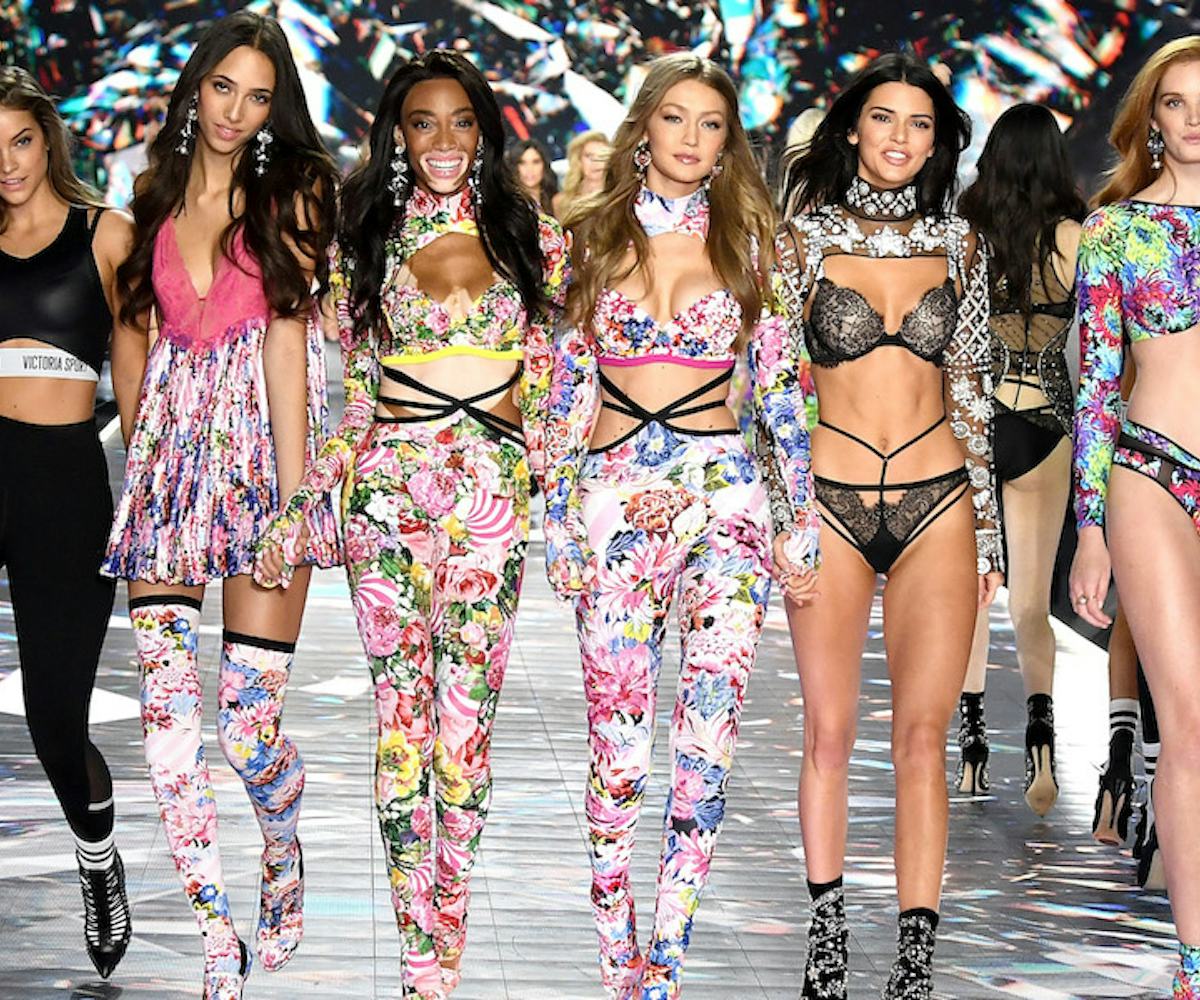 Photo by Dimitrios Kambouris/Getty Images for Victoria's Secret
Over 100 Models Signed An Open Letter Urging Victoria's Secret To Do Better
The Model Alliance is working to ensure the future safety of all models who work with the brand
More than 100 models have signed an open letter with the Model Alliance and TIME'S UP following a recent New York Times exposé on the "entrenched culture of misogyny, bullying and harassment" at Victoria's Secret. In the letter, the Model Alliance — a group which advocates for models' rights — urges Victoria's Secret to join its RESPECT Program, which would signify a binding commitment towards following a strict code of conduct, and would ensure the future safety of all models who work with the brand.
Following allegations outlined in the NYT report, the open letter emphasizes Victoria's Secret's refusal to take measurable steps towards changing internal conditions. The Model Alliance reportedly met with Tammy Roberts Myers, CCO of VS parent company L Brands, to discuss change back in September, during which she "made abundantly clear that Victoria's Secret does not take these complaints seriously," and followed up via e-mail to add that the company is only "in the process of continued learning and listening."
But as reiterated by Model Alliance, they should be well past the stages of "learning and listening," given the severity and duration of complaints. At the head of the NYT report, it is stated that former L Brands CMO Ed Razek was accused of trying to kiss models, asking them "to sit on his lap," and even "[touching] one's crotch ahead of the 2018 Victoria's Secret fashion show." Razek notably viewed Victoria's Secret's idea of sexiness as being synonymous with his own, and received backlash after explaining the lack of inclusion of transgender models with the following: "Shouldn't you have transsexuals in the show? No. No, I don't think we should," adding, "Well, why not? Because the show is a fantasy. It's a 42-minute entertainment special. That's what it is." Razek left the company in August 2019, shortly after rumors spread of the cancellation of the yearly VS Fashion Show.
Razek's departure, however, doesn't necessarily suggest VS is moving in a new direction, and perhaps is even more reason for the company to double down on ensuring figures like Razek do not rise to power again. Two models quoted in the NYT report, Alyssa Miller and Alison Nix, are among the models who signed the new call to action from the Model Alliance, along with Christy Turlington Burns, Gemma Ward, and Iskra Lawrence. Read the full letter below.
Dear Mr. Mehas,
The Model Alliance met with L Brands/Victoria's Secret five months ago and proposed that the company take concrete action to change its culture of misogyny and abuse. The company refused to act. L Brands/Victoria's Secret declined to make binding commitments to protect models and other workers from harassment by joining the RESPECT Program.
We write today because the New York Times investigative report "'Angels' in Hell: The Culture of Misogyny Inside Victoria's Secret," shows that the culture of misogyny, bullying, and harassment at Victoria's Secret is even more egregious and more entrenched than previously understood. The Times reports repeated complaints of inappropriate conduct towards models and employees: Body shaming, lewd remarks, crotch-grabbing, retaliation for rebuffing advances, unauthorized use of models' images, and pressures to pose nude without pay for a photographer's personal shoots. According to Casey Crowe Taylor, a former public relations employee, "This abuse was just laughed off and accepted as normal [...] And anyone who tried to do anything about it wasn't just ignored. They were punished." This is deeply disturbing but not surprising, as we have seen similar issues many times throughout our industry. However, the intense retaliation used by Victoria's Secret to silence those who reported misconduct is particularly deplorable. Indeed, The Times called Victoria's Secret "a case study in the wrong way to deal with allegations of misconduct."
When the Model Alliance met with Tammy Roberts Myers, Chief Communications Officer of L Brands in New York City last September, it was made abundantly clear that Victoria's Secret does not take these complaints seriously. In a follow-up email she told us that Victoria's Secret was not ready to take any concrete steps towards addressing these allegations - rather, the company is simply, "in the process of continued learning and listening". In the face of the horrifying revelations from the past year, this response is utterly unacceptable. The time for listening is long past; it's time for Victoria's Secret to take action to protect the people they profit from. Human rights violations can't be stopped with a corporate rebranding exercise.
We believe that this moment can be a wake-up call for Victoria's Secret. This is an opportunity to take meaningful steps towards ending these abuses by joining the RESPECT Program, as models have called for since December 2018. The RESPECT Program—a program of the Model Alliance—is the only existing accountability program designed by and for models. Under the Program, signatory companies make a binding commitment to require their employees, agents, vendors, photographers and other contractors to follow a code of conduct that protects everyone's safety on the job. Models have access to an independent, confidential complaint mechanism, with swift and fair resolution of complaints and appropriate consequences for abusers. Further, RESPECT includes a robust training program aimed toward prevention, to ensure that everyone understands their rights and responsibilities.
The Model Alliance believes in safety, freedom to work without fear of harassment, and real consequences for abusers. Victoria's Secret's failure to create an environment of accountability, both in-house and in their interactions with a network of agencies and creatives, undermines these values. We envision an industry in which creative expression flourishes and everyone can work without fear of harassment or abuse. This is why we launched the RESPECT Program, and are again urging Victoria's Secret to join us in creating a safer, more equitable fashion industry.
We invite Victoria's Secret to work together with us to address these problems and to engage in meaningful action by joining the RESPECT Program. We stand with the courageous women who have come forward and shared their stories, despite fears of retaliation or harm to their careers.
Their stories deserve RESPECT.
Join us.
Sincerely,
Model Alliance
View the full list of model co-signers here.