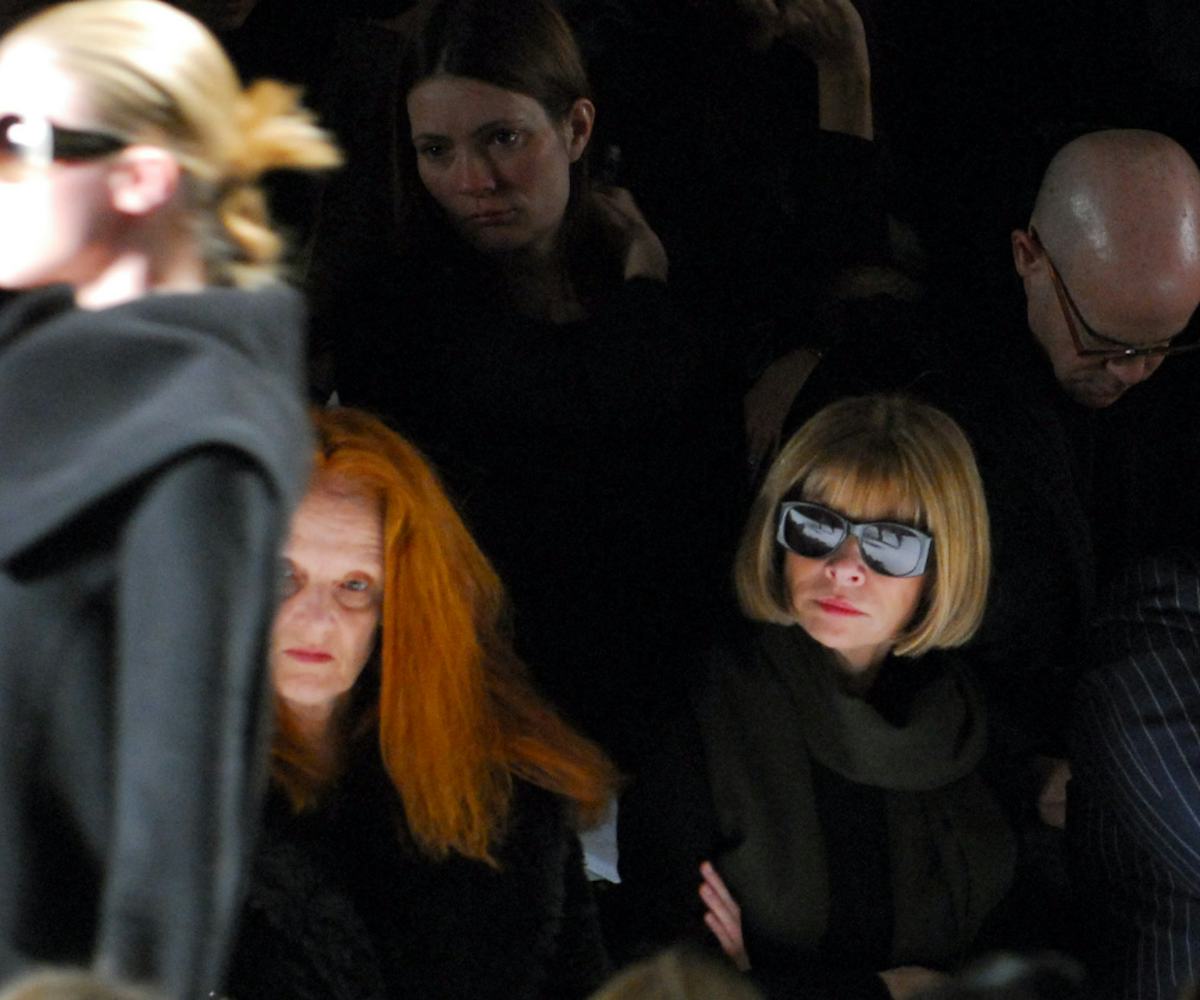 Photo by Michael Loccisano/FilmMagic
26 Movies, Books & Podcasts To Brush Up On Your Fashion Education
Refine your craft straight from the couch
Even though we may be cooped up indoors at the moment, fashion and creativity doesn't have to be ignored. Between virtual happy hour via FaceTime (or Zoom) and attempting at-home workouts, make the most of your quarantined downtime by brushing up on your industry knowledge. But this time around, forgo digging up an old textbook because this kind of productivity is a lot more engaging –– and dare we say fun, too. There's plenty of easily accessible books, movies, documentaries, and podcasts that are all about fashion.
Whether you're a podcast junkie ready for the latest in fashion news and gossip, attempting to catch up on the Fall 2020 runways per YouTube's new Fashion section, or just need a lighthearted fashion film, we've rounded up the ultimate entertainment list that's perfect for relaxing on the sofa while still refining your craft, below.
Must-Read Fashion Books & Biographies
You may know Grace Coddington for her dazzling fashion spreads during her time as creative director of Vogue — and her iconic red hair. Discover how she transitioned from modeling in fashion shoots to running the show behind-the-scenes.
A pioneer in high-end streetwear, Dapper Dan opens up about his hardships and journey to making a name for himself in the fashion industry.
Take a behind-the-scenes look at the roles of a handful of Vogue's most iconic editors, like Polly Mellen and Babs Simpson, throughout the magazine's history.
The Battle of Versailles: The Night American Fashion Stumbled into the Spotlight
Unless you're a true fashion history buff, you may not have heard about "The Battle of Versailles." Robin Givhan, The Washington Post's fashion critic, shares the story of the pivotal show that proved American fashion is a force to be reckoned with.
Diane von Furstenberg, one of the most iconic and influential women in the fashion industry, shares the trials and tribulations behind launching her namesake brand with her signature wrap dress that changed women's wardrobes.
Must-Listen Podcasts On Fashion News & Gossip
If you're looking for an in-depth analysis on runway trends to consumer behavior, this podcast is for you. As the editor-in-chief of Business of Fashion, Imran Amed's thoughtful approach guarantees even the most advanced fashion guru will learn a thing or two each episode.
A fun and humorous take on news? That's something we can get behind. Hosts Kaarin and Lisa offer a refreshing take on industry happenings with conversational discussions.
Jill Manoff, editor-in-chief of The Glossy, hosts the interview-based show where she and her guests discuss innovation, technology, and entrepreneurship within the fashion industry.
Although not solely fashion-related, Hillary Kerr, Who What Wear co-founder, explores career reinvention with her guests as they share their journeys of finding a career path that sparks creativity and fulfillment.
Hosted by the thought leaders at forecasting firm Stylus, Future Thinking touches on what's next in fashion, consumer trends, and technology.
Fashion aficionados Camille Charriere and Monica Ainley host "no filter," in-depth discussions with some of the most notable names in the fashion industry from mega-influencers to creative directors.
Known for their uncut, raw takes on all things fashion, music, and more, "Throwing Fits" offers a sense of hilarity while still picking up useful info along the way — and shameless plug that you may find NYLON's own Alyssa Vingan Klein featured on the podcast.
Must-Watch Fashion-Friendly Movies & TV Shows
The Devil Wears Prada (Available on YouTube, Amazon, Google Play, Vudu and iTunes)
Easily the most notorious fashion film, The Devil Wears Prada is a must-watch — even if you've already lost track of how many times you've seen it. Its tongue-in-cheek humor crossed with the often too real struggles of kickstarting your career in New York never gets old.
Next in Fashion (Available on Netflix)
Hosted by Tan France and Alexa Chung, designers from around the world team up to complete themed challenges in hopes of winning a $250,000 grant for their business.
The Bold Type (Available on Hulu)
This guilty-pleasure show follows three staffers (and best friends) at a women's magazine as they navigate their careers, life, and style in New York City.
Ocean's 8 (Available on Hulu, Vudu, Amazon, Google Play and iTunes)
This franchise gets a makeover as an all-women cast attempts to pull off a heist during fashion's biggest night out: The Met Gala. Trust us, the costumes alone are worth the watch.
Sex and the City(Available on Amazon and HBO Now)
As we're dreaming of roaming the city streets en route to brunch with our girlfriends, rewatching Sex and the City will have to suffice for now. This cult classic is filled with late '90s and 2000s-era outfit inspo and plenty of laughs to lighten the mood.
Styling Hollywood (Available on Netflix)
Having curated looks for Hollywood starlets and up-and-comers, Jason Bolden and Adair Curtis of JSN Studio let cameras into their everyday lives to expose what really goes on when prepping for the red carpet.
Confessions of a Shopaholic (Available on Vudu, Amazon, Google Play and iTunes)
An early-aughts classic, this film is perfect for a lighthearted laugh, throwback fashion, and the trials and tribulations of "making it" in the fashion industry.
Must-Watch Documentaries On The Fashion Industry & Its Insiders
Scatter My Ashes at Bergdorf's (Available on Vudu, Amazon, Google Play and iTunes)
Ever wondered what goes on behind the backroom doors at one of the most iconic department stores? Us, too. Industry insiders like Manolo Blahnik and Linda Fargo tell all in this interview-based documentary on Bergdorf Goodman.
Bill Cunningham: New York (Available on Vudu, Amazon and iTunes)
The late Bill Cunningham, the legendary photographer who just about founded street-style coverage, offers a glimpse into his under-the-radar yet extraordinary life.
The First Monday In May (Available on Hulu, YouTube, Amazon, Google Play, Vudu and iTunes)
Leading up to the first Monday in May, or better known as The Met Gala, this film follows Anna Wintour and the Costume Institute's Andrew Bolton from preparation to the exhibition's launch at the annual soireé.
Very Ralph (Available on Amazon and HBO Now)
One of the most well-known American designers Ralph Lauren shares a transparent view on both his personal and professional life and the journey of developing his namesake label.
Making the American Man (Available on Netflix)
Making the American Man dives deep into the heritage of men's fashion, the development of manufacturing, and the constructs of dressing for men in our society.
Coco Before Chanel (Available on Netflix, Amazon, Google Play, Vudu and iTunes)
This biopic depicts the life of Gabrielle "Coco" Chanel as she rises from seamstress to the world-renowned, French designer we know today. From plot line to costumes, this film is a fashion lover's dream.
Maddman: The Steve Madden Story (Available on Netflix, Amazon, Google Play and iTunes)
Fashion isn't all glitz and glamour. Maddman dives into the harsh realities and missteps that were taken in building the billion-dollar Steve Madden empire and his journey of bouncing back.