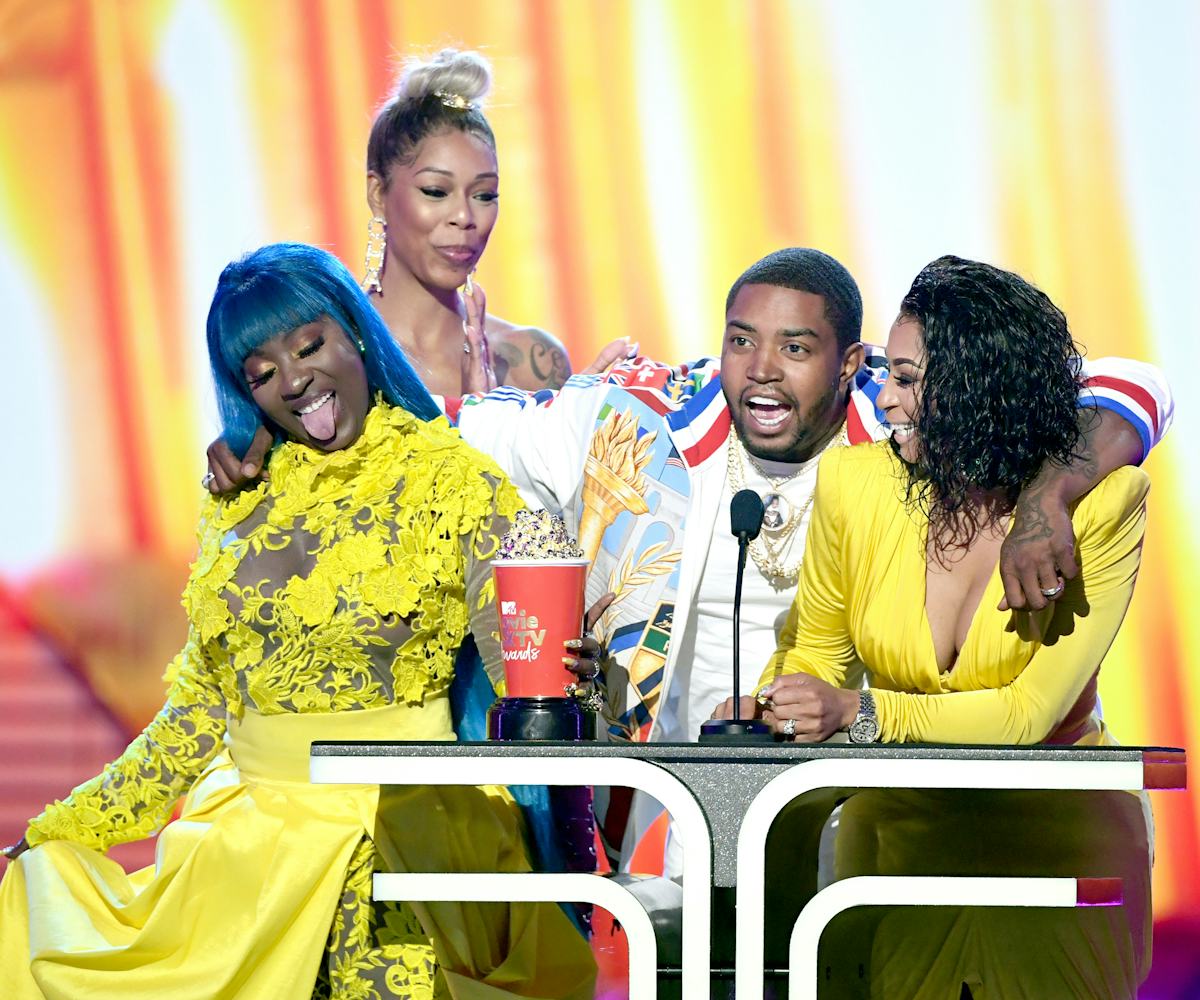 Photo by Kevin Winters / Getty Images.
'Love & Hip Hop' Finally Got The Respect It Deserves
Last night's MTV Movie & TV Awards justly celebrated the series and films that we couldn't stop watching and talking about over the past year. It's always nice to honor the stuff that doesn't get recognized at the established awards shows but that still make a huge impact on the culture. For example, all those Bird Box memes really paid off for Sandra Bullock, who won Most Frightened Performance. Plus, more fun was there to be had as the network doubled down on teasers for its upcoming reboot of The Hills. And Lizzo, one of the most in-demand pop stars of the moment, worked everyone into a frenzy.
Everything went off without a hitch until it was time to hand out the award for Reality Royalty, given to that year's best reality show. Love & Hip Hop: Atlanta was an outlier nominee alongside The Bachelor, The Challenge, Jersey Shore: Family Vacation, and Vanderpump Rules; but, to everyone's surprise, it won. And it quickly became clear that not everyone was happy about it.
In the audience, RuPaul's Drag Race star Alyssa Edwards sat with her mouth agape when Trixie Mattel and Nick Kroll announced the winner. Angelina Pivarnick, who appears on Jersey Shore: Family Vacation, actually yelled, "What the fuck?!" The rest of the audience, especially the all-white cast members from other shows, sat there with stale, fake smiles and issued unenthusiastic claps. This did not go unnoticed: Twitter quickly called out the general disdain that seemed to be radiating toward LHHATL cast members Lil Scrappy, his wife Bambie, Karlie Redd, and dancehall artist Spice as they accepted their award.
The racist undertones in many people's reactions were unmistakable, even if the LHHATL stars didn't let it faze them. As Scrappy said during his acceptance speech: "I was just telling them back over there, I think we too ratchet to win [an] award. But ratchet pay off sometimes, you feel me?" This seemed to be an acknowledgment of the show's status as so lowbrow that, during the 2016 presidential election cycle, then-President Barack Obama called out Trump's behavior as being "some Love & Hip Hop stuff."
Even so, the franchise—created by a Black woman, Mona Scott-Young—is an accessible entry point for many in the Black community to have conversations about issues like LGBTQ acceptance, parenting and fertility, incarceration, diasporic Black culture, and even politics. It has also helped many women of color build careers in media, despite the industry's many barriers. And the mainstream is starting to notice, with opinion pieces in the New York Times validating the legitimacy of Black reality shows like LHH in the pop culture space.
Even amongst Black folks, racialized concepts of decorum and class often influence what kind of kind content we deem acceptable and worthy of accolades. These respectability politics drive an unnecessary wedge between members of our own community, while also inadvertently co-signing anti-Black rhetoric. It's damaging and disrespectful, which is why it felt so gratifying to see LHHATL get some respect put on its name—finally.