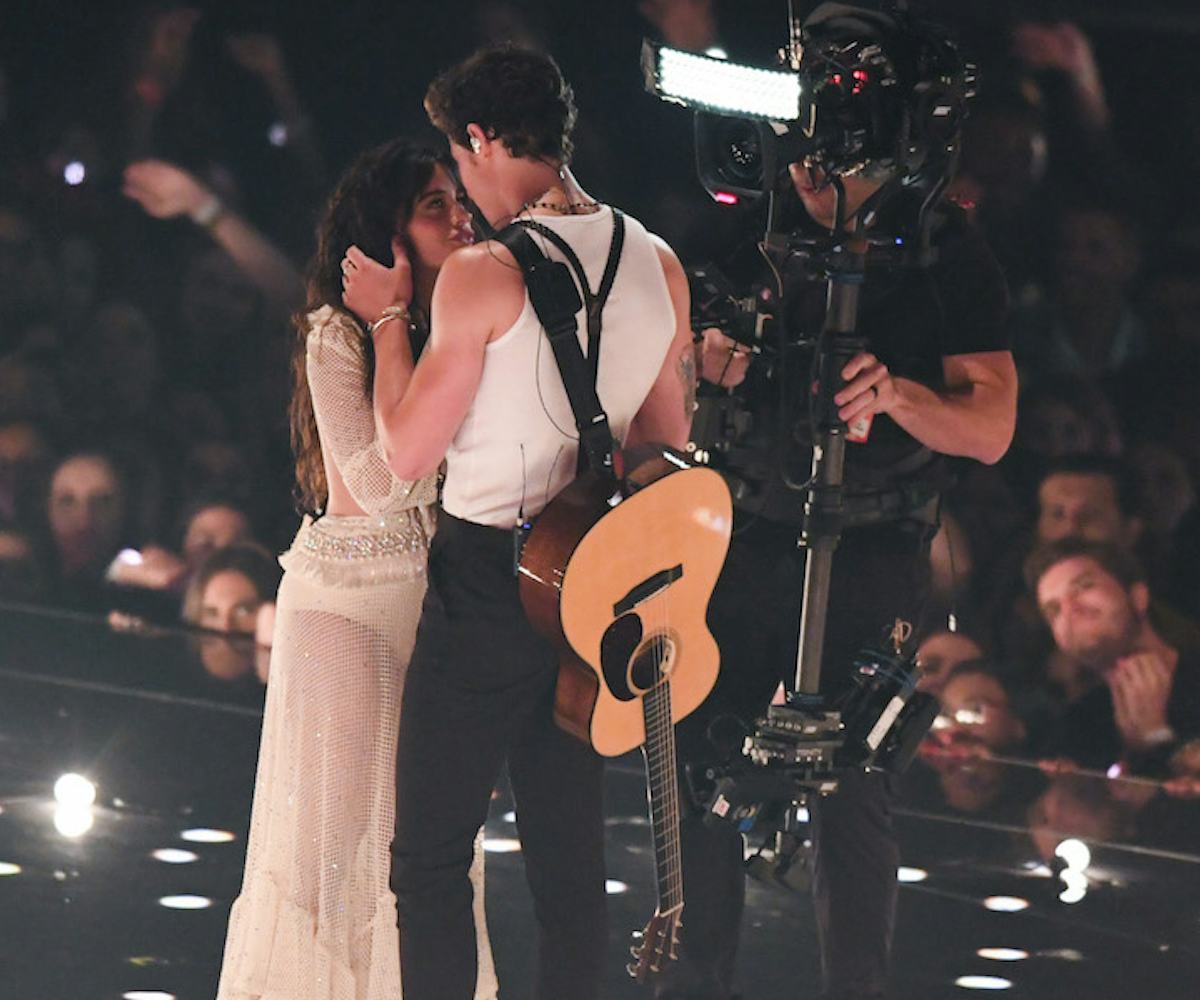 Photo by Stephen Lovekin/Shutterstock
Twitter Has The Best Reactions To The 2019 MTV VMAs
What a rollercoaster of a night!
The 2019 MTV Video Music Awards have come and gone, and while they weren't quite as boring as in 2018, the highs were very high, and the lows were... well, you heard the host's "jokes" about safe spaces and support animals. Black women ruled the night (Missy, Normani, Lizzo, hi!), Lil Nas X continued being the only wholesome good thing in this world, and Sophie Turner proved once again that all we need is a reaction camera on her 24/7.
Below, we rounded up all the best reactions to the MTV VMAs that were tweeted out into the digital void for your scrolling pleasure.
Okay, I'm usually one for romanticizing a city, but Tana, this is Newark, New Jersey. I repeat, Newark, New Jersey.
The reactions to the host were the only thing that actually made me laugh during his sets.
Who IS he? Why did they hire him? Cardi B was right there, ready to work her teleprompter magic.
This is all I can imagine when I think of him crafting up those ~jokes~.
Okay, let's pretend he didn't happen for a second. Everyone we know and love was out at the VMAs last night, serving up their best looks. If Lizzo and Lil Nas X aren't your new prom goals, I don't know what are.
Speaking of which, Lil Nas X took home his first award ever last night and had a long list of individuals to thank. Was there anything cuter than when he let that scroll fall to the floor? We're guessing he had plenty of horses to thank for his viral yeehaw fame.
Miley Cyrus couldn't let us get too happy, though, and gave the most heart-wrenching performance of her new post-breakup song "Slide." I'm not crying, you are.
Missy Elliott didn't mess around, and showed us why she deserved to win the Vanguard Award decades ago. "IT'S ABOUT DAMN TIME SHE GOT THE RECOGNITION SHE DESERVES PERFORMING MUSIC THAT'S ALMOST 20+ YEARS OLD AND THE SHIT STILL SOUNDS BRAND NEW WHO THE FUCK ELSE COULD????????" Literally no one else could.
Please, just take my wig, Missy.
Iconic performances aside, I need to take a moment to talk about Shawn Mendes and Camila Cabello. As @Kevunn tweeted, "I feel more chemistry between Bebe and Cece Winans than I do fro these two."
Many just couldn't get into that "Señorita" performance. He has "the raw sexual energy of a church camp counselor," wrote @WrittenByHanna. Was I supposed to want them to kiss? I... did not want them to kiss.
But, Turner, Joe Jonas, and Bebe Rexha definitely wanted them to kiss. There's never been a more dramatic reaction to a lack of onstage chemistry... leading to nothing.
I sincerely hope they get the spicy performance they deserve to watch someday (though it probably won't come from those two).
And, not to pit two incredible ladies against each other, but when I say I gagged when seeing this tweet from @meeeeeooowwww...
"Imagine putting on a fake relationship for over a month to promote an unbearably bland single and VMA performance only to be outdone by Normani in one night," @mike_bo_bike wrote.
"What the hell we gon' do now?"—actual transcription of what Camila was heard asking Shawn in the audience after Normani killed it.
Normani is that bitch, and now the whole world knows it. "The new runs, the choreo, the stunts, HER BREATH CONTROL Norman showed up and showed out," @dopePocahontas wrote. She's not wrong!
And Normani did it all with a hand-held mic. How?! The coordination jumped out.
Back on the Turner reaction cam, we were treated to the actress running away from husband Joe as soon as Normani hit the stage so she could bust a move with her friend. I'm not married, but this is incredibly relatable. Next year when the VMAs come around, if Turner is in attendance, MTV should do the right thing and give her her own camera so that we can catch all of her marvelous expressions.