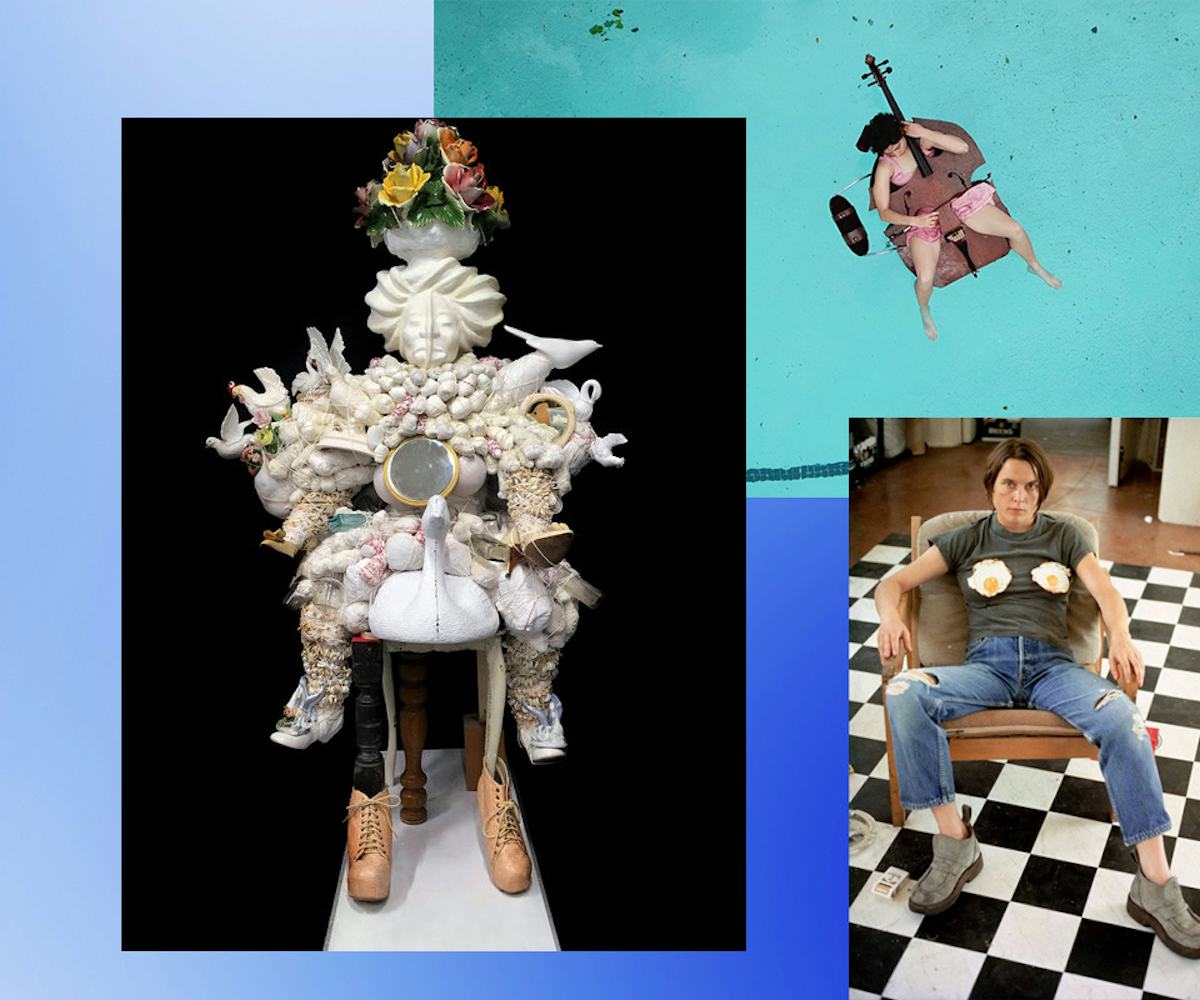 Photos courtesy of Ogden Museum of Southern Art, Houston Center for Photography, INUIT Gallery, Women and Their Work, Hammer Museum
Here Are All The Best Museum And Gallery Openings This Spring
The days are longer, and the air is warmer, which means it will soon be the perfect time to go museum hopping. Luckily for us, there are dozens of exhibitions opening this spring that are particularly exciting.
Many are intent on helping the viewer understand themselves better within their society or through a more global context. Even more serve to help the artist behind them to explore their own identity in front of an audience. Overall, what's being shown this season deals strongly with self-identity—sometimes through the context of society and a more large-scale identity marker, but also individually, as it relates to ourselves and our family.
Below, we've rounded up the best exhibitions opening this spring, all over the country.
NEW YORK
Metropolitan Museum of Art: "Camp: Notes on Fashion," on view May 9-September 8
Framed around Susan Sontag's "Notes on Camp," this exhibit will trace camp aesthetic's rise to importance. And while the exhibit is undoubtedly going to be iconic, I'm equally excited for the fashion inspo that will come out of the accompanying Met Gala.
Museum of Arts and Design, "Non-Stick Nostalgia: Y2K Retrofuturism in Contemporary Jewelry," on view March 21-July 21
"Non-Stick Nostalgia" uses jewelry to take a look at how growing up on the internet has affected millennials and the creations of their personas. "Self-actualization has become open source; individuality, user-generated," reads the description. "Millennials have been raised cyborg. They know they are being viewed."
Grey Art Gallery and Leslie-Lohman Museum, "Art After Stonewall: 1969-1989," on view April 24-July 20
Presented in two parts at two different spaces, "Art After Stonewall" will show the huge impact that the LGBTQ liberation movement had on visual culture.
PITTSBURGH
Carnegie Museum of Art, "Ruth Root," on view April 19-August 25
Neon colors and Ruth Bader Ginsburg? Count me in. Root's geometric paintings combine printed fabrics and spray paint on plexiglass, making bold statements through color and pattern.
BOSTON
ICA Boston, "They Live," on view March 23-May 27
"They Live" is a collection using horror to address "eternal concerns" of war, displacement, and memories, as detailed by artist Huma Bhabha.
CLEVELAND
Dobama Theatre, "The Nether," on view March 6-30
Described as a "virtual wonderland," this performance at the Dobama Theatre is an immersive futuristic thriller about our technological state. Think Bandersnatch, but make it virtual reality.
MINNEAPOLIS
Walker Art Center, "The Body Electric," on view March 30-June 21
This exhibit is all about how our place in a digital world and our relationship with technology has changed our bodies over generations. A perfect balance of thought-provoking and anxiety-provoking.
SEATTLE
Museum of Pop Culture, "A Queen Within," on view beginning May 11
The works of emerging and established designers alike make up this exhibit, which explores how the six personality types of a queen (Sage, Enchantress, Explorer, Mother Earth, Heroine, and Thespian) are explored in their work. Brands like Alexander McQueen, Joanne Petit-Frère, Hideki Seo, Gucci, Chromat, and Vivienne Westwood are explored, as is how they "create a space for contemplating the relationship between dress, society, and our shared history."
LOS ANGELES
Hammer Museum, "Sarah Lucas: Au Naturel," on view June 9-September 1
Through her sculptural and photographic works, Sarah Lucas arrange everyday objects in a way that make you question themes like sexuality and gender, but in a cheeky, approachable way. They may make you giggle and rethink gender notions simultaneously.
Marciano Art Foundation, "An Encounter with Lux Prima," on view April 18-21
Karen O and Danger Mouse have created an artistic immersion into their album Lux Prima, bringing it to life with the help of sound and lighting experts as well as visual artists. This is the only way I'll be listening to music now.
Kohn Gallery, "Heidi Hahn: Burn Out in Shredded Heaven," on view starting April 6
Hahn draws figures of women, but divorces them from the male gaze, instead confronting how we see our bodies and offering up a look at why, exactly, we critique our bodies so much.
SAN FRANCISCO
SF Museum of Modern Art, "Suzanne Lacy: We Are Here," on view April 20–August 4
Throughout her career, Lacy has worked with activists and organizers to create large-scale performances that draw attention to issues like "feminism, violence against women, racism, and labor rights." SFMoMA is taking a look back through her entire career
The Wattis Institute, "To Know Herself," on view April 4–April 27
"To Know Herself" is held in the Wattis Institute event space's bar instead of the exhibition gallery, as a mode of looking at the social effects of some of my favorite places: lesbian bars.
The Wattis Institute, "Akosua Adoma Owusu: Welcome to the Jungle," on view May 9–July 27
Owusu compiles a selection of her video works documenting her relationship with her hair, spanning over a decade.
PHOENIX
Phoenix Art Museum, "Flora," on view April 13-August 18
Sometimes florals for spring really can be groundbreaking. "Flora" takes a look at how flowers have inspired fashion designers like Marc Jacobs, Comme des Garçons, and Charles James throughout the years.
HOUSTON
Houston Center for Photography, "Cristina Velasquez El Nuevo Mundo/The New World," on view May 10–July 7
Colombian artist Velasquez combines the ancient art of weaving with the more modern art of photography to take a look at the idealization of the colonization of the Americas.
Contemporary Arts Museum Houston, "Stonewall 50," on view April 27-July 28
Fifty years after the riots at Stonewall, the Contemporary Arts Museum Houston is tapping queer artists and allies from all over the country to give us a "snapshot of the complexion, interests, and activities of a diverse group."
AUSTIN
Women and Their Work, "Rosa Nussbaum," on view April 27-June 6
Nussbaum has made a new reality, called "Horizonland," in which she looks at the world through the eyes of a passenger—never the leader or the driver, but the person who is being taken somewhere.
The Contemporary Austin, "Abraham Cruzvillegas: Hi, How Are You, Gonzo?," on view March 28-May 10
This exhibit revolved around the notion of autoconstrucción, which can be defined as "self-build" or "self-construction." Site-specific sculptures will be the meeting ground for workshops, music performances, skateboarding, and art making.
CHICAGO
Chicago Museum of Contemporary Art, "Can You Hear Me Now?" on view starting April 27
"Can You Hear Me Now?" represents the overwhelming nature of current political discourse and the ways in which oppressed voices are silenced or supported, drawing attention to the fact that it sometimes feels like we can't hear each other.
Chicago Museum of Contemporary Art, "Figures of Speech," on view starting June 10
Off-White CEO Virgil Abloh has taken over Louis Vuitton, IKEA, and now the Chicago MoCA. This showcase highlights the visionary's career and personal art interests.
INTUIT Gallery, "This Stillness," on view March 28-May 10
This collection beautifully explores themes of autonomy and self-reflection in Black womanhood, drawn from the artists' lived experiences. The works explore personal and familial connections to identity, as well as societal understandings of the self.
Hyde Park Art Center, "It Be Like That Sometimes," May 26-August 11
The teens of Hyde Park Art Center programs collaborated on this new exhibit, with works depicting situations that the teens deemed as having lasting impressions on their lives.
BALTIMORE
Towson University Dept of Theater Arts, "What Were You Wearing?" on view April 4-April 30
Deliberately placed on college campuses, this installation addresses the prevalence of sexual assault and encourages survivors to reclaim their bodies and sexualities.
PORTLAND, MAINE
Space 538, <3 <3, <3, on view March 20-April 26
Artist Brendan Shea sees the potential in "erratic" marks on paper and uses them to reference childhood, a time when we didn't overthink things and could see shapes in any series of marks.
ATLANTA
High Museum, "Strange Light," on view May 11-November 10
"Strange Light" features some of the "Father of American Surrealism" Clarence John Laughlin's most iconic photographs, but also a new collection of never-before-seen images.
NEW ORLEANS
Ogden Museum of Southern Art, "Margarita Cabrera," on view March 28-May 12
Cabrera uses Mexican folk art techniques to create sculptures that address issues of migration, discrimination, and cultural identity.
WASHINGTON, D.C.
Hirshhorn Museum, Rirkrit Tiravanija: Who's Afraid of Red, Yellow, and Green, on view May 17-July 24
Triavanija's exhibition is actually a communal dining area, which offers visitors the chance to sit down and have a meal together. The site will also include a mural, which will be erected over the course of the exhibition and will "reference protests against Thai government policies," and a series of short documentary films.
MIAMI
Pérez Art Museum, "Beatriz González: A Retrospective," on view April 19-September 1
Gonzalez makes her U.S. gallery debut with this new collection of paintings that address the discrepancies between Colombian middle-class taste and European materialism.
ORLANDO
The Mennello Museum of American Art, Immersion Into Compounded Time And The Paintings Of FireleiI Báez, on view June 7-September 8
Báez is interested in how we understand the "complex cultural identities" that are seen in the Afro-Caribbean Diaspora on a global scale, and explores their visibility or lack thereof through a series of portraits of influential people and mythical goddesses to "create a contemporary narrative of a woman's life, embracing the past, and staking her place in a universal future."