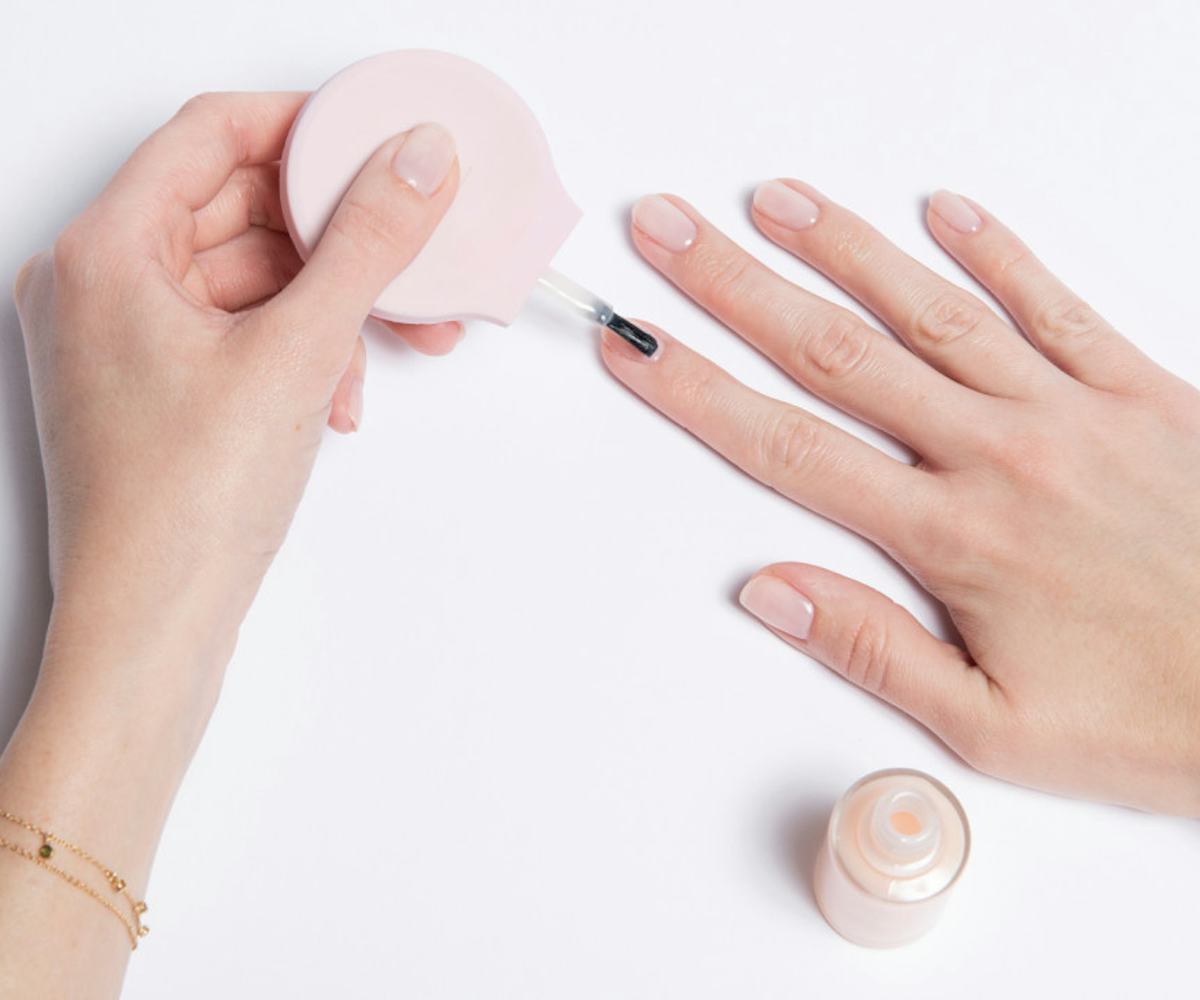 Photo courtesy of Olive & June
Do Your Nails Really Need A Detox?
Experts weigh in on whether or not your nails actually need time to breathe
With the start of every new year, conversations about cleanses, for everything from food to skin care, bubble up. Most of them? Not worth a second thought. But when Los Angeles-based nail brand and salon Olive & June kicked off the decade by launching its "Nail Cleanse" on Instagram, it begged the question: Should you detox your nails? According to the experts, the answer will look different for everyone. Also, contrary to what the term suggests, a "detox" doesn't mean cutting out all nail products.
For Jin Soon Choi, manicurist and founder of nail brand JINsoon, the concept is a no-brainer. "Nails indeed need a detox from product, especially ones that dry out your nails," she tells NYLON. Choi notes that while the term can have many interpretations, her version involves a break from base coats, polishes, and top coats — ideally for a week every three months. "Leave your nails bare, except nail care products such as cuticle oil, balm, and lotion," she adds.
Rita Remark, global lead educator at Essie, doesn't like the term detox when referring to nail care, as she believes the implication is eliminating all products. She agrees with Choi, saying that weak, damaged nails need TLC. "Think of it this way: If you overprocess your hair, no one recommends that you let your hair 'breathe.' Instead, you use a mask, get a keratin treatment, or use deep conditioners," Remark tells NYLON. "Nails are made of the same proteins as our hair and demand the same attention."
For the proposed Olive & June nail cleanse, the brand challenged its audience on Instagram to join in on a 10-day cleanse to focus on "nail and cuticle health," to which its followers happily obliged, sharing stories of recently removed acrylics and worn cuticles. Every day on Instagram Stories, Olive & June answered customer questions about nail care, like whether or not you should cut your own cuticles — to which the answer was a no — and walked through what each day should look like. The first five call for no polish. "While there's no scientific data that says you must give your nails a polish break, we've found it makes our nails and cuticles feel stronger and healthier," Sarah Gibson Tuttle, founder and CEO of Olive & June, told NYLON.
Day one is all about shaping, clipping, and filing to get the nail in the strongest, most healthy shape. According to Tuttle, it's all about following the 90/10 rule: "Ninety percent of your shape comes from your nail clipper, [and] 10 percent from filing." If you're tackling this at home, she suggests using flat-edge clippers to cut your nail into the desired shape, and then gently smoothing out the edges. The step is one that Remark agrees with, noting that getting nails short is an especially good idea for those with nail damage from acrylics or gel polish that was improperly removed. "Weak and damaged nails are fragile and are prone to snap, lift, or peel," she says. "It's best to give them a fresh start."
Following shape and file, hangnails can be trimmed and cuticles buffed. For the rest of the first five days, Olive & June suggests using a cuticle serum of your choice up three times a day to nourish and revive your cuticles. On day six, your nails should be ready to ease back into polish with a nourishing formula; and by day 11, according to Olive & June, you're ready for your first manicure back.
Certainly, there's no scientific or doctor-recommended need for doing a nail detox or cleanse. But experts agree that it is important to take a break in-between manicures to focus on nail health. Where Choi recommends "detoxing" the nails one week every three months, Tuttle recommends the seven-to-10-day-long nail cleanse two to four times a year. For Remark, extra care for the nails is only necessary as needed. At the end of the day, much like with skin care, it's important to listen to your body — and in this case, your nails and hands specifically. "It's about what feels best for you," Tuttle adds.
If your nails are overdue for some extra love and attention, check out the expert-recommended products, below. Your nails will thank you.
CND Solar Oil
CND, Solar Oil Nail and Cuticle Conditioner, $8.50, available at Ulta.
According to Remark, dryness is the number one catalyst for unhealthy nails. "It leads to brittle nails, peeling, white spots, and more," she says. "Daily use of a cuticle moisturizer is the key to strong, healthy nails." This option from CND blends natural oils with vitamin E to strengthen and soothe.
L'Occitane Shea Nail And Cuticle Oil
L'Occitane, Shea Nail And Cuticle Oil, $19, available at Sephora.
This quick-absorbing oil from L'Occitane comes in a quick, easy-to-use pen for mess-free application.
TenOverTen The Celery Oil
TenOverTen, The Celery Oil, $26, available at TenOverTen.
Infused with healing evening primrose oil, celery seed extract Neonyca that helps improve nail thickness, and strengthening rosehip oil, TenOverTen refers to this nail oil as a green juice for your nails. The non-toxic nail brand recommends gently rolling the pen along the nail beds morning and night for healthy, strong nails.
JINsoon Power Coat
JINsoon, Power Coat Base Coat, $18, available at JINsoon.
This base coat is designed to promote healthy, durable nails — enriched with biotin, a fortifying B vitamin, calcium, and methiopeptide, which is an amino acid that comes from keratin.
Essie Treat.Love.Color.
Essie, Treat. Love. Color., $8, available at Target.
"When my client's nails need a boost of health, I love using Essie's Treat. Love. Color.," says Remark. "Not only is it the first polish clinically proven to improve the health of your nails, but it comes in a variety of colors, so there's no compromise. Oftentimes damaged nails appear discolored. It's helpful to have a strengthening treatment that conceals as it heals."
Olive & June EC Polish
Olive & June, EC Polish, $8, available at Olive & June.
Named after former magazine editor Eva Chen's effortless cool, this nail-perfecting sheer polish is formulated to strengthen nails with a little sheen.
Tweezerman 4-In-1 Block
Tweezerman, 4-In-1 Block, $9, available at Amazon.
With a near-perfect rating on Amazon, this buffing cube from Tweezerman comes with peel-off replacements for worn pads for long-term use. All of its four sides are designed to handle one of four functions: file, buff, smooth and shine.
Olive & June Studio Box
Olive & June, Studio Box, $50, available at Olive & June.
If you're interested in following Olive & June's full 10-day cleanse — or just want to make your own salon at home — this set comes complete with the tools. The nine-piece set includes a nail polish remover pot, clean-up brush, flat-edge nail clipper, nail file, buffer cube, polish bottle handle, a polish of your choice, a top coat, and a cuticle serum.
NYLON uses affiliate links and may earn a commission if you purchase something through those links, but every product chosen is selected independently.