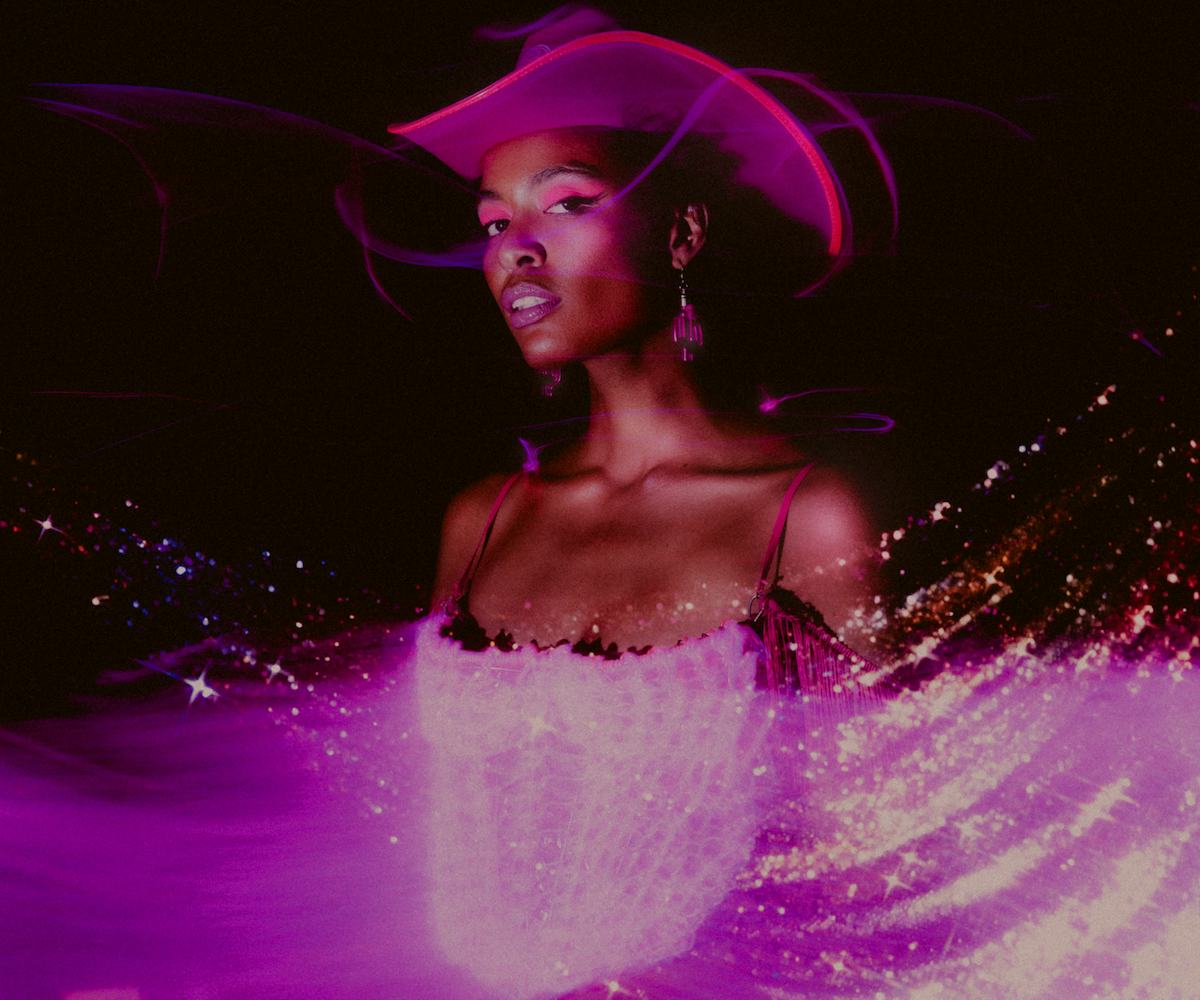 Photo by Ryan Holland, Hair and Makeup by Caitlynn Brown, Assisted by Andrew Taylor
Neon Cowboys Makes Horse Girl Staples Into Party Girl Clothes
Talking to the neon cowboy hat mastermind, Asia Hall
In addition to this being the year of the horse girl, 2019 has also marked the complete infiltration of yeehaw culture into the mainstream. Thanks in no small part to Lil Nas X's "Old Town Road" visuals, the popularity of acts like The Highwomen, and the way that celebs like Miley Cyrus have been making cowboy hats look cosmopolitan (no, really), everyone is now itching to get their own pair of cowboy boots. Which is why we're so grateful that Asia Hall, the founder of Neon Cowboys, is making the yeehaw trend even more accessible and versatile.
Hall's brand is most famous for its brightly colored hats rimmed with neon lights, which seamlessly blends country and club style into one fun accessory. According to Hall, the idea came from the simple observation: "Country music [references] neon signs in almost every song, and it's such a huge symbol for having a good time and creating memories." So why not make that symbol into a literal, wearable work of art?
Hall also works with artists on innovative collabs. She started off with a small-scale project with Miley Cyrus (who was also her first customer) years ago: "I cried when that happened; I grew up on Hannah Montana," Hall says. More recently, she debuted a piece designed with Kacey Musgraves, which is light blue and features the singer's signature crying smiley face. What makes Hall happy is "seeing how much [Musgraves'] fans really love the product." Hall says, "They're using it as a keepsake and taking selfies in it. It really is a viral product."
It's not just the country crowd that's living for these hats: Hall notes that her customers are part of the EDM crowd, and also include strippers and other performers. Celebrities and, of course, bachelorette party-planners also use the products for big events or nights out.
Though it's impressive that the yeehaw agenda has infiltrated all of those markets, it's an arguably even bigger deal that Hall has been able to make the dent that she has within the country music scene. Hall, who is Black and Asian, points out that the country aesthetic is not one that is usually made accessible for people of color. Though many original cowboys were Black or Hispanic—Hall notes that one in four were Black—the aesthetic and musical genre has been dominated by white people, and remains so, although it's slowly being changed. "Our community is so underrepresented [in country], so it's really cool to see people leaning into that and embracing it," Hall says. "Being American is a 'cowboys, apple pie, and country music' sort of thing, and to feel isolated and not included in that community—but still being American—is hard."
That exclusionary aspect of the aesthetic was definitely something that she wanted to change. "That was the intention of the brand," Hall says. "To make sure that everyone could be included and feel like they could wear it." That doesn't come without pushback from the appropriators themselves. Hall notes that "we've gotten comments too, where it's like, 'Don't exploit our culture,' and we're just like, 'Really?'" It's an unfortunately similar experience to what happened to Lil Nas X, as he reinterpreted and expanded the country genre, and then got pushback and wasn't even originally recognized as being a "legitimate" country act on the Billboard charts.
The historical erasure of people of color in the country sphere didn't make Hall's goal feel unattainable to her, though, because fashion is in her roots. Hall is the daughter of former Halston designer Kevin Hall, so she grew up "knowing that [fashion] was accessible" for her. She's previously worked on a venture with her brother, which she describes as "mostly street style: tank tops, crop tops, two sets, and stuff like that." Her solo venture is much more tech-involved, which she finds is under-explored in the fashion industry. "People aren't really pushing the envelope for fashion tech as much as they could."
In terms of pushing that envelope, she's not stopping with cowboy hats—they're just the beginning for her. Her most recent foray into the field has been into the ready-to-wear sphere, bringing her neon innovation into clothing. She showed me a hot pink lit-up corset when we met to discuss the brand, and that's only one of the pieces that she made over the course of just seven weeks before she showcased them during New York Fashion Week. Other pieces include chaps, jackets, and fringed denim jackets, all brightly colored and made for Lil Nas X to stunt in. "We're leaning into being more of a fashion house rather than just a hat company," she says.
And there's definitely room for growth. As Hall says, "There's not enough glow in the world, so there's a lot of opportunity there."