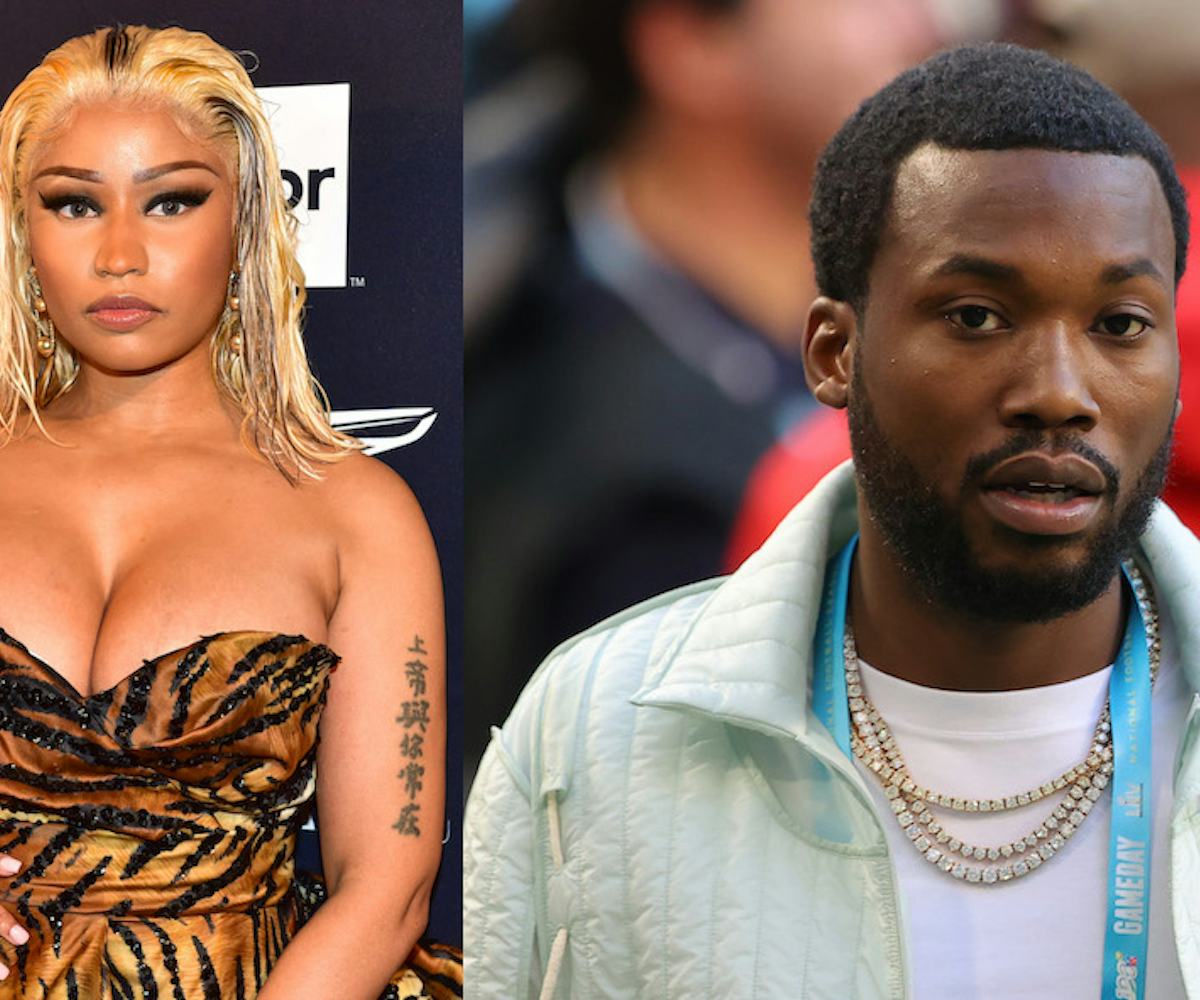 Meek Mill Responds To Nicki Minaj's Abuse Allegations
The ex-couple got into a heated exchange on social media
Nicki Minaj and Meek Mill are publicly fighting again. The ex-couple exchanged a series of heated Tweets on Wednesday February 5, many of which included serious allegations of abuse. Minaj tweeted out a diss against Mill, calling him a "bad built face ass obsessed with the Queen," and claimed that the rapper had been subtweeting her husband, Kenneth Petty. Meek allegedly "liked" a meme about Minaj's husband, which may have promulgated Minaj's initial reaction. Minaj also took to her Instagram stories where she wrote, "You a [clown]. U do IT for likes. #TwitterFingers beats women, scared of men."
Mill quickly responded on Twitter, refuting Minaj's claims while also invoking her brother, who is in jail for child molestation.
"The only way you can try to kill my career is to say I beat women ... talk about ya brother convicted of rape and you been knew and paid for his lawyer ... ya little brother touched that lil girl too! You know I know ... you want me to crash with ya boyfriend and I won't," Meek wrote. "You sad you willing to crash your man because you losing now and everybody in the industry know you a bad person! You been knew your brother was raping that little girl that's why I got away from you!"
Minaj fired back, accusing Mill of abuse toward her and women in his family, before addressing the comments about her brother. "Imagine talking about an alleged rape of a child to hurt someone who wasn't involved just so ppl can dislike me," she wrote. "You can never stand on your own. You won't tell ppl the mother is on tape asking me for $20 million to make the charge go away tho."
In now-deleted Tweets, Mill accused Minaj of attempting to "destroy" him with the aforementioned allegations, and called out the music industry for allowing it to happen.
"Surrounded by rapist talking what? stop playing you picked a great time to be saying I ever put my hands on you," Meek wrote. "you full of hate and the whole industry know you full of hate... and ya bag getting low so you wanna destroy me...I can't believe y'all industry people let these people survive this long in the game knowing they really nasty people and have a nasty upbringing."
Mill issued what seems like a closing statement for the time being, repeating that he does not abuse women and that he would not be answering any questions about Minaj or anything having to do with her when during press for his forthcoming album. "No devil tricks," he wrote.