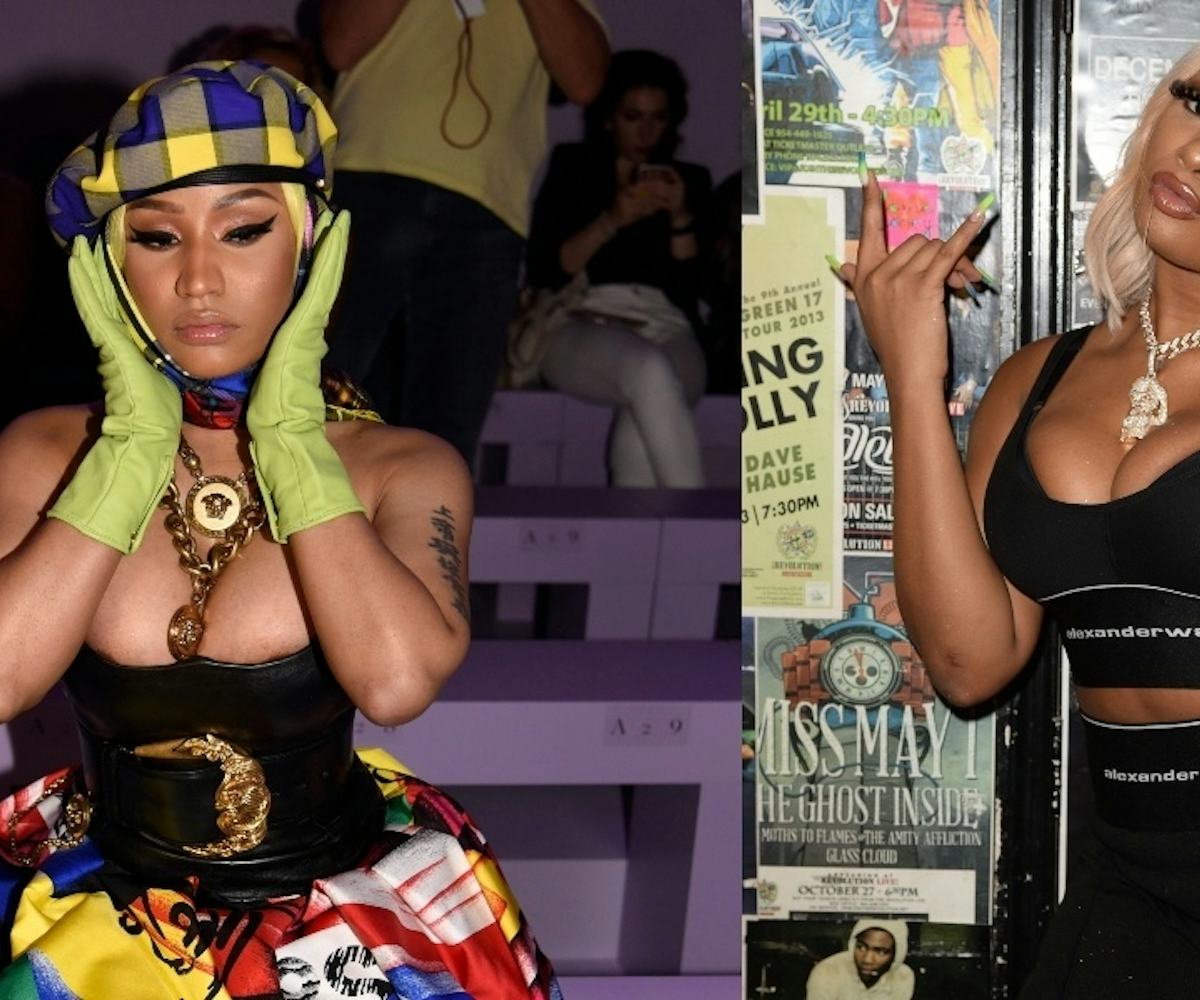 Photo by Larry Marano / Simona Chioccia Sicki / IPA / Shutterstock.
Nicki Minaj Gives Megan Thee Stallion Advice In A New Video
The two rappers bonded on Instagram Live
Hands down, the best thing about the new class of female rappers is the solidarity that they've built amongst each other. There is a pool of diverse talent amongst women in hip-hop, and Megan Thee Stallion has been one of the great unifiers amongst them. The "Cognac Queen" singer has poured dark liquor (in other words, she let them drive the boat) directly into the mouths of Kash Doll, Trina, Asian da Brat, Young Baby Tate, and Queen Key, just to name a few. One of the hardest lines from her new mixtape goes "Free JT. Real bitches fuck with me," a show of support for the still incarcerated City Girl. Now, we can formally add Nicki Minaj to her list of comrades.
The two rappers went on Instagram live to chat it up for the world to see. They laughed and joked with one another. They talked about their signs. Nicki bounced her boobs and Megan bounced her ass. A good time was had by all. Nicki even took on a more serious tone to thank Megan for all of the "nice" and "sweet" things she's said about the veteran Queens rapper.
She also gave the newcomer some advice on her debut album: "Don't overthink it and beat yourself up. I find that when I treat it like fun and playtime I get better results."
Despite her huge success and credibility as one of the best MCs in the game, Nicki's history with her female peers in rap has been vastly different than Megan's. Where the Houston native has racked up friends, Nicki has a list of public beefs that includes names like Cardi B, Lil Kim, and Remy Ma, to name a few. Based on this supportive conversation though, it doesn't seem like Megan will be added to it anytime soon.