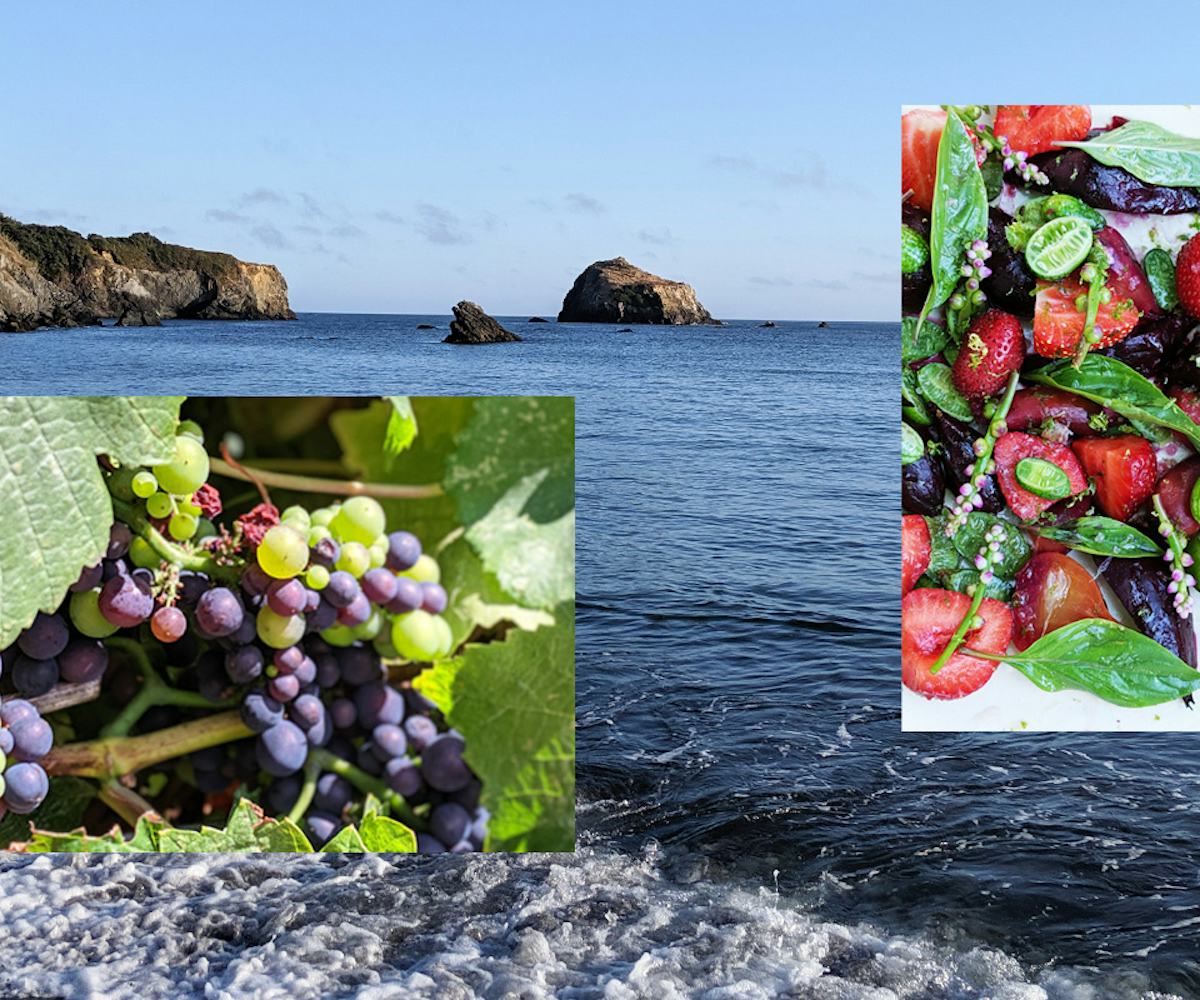 Photos by Kristin Iversen
How To Get Lost In Northern California
And then find yourself all over again
It only took about a day in Mendocino County's Anderson Valley before I forgot that there existed colors other than green and gold and blue; it only took about a day spent under a brilliant azure dome, which cast an amber light down on hills unfurling in shades of chartreuse, emerald, and viridian, for me to have a new perspective on the world around me entirely, a feeling like I had, on the 100 mile-trip up from San Francisco, stepped into a painting. Was it just me or did my new world's palette have echoes of Lisa Yuskavage's work? (Were you thinking Thomas Kinkade? How dare you.)
But anyway, maybe it was just me, or… maybe it was the wine? Because I had come to Anderson Valley to do what countless other tourists do in northern California every year: visit wineries, explore nature, and eat good food. But whereas most people flock to the vineyards in nearby Napa and Sonoma counties, I'd gone a bit further afield, to Mendocino, a county perhaps better known for its propagation of a different kind of cash crop than grapes (i.e. weed). Marijuana is, of course, legal to grow now in Mendocino and everywhere in California, but the area's history of subversive farming has given it a lingering reputation of lawlessness, of freedom, and that outlaw aura remains pervasive in its vast, lightly populated expanses, which are cloaked in rolling clouds of fog every morning, burnished gold during the day, and then fade into a crepuscular indigo under a sky dark as the seat of a stiff new pair of Levi's.
"You're lost, but not that lost," said Arnaud Weyrich, the winemaker at Roederer Estate, explaining to me the appeal of the region—both for travelers and vineyards, alike. Established in 1981, Roederer Estate is the California outpost of France's legendary, centuries-old Champagne Louis Roederer, and was situated in Anderson Valley because of the area's unique microclimate, which mimics that of the Champagne region in France. There is a commitment to organic and biodynamic farming, and the feeling that comes from walking through the vineyards is one that can feel mildly dissonant: It is impossible to ignore the precision of each row of verdant trellises, but it is just as clear that nature is still encouraged and trusted to do its thing.
This symbiotic relationship between the land and its people was evident at each of the vineyards I stopped by: Beyond Roederer Estate, there were Champagne Louis Roederer's other local properties, Scharffenberger and Domaine Anderson, as well as Long Meadow Ranch, which has a tasting room at The Madrones, and makes a pure, grassy Chardonnay that will make every stereotype about the varietal being flabby or overly oaky or buttery leave your mind and convince you that it's the only white wine you ever want to drink again. (And then you try the Pinot Noir Blanc and realize you have a new contender for favorite white. Decisions!)
Like Roederer Estate, Scharffenberger specializes in sparkling wine, and its Brut Rosé Excellence conjures up flavors of raspberries and cream, with just a hint of hazelnut in the background. Domaine Anderson, however, specializes only in pinot noir and chardonnay, the grapes of which are grown in its certified organic, biodynamic vineyard, resulting in wines notable for their vivid clarity.
What was so notable, though, about each of the spots I visited wasn't merely their natural beauty or the excellence of their vintages, but rather the fact that it felt so possible to feel like I could get lost, like I could truly separate myself from the rest of the world. It's rare to find that in a place that also happens to be just a couple hours drive from one of America's main urban hubs, which is exactly why it's so valuable. I don't really buy into the whole "travel like a local" thing—I'm fine with being a tourist when I'm, you know, touring an unfamiliar place. But I do buy into the notion that travel should disorient you, or, rather, it should force you to reorient yourself, see what it is that you love about a new place, what makes it special, what makes you feel special while you're there—and that's exactly what I felt while traveling down the winding rounds of Mendocino County, lined by cathedral-high redwoods, shrouded in mist. I felt like I'd gotten lost and then found myself, and it's something I look forward to doing again and again.
If you're looking to get lost in Mendocino County, here's what I'd recommend doing.
Where to Go
For unadulterated natural beauty that will leave you in a state of pure awe, pay a visit to Hendy Woods State Park, where you'll find yourself surrounded by old-growth coastal redwoods and renew your reverence for nature. Take a plunge in the Navarro River, and make sure to pay a visit to the Apple Farm for a taste of local bounty. Also, make sure to make the trip to the actual coastal town of Mendocino, with its stunningly gorgeous ocean views and quaint downtown.
Where to Drink
You're in wine country, meaning the options seem endless, so I'll help you narrow it down. For sparkling wines, you can't do better than Roederer Estate and Scharffenberger. I've already mentioned my love for the latter vineyard's Brut Rosé Excellence, and for another truly exemplary sparkling wine experience, try Roederer Estate's L'Ermitage 2012, whose fine bubbles tickle the palate, and which tastes of peaches and sunshine and decadence.
For still wines, pay a visit to Domaine Anderson, where you can sample the 2014 Pinoli Vineyard Pinot Noir, a rich, lush red with a vivid mouth-feel, and lingering spicy notes. Also make sure to taste the wine of Long Meadow Ranch's Anderson Valley Estate (their primary location is in Napa), which offers the exemplary Chardonnay and Pinot Noir Blanc I mentioned earlier, and also a sprightly, floral Pinot Gris that is perfect with cheese and honey.
Where to Eat
The ever-shifting menu is just one of the exciting things about Table 128 at The Boonville Hotel (the night I was there, choices included toasts with ricotta, chanterelles, and grilled peaches, as well as a salad of beets and strawberries that I've not been able to forget), but it's also notable for its gorgeous outdoor seating in one of the most beautiful gardens around. If you're making the trip up to Mendocino, do stop by Café Beaujolais, where the food is hyper-seasonal with much of it being local, and all delicious. Make sure to heed the recommended wine pairings, as well!
Where to Stay
Not only is The Madrones home to the Long Meadow Ranch tasting room (reason enough to stay there, in my opinion!), but it also has truly beautiful rooms and suites, that manage to feel both luxurious as well as integrated into the natural surroundings. Make sure to spend a morning strolling through the property's gardens, which boast glorious roses and busy bees flitting about.
Bonus
Get familiar with the area's counterculture, oddball history by reading Robert Mailer Anderson's Boonville, a novel which ably demonstrates the iconoclastic nature of the region, even as it ventures into hyperbolic territory, it's still a fun literary ride.