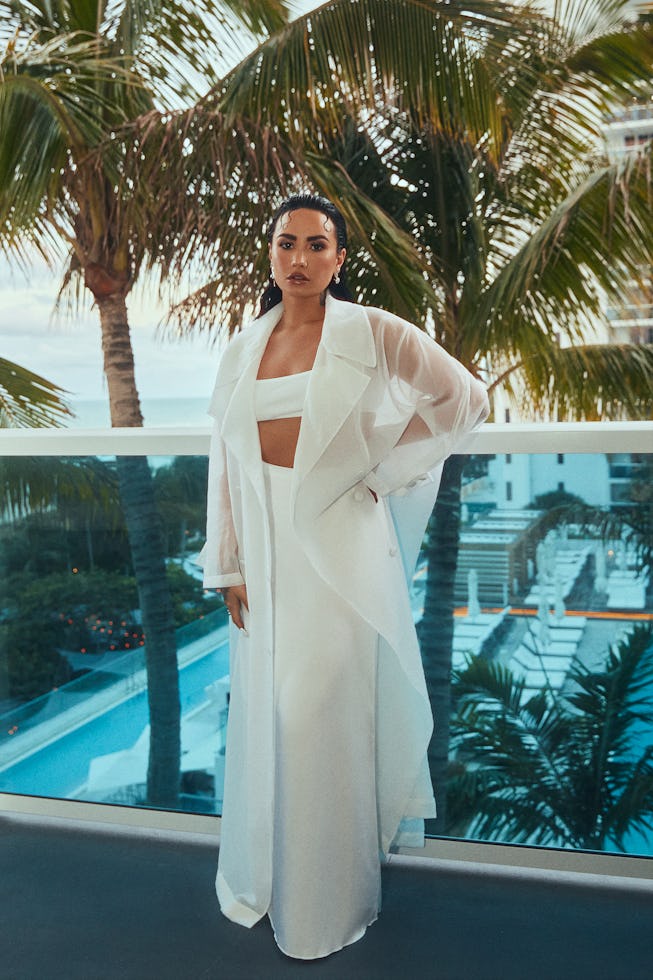 Demi Lovato's Getting Ready Playlist Is Always Changing
Ahead of the BOSS show in Miami, the singer takes us inside her hotel room.
You thought fashion month was over? Think again.
On March 15, BOSS welcomed the industry crowd to Miami for their Spring 2023 runway show, held at Herald Plaza. In true Miami fashion, the show was a bit more extra than your typical runway presentation. Models showed off the collection, walking on a raised platform that was centered around a setup of some serious fountains. Among those to hit the catwalk were runway legends Naomi Campbell and Candice Swanepoel, as well as the more unexpected figures like Law Roach, fresh off his retirement announcement, DJ Khaled, and Pamela Anderson.
Naturally, the front row was just as stacked. Among the guests who made it out for the evening: Camila Morrone, Suki Waterhouse, Tiffany Hadish, Maluma, Bella Thorne, and Demi Lovato, dressed in a sheer trench coat and matching bandeau and slacks — the ideal Miami look. Here, Lovato gives an inside look at the process as she gets ready with makeup artist Jill Powell and hair stylist Alyx Liu.
Describe your getting ready process:
I start getting ready by going over the wardrobe and inspiration for the look with my glam team and we decide collectively what the vision will be. Once the vision is clear, we start the glam process. It's always such a collaborative effort, so throughout glam, the team is checking to make sure that everything aligns with the vision. I have been working with many of the same glam artists for years, so it's always fun catching up in the chair. Once glam is wrapped, I get dressed, do final touch ups and capture content before walking out the door.
What music are you listening to to pump you up before a big event?
My playlist depends on the vibe of the day, and my friends and I always send each other songs and playlists that we're into. Before the BOSS event, I was actually listening to a friend's new song that's not released yet that I'm obsessed with. I've been loving Stray From The Path, Turnstile, Poppy, and Smashing Pumpkins lately. Nirvana is always a go-to as well.
Describe your look for today
I wore a custom BOSS white set that included a skirt, a bandeau, and a sheer overcoat. We were going back and forth between black and white for the outfit, and ultimately landed on the white for a chic Miami vibe. To build on that mood, we did a wet look with slicked-back hair in loose waves. I wanted to keep the makeup fresh and natural, so we opted for glowy, sun-kissed skin, a soft warm eye with a touch of shimmer, and a pink glossy lip.
What are you must-do's in Miami?
I love Miami because it's such a beautiful tropical environment and the sun is (almost) always shining! I love putting my feet in the sand at Miami Beach or relaxing by the pool. One of the benefits of my job is that I get to meet people wherever I am, and now have friends all over the world. When I'm in town, I always to try and catch up.
At the end of a night, how do you wind down?
When I get home, I take off all my makeup and do my full skincare routine. Once I'm comfortable in bed, I love to catch up with friends or watch a good show.
Getting Ready with Demi Lovato before the Spring 2023 BOSS runway show.
Photos by Kent Avery