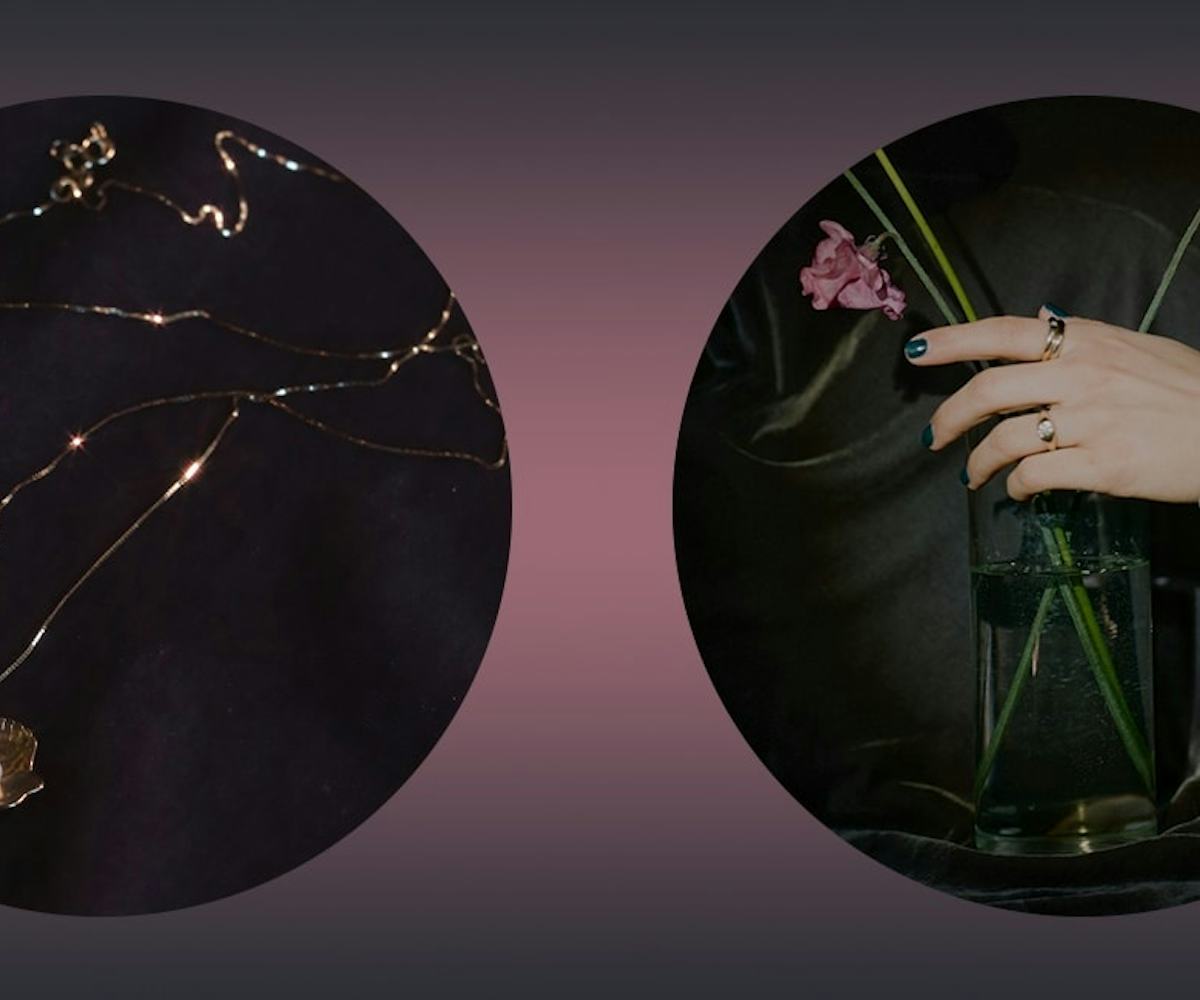 Photo courtesy of Ok Fine
This Sustainable Jewelry Line Is Made From Recycled Gold Teeth
Ok Fine is the new sister label to cult-favorite jewelry brand Wolf Circus
Welcome to The Green Scene. Every week, we're highlighting the designers and brands working to make the world of fashion and beauty a greener, more sustainable place. The brands to support are the ones making a difference; check back every Tuesday to meet your new favorites.
We've had our eyes on Canadian jewelry label Wolf Circus since it first came about in 2011. The female-run, handmade jewelry brand, which draws inspiration from founder Fiona Morrison's favorite artists, sculptors, motifs, and architectural designs, offers artful, demi-fine jewelry, all at prices we can get behind, ranging roughly between $75 and $225.
Needless to say, once we caught wind that Morrison was moving toward a new venture, launching her first fine jewelry line—aptly named Ok Fine—we just knew it was going to be perfection. The line, which officially launched earlier this month, is what Morrison considers a modern approach to fine jewelry, "with hopes of growing with our customer as they invest in more sustainable and timeless pieces."
While these pieces tend to be cleaner and a bit more simple in design, compared to those of Wolf Circus (hence the timeless factor), they still have that fresh, effortlessly coolfeel. Inspired by Morrison's grandmother's assortment of Art Deco- and Renaissance-era jewels and her love for playful minimalism, she took these design inspirations and reinterpreted them in a way that feels ultra-modern.
A small freshwater pearl sits inside a tiny golden oyster shell for the Marina Necklace, while a dainty, engraved rose is featured on the Bonita Signet Ring. Most of the collection is available with or without diamonds. Prices start in the mid-400 range, which, for a fine brand, is quite a reasonable price point.
But just as exciting as Ok Fine's designs, is the sustainability factor. (So, yes, let's dive into that whole gold teeth thing.)
All of Ok Fine's 14k gold metals are certified recycled, coming from a number of sources—some more, err, unconventional, than others. "We source the recycled gold from a U.S. refinery that pulls from various locations; everything from gold jewelry to gold teeth, coins, and watches," says Morrison. "It's important for us that we know where our materials are coming from and that it's done ethically." To be clear here, they aren't hopping from dentist to dentist collecting the teeth themselves, but rather turning to an ethical refinery that does the work for them.
Additionally, the brand also strictly works with ethical suppliers who are aware of their supply chain and are conscious of how their materials are produced. Ok Fine only uses conflict-free diamonds, and any leftover scrap materials produced by the brand are appropriately recycled.
For Morrison, the sustainability factors of both her brands were a no-brainer. "With the recent environmental shifts, I believe it was important for both Wolf Circus and Ok Fine to think consciously about waste reduction, and for sustainability to be incorporated within our ethos," she says. "As we see more of an awareness from young consumers, it was imperative for both labels to transform and improve our supply chain to improve overall environmental impacts."
Okay, fine, Ok Fine doesn't come entirely from someone's great-grandmother's gold filling, but some of it does, and that's arguably one of the coolest things we've ever heard. And if there's anything that's going to convince us more that we should be investing in quality jewelry that's doing its part for the planet, it's that.
Get your fine jewelry fix at www.OkFine.Jewelry.