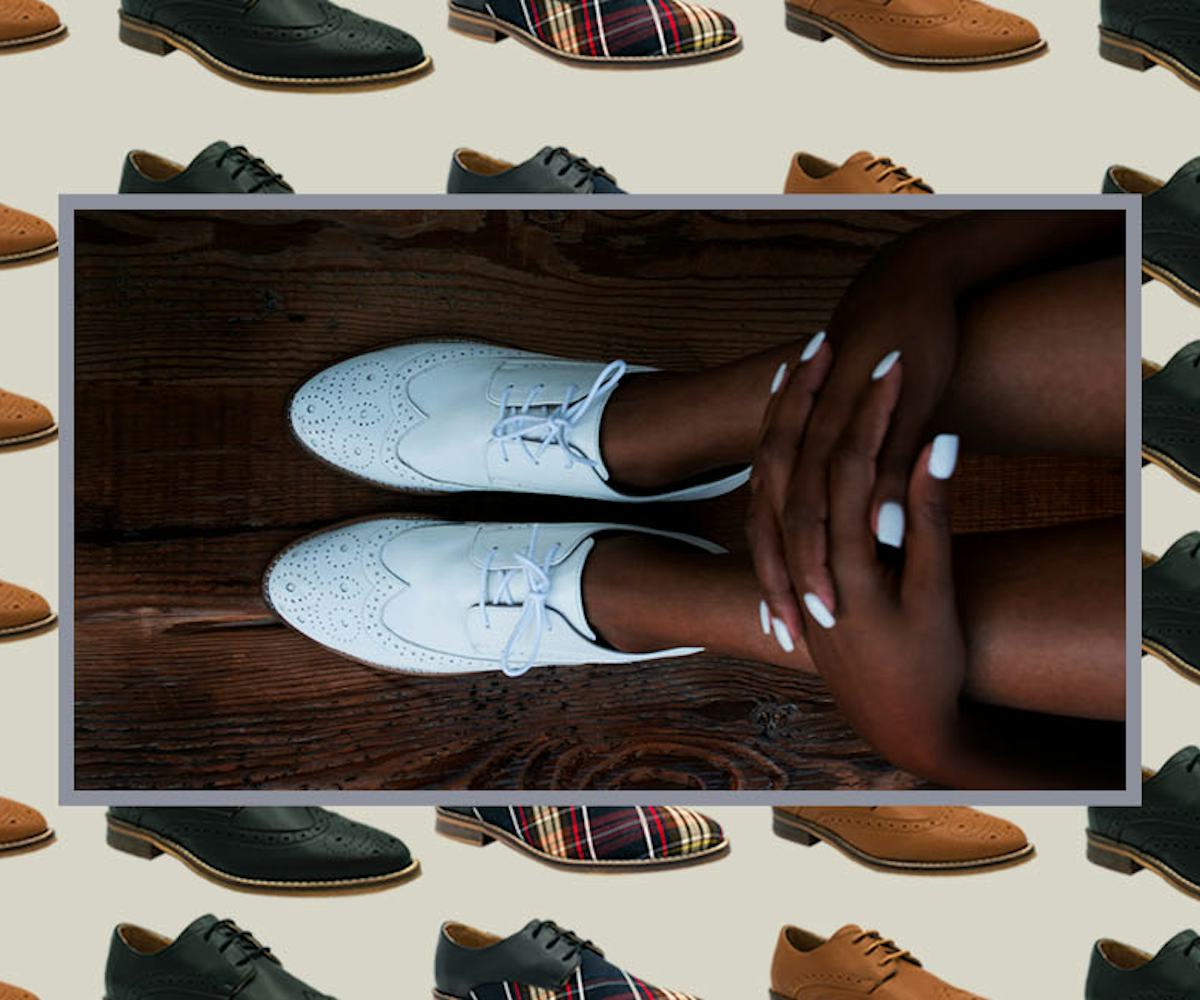 Get Obsessed With This Vegan, Non-Binary Shoe Line
Parallel Shoes is an exciting new gender-fluid footwear brand
Even footwear is embracing a non-binary identity, thanks to Melissa Welsh.
The 34-year-old California resident, who defines her own style as androgynous, has funneled her fondness for classic men's shoes into a new brand of gender fluid footwear, Parallel Shoes.
Cruelty-free, vegan, priced at $100 a pair, and sized for women's feet between USA 5-10, these handsome and fetching gender-fluid shoes started shipping in late April. Also committed to the LGBTQ community, $1 from each sale will be donated to the Los Angeles LGBT Center.
Born and raised in Philadelphia, Welsh studied small business management and automotive training, and worked as an auto mechanic (she famously self-built a VW Rabbit) before she entered the shoemaking space. Actually fabricated in Portugal, Parallel Shoes is the latest boutique business serving a growing international niche of men's-style fashions designed or customized for biological female bodies, including transgender male and non-binary identified.
Here, Welsh talks about her shoes and who she'd love to see wearing them.
What was the genesis for Parallel Shoes?
I always had a passion for shoes and been a kind of a sneakerhead. When I moved to California at 26, I came out as a lesbian and started to find my true self—including how I felt comfortable dressing, which is on the androgynous side. Every time I went to buy a pair of shoes that matched my outfit, everything was way too feminine; shiny or sparkly or big heels or something on there that wasn't for me, and I honestly got tired and decided to make my own.
What was the biggest challenge in creating Parallel Shoes, and how long did it take to go from idea to actually making them?
Just over this past year! It was just me doodling sketches last November, and we got the money to have the shoes made in June.
I have zero knowledge in starting a business or artistic design. I started from complete scratch, tracing shoe patterns off the internet, adding my own personal touches, and finding people who could turn the sketches into real pieces.
Which shoe styles were you most inspired by?
I would look online at which oxfords stood out to me. Wingtips are so classic, and I wanted that to fit on my foot. I didn't tweak shoes too much—I just added where the medallions should be on the toe, the colors, how big the heel should be, instead of a plain black rubber sole. The whole process has been challenging, but there are so many resources out there, it helped me grow as an individual.
What are the shoes actually made out of?
We use polyurethane leather, and the soles are cork and vegan leather. Everything is socially conscious. We don't want to hurt any baby animals in the making of our shoes.
Are you familiar with Tomboy Toes, whose founder Lauren Craig has a similar mission?
I am. There are a couple of differences [between our shoes]. Everything is vegan with us. She does offer real leather as well in some of her models. Our collection is a little bit sleeker, hers are a little more masculine. Mine have enough of a feminine touch, but with that classic masculine look.
It seems like there is a growing number of businesses catering to this need, especially in Asian countries like Taiwan, where masculine-appearing, "tomboy" lesbians are not only popular, but have sparked mainstream fashion trends for years now. Are you already looking into a Parallel Shoes presence internationally?
Honestly, I wasn't too sure how we would do internationally, but we've been getting a lot of emails from the U.K. and South America, so we're looking into international shipping and getting out there. If there is away to branch out, that would be amazing, but I really think that focusing on the USA right now, to get up to pace with everyone else, is a start.
You offer two collections right now, Confidence and Emerge. Are more in the works?
Yes, I intend to expand. We're also going to try and change colors for the seasons, add some fun prints, maybe a mauve or lavender for springtime, which could be really fun. I want to create something different that you don't see everyday and for people to stand out and feel confident in how they approach the world.
Who would you love to see rock a pair of Parallel Shoes?
Brittenelle Fredericks, an androgynous model. Ellen Page would be amazing, when she goes on the red carpet in her suits. Blake Lively could really kill these shoes, her fashion statement is perfect every time she comes out. Madison Paige, Erika Linder, Ellen DeGeneres, Ruby Rose, Elliot Fletcher, Jazz Jennings, Abbi Jacobson, and Hannah Hart. I'm really hoping to reach the transgender community, and with a lot of women who transition to men there is little change in foot size, so it would be great for trans men to be able to put on a pair of men's shoes and feel confident and be themselves in.
What would you say to cisgender men who love Parallel Shoes but have a foot size larger than a women's 10?
Honestly, all of my guy friends that we have shown the shoes to, the feedback we're getting is like, "Why don't you make them in my size?" And I respond, "You can go into a store and buy an oxford, no problem!" Our plaid pair is big among the men. So, once we get things off the ground, and we sell some shoes, we may have to expand to almost all sizes, including in the women's department. Right now, women with a size 9 or higher can fit into a men's shoe, but all of us women are not gifted with that size foot. You can buy men's youth sizes if you're a 6 or 7, but if you've seen them, they are not attractive. The youth section is not the one you want to head to!
Finally, can you speak to your decision to donate a dollar for each pair to the L.A. LGBT Center?
Basically, the LGBT center is a great place for youth to go when they don't have support from family and friends, like I did when I came out. They have so many locations and help with health screening and education and advocacy. So why I decided to give back to them is because giving back to our youth is a great way to ensure a great future. So they can live their best life.