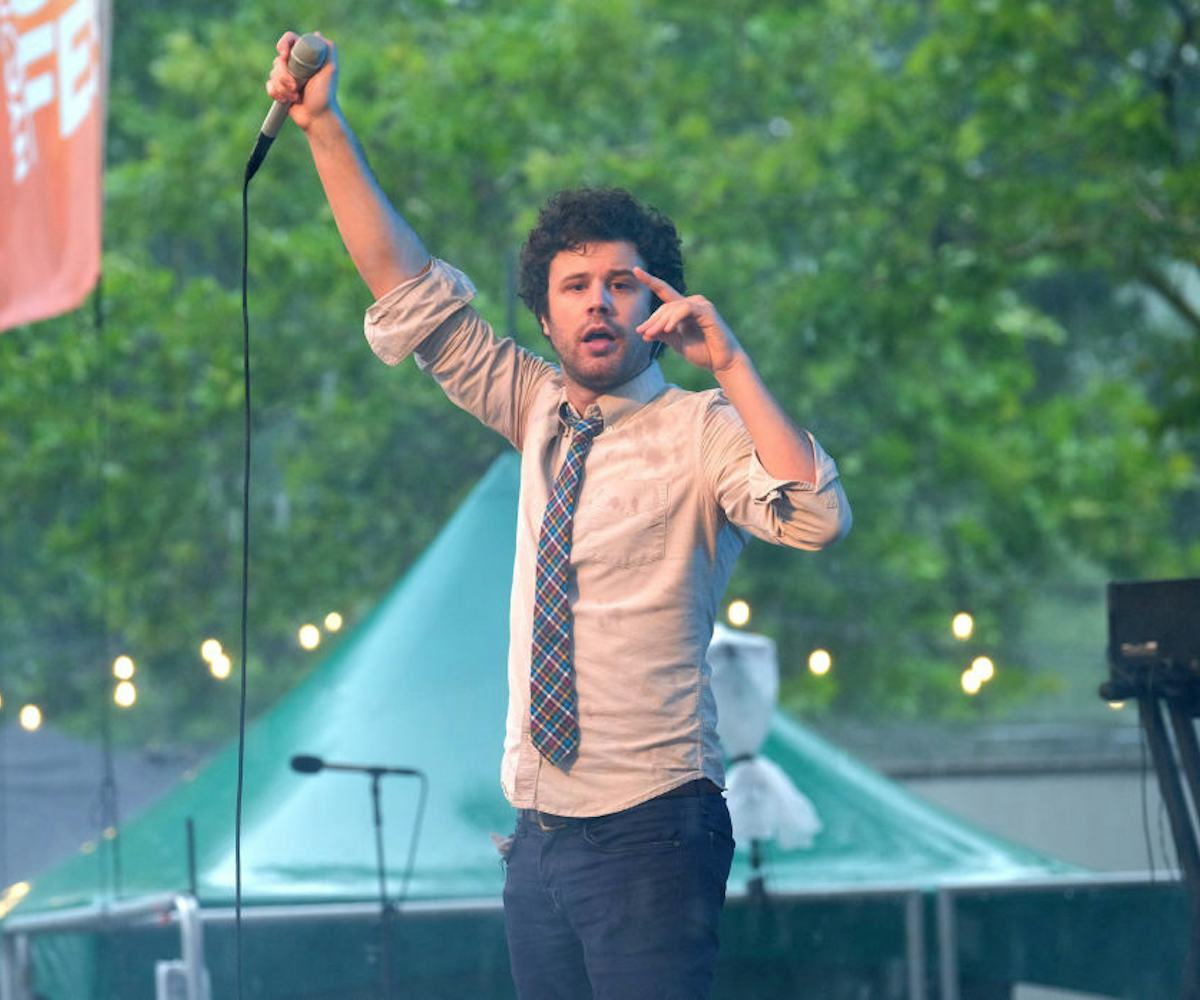 Photo by Matthew Eisman/ Getty Images
Passion Pit's Michael Angelakos Talks Touring, Mental Health, And His Music's Surprising Influence
"You don't really know how this stuff plays out in other people's lives, you know?"
In May 2009, when Passion Pit's debut album, Manners, was released, I was a confused, unsteady 14-year old boy. My dad lost his job late in 2008, prefiguring the chaotic economic circumstances later captured on the band's hit song, "Take A Walk." In all regards, I was your typical emotionally clueless and hopelessly romantic teenage boy, aware of the budding sense of self-identity as experienced through albums like Manners, but still unable to articulate myself through the language the album gave me.
A decade later, and the announcement that band leader Michael Angelakos would take Manners on an anniversary tour found me in a moment not unlike my situation 10 years prior. Once more, I faced the dilemmas of puberty; this time, a voluntary decision, as I began transitioning on my 24th birthday in November. As the full weight of my messy emotional state came crashing down on me, I sensed that my experience could only be described as hormonal, a pure, uncertain sensation that showed me I was growing into something new.
Once more, Manners was there. But this time, I heard things I couldn't have the first time, especially on "To Kingdom Come," when Angelakos sang, "It feels the way you told me how it'd always feel." Growing into physical experiences I'd never had access to before, the songs resonated in a way that made me see my first chaotic encounter with puberty in a much kinder light. All it took was another decade of self-realization, and the chance to re-encounter my old self remade in the present through albums like Manners, to find myself where I needed to be.
When I told Angelakos all of this recently, he seemed amazed. As we talked about the way in which he's tried to understand the album and its impact, he said, "You don't really know how this stuff plays out in other people's lives, you know?"
In many ways, it seems that he's taken the whole last decade to catch up to the album as well, never able to articulate his intent for the album as he wanted to. Bringing the album on tour, he said, is his way of processing what's happened in that time, and where he is today.
While Angelakos's journey during that time hasn't been easy, he's reached a much-needed sense of acceptance and understanding of the record that made him an overnight worldwide sensation. It also seems that now is his chance to finally tell fans what the album meant in his own life. Although Angelakos suggested that many presume Gossamer to be the record that proved hardest to talk about, owing in part to the overwhelming attention (and backlash) he received to lead single "Take A Walk," he said that he "explained the hell out of Gossamer" when it came out.
But Manners was different: "I never really got the chance to explore [the album] openly," he said. "It was my first major record, and I wasn't really totally open and honest about what was going on with it." After taking some time to mentally prepare himself, it seems that Angelakos is finally ready to open up about the album that changed his life, letting listeners in as the group celebrates a decade of growth and change.
"You don't really know how this stuff plays out in other people's lives, you know?"
How have you prepared yourself for this tour?
I've been a little bit of a recluse. I thought when I'd announced the tour that I'd be way more active, getting out there a little bit, but when I announced the tour, I felt like I needed to sit alone for a while and process things, because a lot comes up.
At first, I was terrified about talking about the album. I almost wanted to leave it like a blank space for other people to say something. But friends convinced me to write something, and the first thing I wrote was like, "This record was one of the most difficult, scariest, craziest periods of my life, and yet also one of the most euphoric, and I suppose life-affirming," despite all of the things that were happening at the time.
When I'm catching up with friends or other artists I know, the album does come up, and they're always, like, telling me how they were making out with someone that they dated for six years to "Moths Wings," and all these little anecdotes with the record. Especially people who were younger when the record came out, those stories have been the most moving to me, because when I was in high school and listening to music, that was my entire life. The music that I listened to in high school ended up completely shaping the brain that ended up making Manners.
What kind of music was there in your teenage years that was there as you were making the album?
I became a huge music nerd when I turned 13. The bands that really turned me into a real music fan were Aloha and Mogwai and a bunch of bands on Polyvinyl Records, and then it went from there.
I remember specifically when Hot Chip and LCD Soundsystem came out. It wasn't like I listened to them and said that I wanted to make electronic music, but when the band got together, we were informed by their live setup and the way they made electronic music a rock show. Passion Pit was just me and a laptop, but I couldn't possibly stomach that being the reality. I just did not want to be that kind of guy, and I played in bands my whole life. I never thought I'd be making electronic music for a living—I thought I'd be in bands. But if you look at the lineup for Just Like Heaven, that's who we were coming up around, and opening up for and playing alongside from 2007 to 2009. So as a band we were enamored with everyone around us. It was an insane time.
When the band started, I was really into this record store in Cambridge, Massachusetts, where I was living. There was a musicologist at Harvard who was making all of these amazing, rare rips of extraordinarily obscure music, and he put together compilations of early-'70s sub-Saharan guitar music, all these different things. It's how I could sample Mary O'Hara, this traditional Irish folk harpist, for "Sleepyhead." There was really nothing that I didn't completely devour. I never stopped searching for music until I started playing music for a living, and then I had to pull back for a little bit. But I'm still such a nerd that if we started talking about my influences we'd be on the phone all day.
I honestly also had an obsession of trying not to sound like anybody. I didn't ever want to be likened to any other band. I kind of thought about it as musical theater, trying to make this character in a whole different world of pop, with a distinct place on the shelf. That would make it divisive, so whether people liked it or not was gonna be the risk I'd take doing that, but I was always pretty hell-bent on that. There was never one artist that influenced me more than any other.
"My adult life has been nothing but weird... and it's taken me a really long time to let the awkward and kind of uncomfortable feelings go."
There was a lot of weirdness in the media about your life and your challenges with mental health during your breakout years. It seems like you were thrust into the limelight, in ways you didn't always appreciate. Now that you've had some time to reflect, how do you feel anticipating the tour?
All the press that I've done, at least in the year and a half, has kind of focused on how taxing touring is for me, and how it's been part of the more turbulent moments of my life. But this one is actually a completely different situation in terms of booking and getting it together, and the whole idea of the tour. I actually wanted to do this.
I felt like I was going through something the past few years after Tremendous Sea of Love, where I kind of recoiled. I needed to take time away to understand whatever I needed, but then I kind of forgot what it was that I did, which happens. I had this urge, out of nowhere, once we were asked to do the Just Like Heaven Festival, to book a tour around it. I realized that logistically, it worked, but also, the timing is perfect. It's right at the beginning of summer. I actually turn 32 on May 19, when we're playing in New York, and I just needed to remember what it was that I did.
I took time off and said that I didn't want to again for a long time. But it's a process, where I locked myself in for a while, and then got so antsy where I want to do something again. But I don't like doing it for any old reason—I want to have a specific vision for it. This is an overly self-regarding line of work, but it just felt like Manners never got a fair shot early on, because of the circumstances under which we were touring, and the place that I was mentally. So now felt like a perfect time in my life, and I've never felt clearer and more relieved of these tensions that have basically accompanied every tour up this point.
It was just a perfect of storm of good things, and for the first time, I'm actually really looking forward to touring, and getting back together with a bunch of positive people and having some fun. It's not been a very fun few years for anybody, so I felt like, Well, let's try to reprocess this. Can touring be fun? So far, it's felt really good. I want to have fun again, and I want to do it with a specific vision in mind, and that was to properly play Manners all the way through, which we've never done before. And 10-year anniversaries today are like what 20-year anniversaries were like five years ago—time has just sped up so much. It felt like it was perfect timing for me, and I needed the boost.
In the last decade, your music has reached millions of people and taken you all over the world. In all of your travels, what was the most surprising context in which you heard your music?
It freaks me out when I'm sitting in an airport terminal, and a bonus track on the Japanese version of Gossamer is playing right before a flight. It doesn't ever go away. It freaks me out, because it feels like I'm haunting people. [laughs]
It's weird, too, because the album came out at a totally different time, you know? People bought and owned the record, and the way they listened to it was way different than how they listen to it today. We toured for a really long time on Manners, we went everywhere, and it was wild to be received the way we were received without having done much. It was so fast and quick, and it wasn't like we were on the radio, at least for very long. "The Reeling" was on the radio for a little bit, but it was too soon for synthesizers, and dancier alternative stuff. A year later, that would change.
It seemed like that's kind of been the case since "Take A Walk," which was as strange of a phenomenon as anything I've ever come across. When that hit radio, it seemed to reach much younger fans, which was new for us.
But I can't pinpoint just one thing. My adult life has been nothing but weird. It's literally been nothing but totally bizarre and strange, and it's taken me a really long time to let the awkward and kind of uncomfortable feelings go. To realize that we played these festivals in the U.K. where 50,000 people were jumping up and down to songs that were deep cuts on this record, and the record had only been out a month, you know? There's no way to describe the feeling of people kind of knowing what you do. You wouldn't just go out there and expect them to know it. I don't sit down and imagine the kinds of connections that people have. Honestly, I've just been in shock for the past 11 years, that's the best way to put it.
Passion Pit's tour kicks off April 30; find out all the forthcoming dates, here.