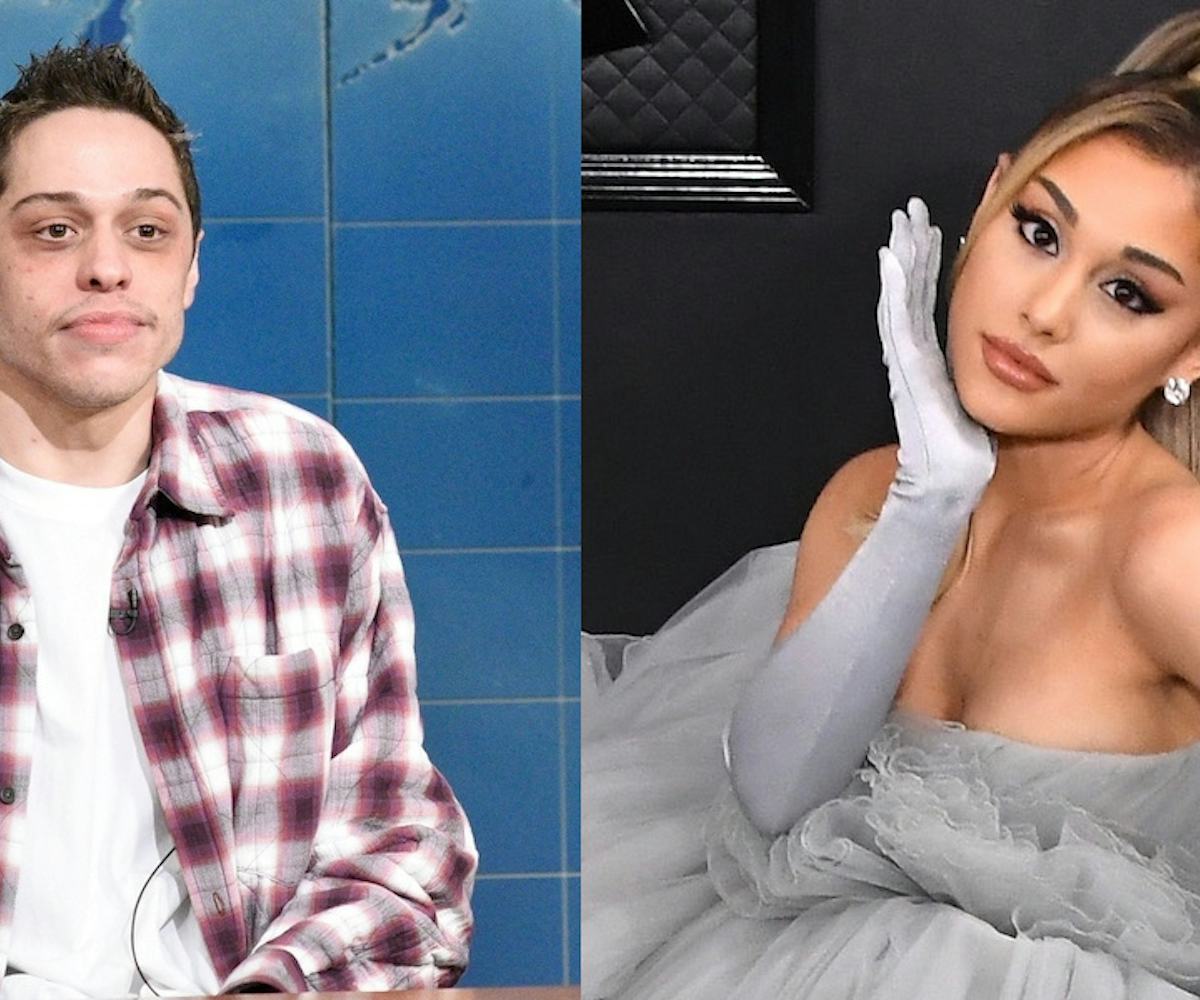 Photos by Will Heath/NBC/NBCU Photo Bank via Getty Images, Kevork Djansezian/Getty Images, Steve Granitz/WireImage
Pete Davidson Doesn't Care About Ariana Grande Ditching Her Ring At The Grammys
Hopefully it'll stay that way once the next episode of 'Saturday Night Live' rolls around
Taking off a prop engagement ring and putting it back in its box was the most satisfying way for Ariana Grande's 2020 Grammys performance to end, as a wrap up to her entire thank u, next era. And despite their engagement having been over since October 2018, no one could help but think about the last person to have given Ari such a ring: Pete Davidson.
Apparently, the Saturday Night Live 'resident young person' and King of Staten Islandstar had barely any reaction whatsoever to her slick Grammys choreography; in fact, he wasn't even watching the live broadcast when it happened. An unnamed source told HollywoodLife, "Pete has moved on from Ariana, he's well past being hurt by something like that." They added, "He wasn't watching the show [he was at a basketball game] but he heard all about it and he took it in stride. He's not holding a grudge and wishes her well. Pete has nothing but good things to say about Ariana." Which, to be fair, seems like a healthy and rational reaction for him to have to have.
After all, Davidson has been in three relationships post-Grande, all of which have sparked memes and frantic reactions on social media. First, there was Kate Beckinsale; anyone with an internet connection can recall being subjected to photos of her and Davidson trading spit back in March 2019. The two split only a month later. Then, there was a few months dating actress Margaret Qualley, followed by a similarly short rendezvous with model Kaia Gerber, with whom he broke up in January 2020. Ari who?
In case you've forgotten all the intricacies of the start of the thank u, next era, Grande first blessed fans with the albums titular breakup bop mere weeks after ending her engagement with Davidson. So, capping off a performance of the song by slipping off an engagement ring seemed like a direct nod to her time with Davidson, no matter how long ago it happened. In September 2019, it was briefly rumored that Grande was dating her "Boyfriend" collaborator Mikey Foster of Social House, but Grande's brother Frankie quickly offered public statements to dispel the rumors just as quickly a he unintentionally started them. So it seems that Grande has stayed true to her promise to stay single "for the rest of this year [2019] / probably my life."