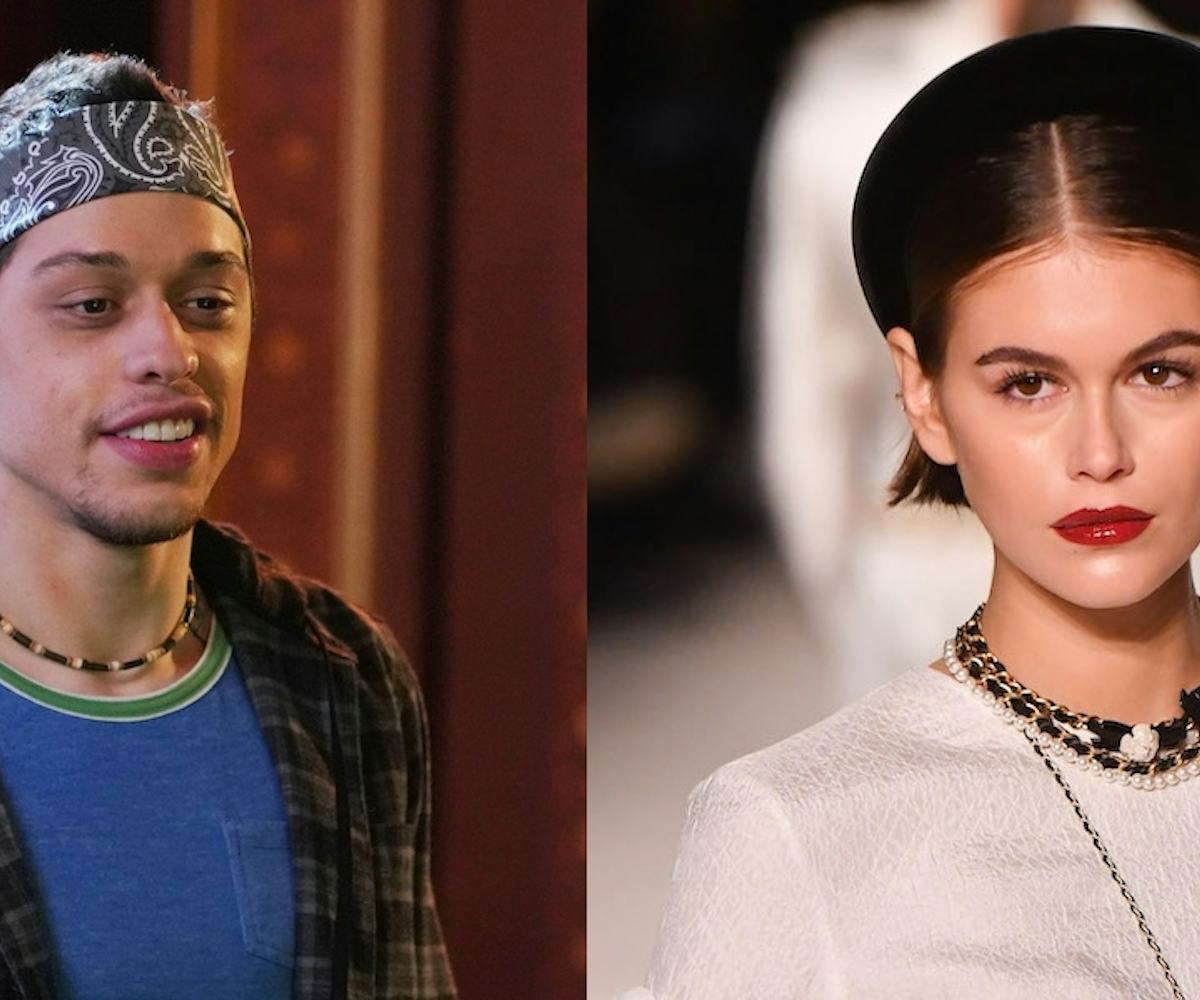 Photos by Rosalind O'Connor/NBC/NBCU Photo Bank via Getty Images, Stephane Cardinale - Corbis/Corbis via Getty Images
Pete Davidson And Kaia Gerber Are No Longer A Thing
Is anyone actually sad about this?
Just three months into stomaching the news that Pete Davidson and Kaia Gerber were part of a romantic coupling, it's all over. Yes, that's right: Davidson and Gerber have called it quits on their fling. The pair had been rumored to be dating since October 2019, but no one really knew for sure what was going on between the two until they were spotted holding hands at a grocery store upstate in November.
On Tuesday night, a source shared with Page Six, "It looks like Pete and Kaia are over. It got very overwhelming for Kaia. Pete has a certain M.O. and he's very intense to his girlfriends. Kaia is only 18 and it's a lot to deal with." In a November interview with Paper, Davidson spoke on his dating style, stating, "My love language, when I'm in a relationship, is I treat the person I'm with like a princess. I try and go as above and beyond as possible, because that's what you're supposed to do?" He did realize that it could be *too* much at times, adding, "But sometimes when you put so much on someone, it overwhelms them, and then they don't know if they could come close to that."
Saturday Night Live returns to the air on Jan. 25, so it's safe to assume we'll be hearing from Davidson about the breakup in only a matter of weeks. Just before the holidays, Davidson seemed to comment on his relationship with Gerber during a Weekend Update segment to Colin Jost. "Yeah, and it's not fair, Colin," he said. "You get to date a famous woman and everyone's delighted, but when I do it, everyone wants to punch me in the throat. What'd I do? If I'm your type of guy that your daughter or mother is into then trust me, I'm the best case scenario. There are a million guys who look like me and I'm the only one with a job. It's like me or Tyga." At least he's self-aware?