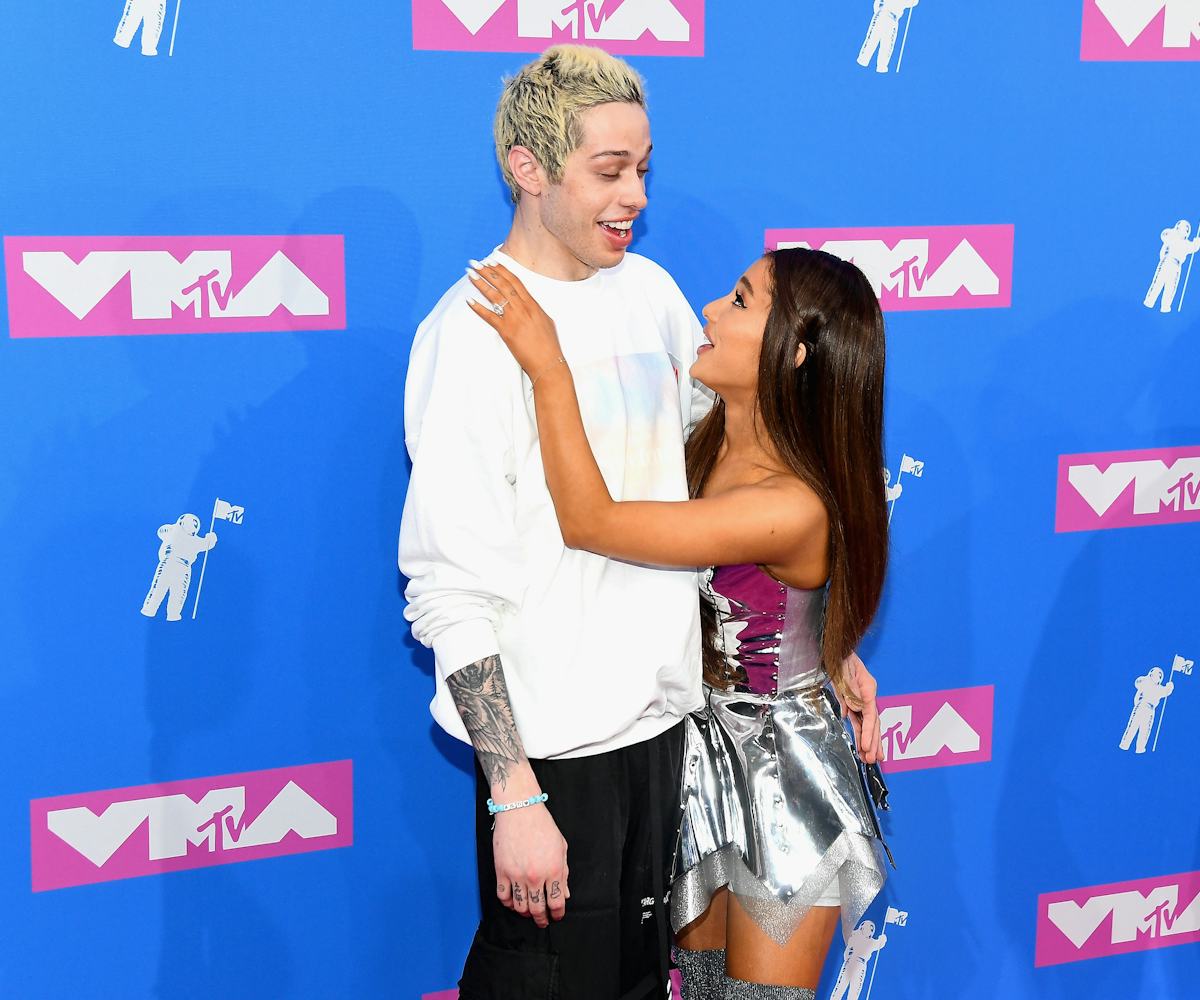 Photo by Nicholas Hunt/Getty Images for MTV
Pete Davidson Accused Ariana Grande Of "Spray-Painting" Herself Brown
His new Netflix special contains a lot of comments about the singer
The whirlwind romance that was Pete Davidson and Ariana Grande has long since concluded, but based on the comedian's new Netflix special, he still has a lot to say. Pete Davidson: Alive From New York officially arrived to the streaming platform, and along with jokes about friendships and working on Saturday Night Live, Davidson opens up about dating Grande in the new special— and addresses the rumors surrounding the her much-talked about tan.
In the aftermath of the Davidson and Grande split, the comedian had initially decided to not speak about Grande or the relationship, but after the singer gave an interview to Vogue in 2019 — in which she called their time together "a distraction" — he changed his mind, Buzzfeed reports.
Per the Vogue interview accompanying her cover, Grande said, "I met Pete, and it was an amazing distraction. It was frivolous and fun and insane and highly unrealistic, and I loved him, and I didn't know him." In his special, Davidson questioned how the interview didn't negatively impact Grande. "Can you imagine if I did that? My career would be over tomorrow. If I spray-painted myself brown and hopped on the cover of Vogue magazine and just started sh*tting on my ex. Can you imagine if I did that sh*t? If I was just like, 'Yeah, I was just f*cking her 'cause I was bored, and then Fortnite came out.' It would be insane."
He later expressed concern that what he said in the special could potentially upset fans of the singer. "I don't want any smoke, OK? My biggest fear is I'm gonna get a shot in the back of the head by a 9-year-old with a ponytail, and the last thing I'm gonna hear is 'hashtag cancelled,'" he said.
Before the special arrived on Netflix, Davidson had defended his decision to joke about his relationship with Grande, Buzzfeed reports. Speaking with Charlamagne Tha God, he explained that comedy was his method of coping. "That was a highly publicized thing," he said of their break-up. "I feel like she got her fair run and her fair stab at it. I don't have social media and I don't really have an outlet to express my feelings. So stand-up's just how I do it. And I just have some jokes about it."
So far, Grande has not commented publicly about any of the jokes in the special, but Complex reports that some on social media have already started reacted. Fans of the singer questioned Davidson's intentions with the remarks, while others defended the comedian.