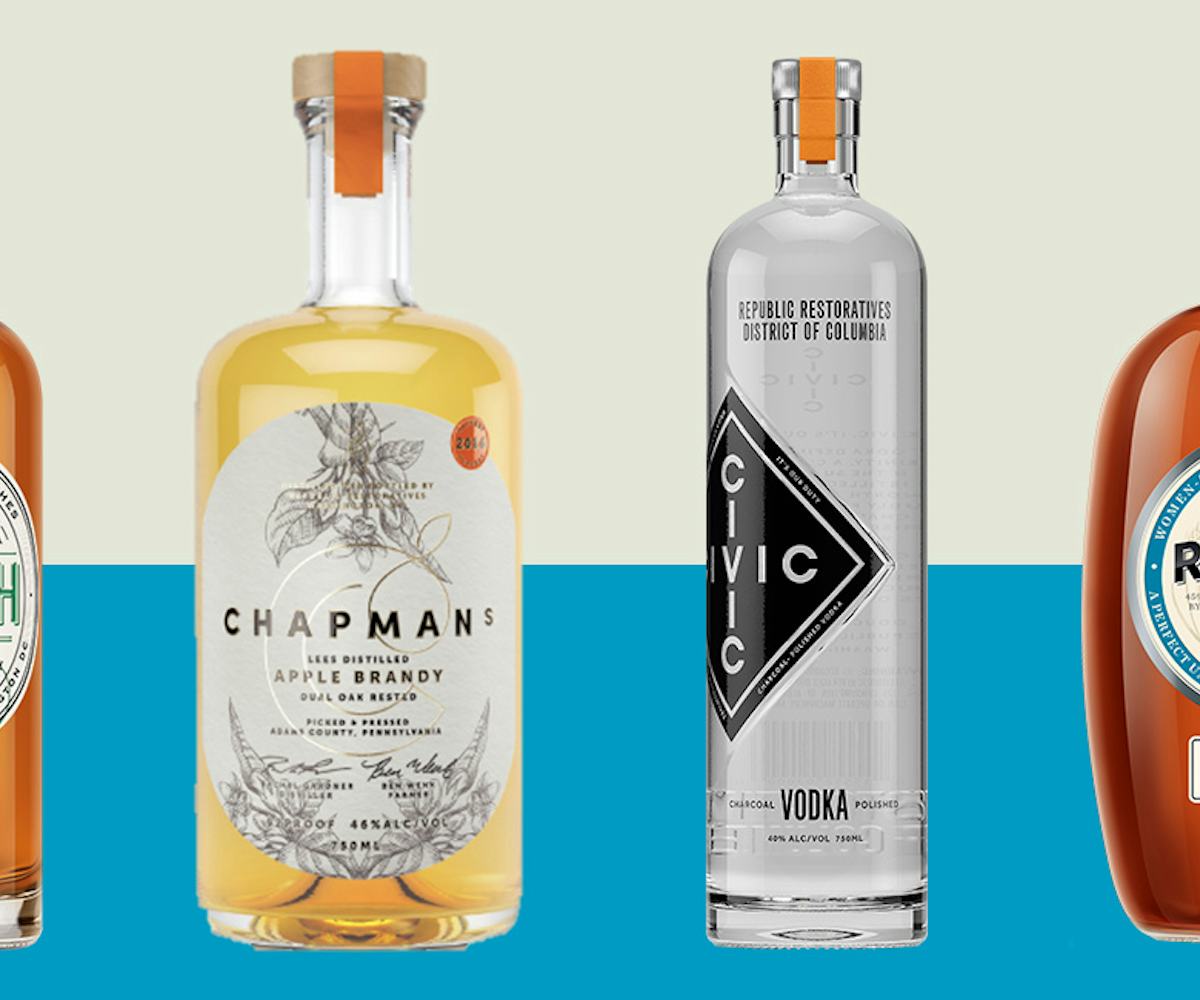 Photos from Republic Restoratives
Meet The Woman Who Left Politics To Run A Distillery
With Republic Restoratives, Pia Carusone is changing the spirits game
If anyone knows the value of a good, stiff drink in this political climate, it's Pia Carusone. The one-time chief of staff to former Arizona Democratic Rep. Gabrielle Giffords is also the co-founder of the first woman-owned distillery in Washington, D.C.'s history, Republic Restoratives.
"This was always something I was thinking of doing, but life just happened," she said. By "life" she means: a decorated political career that includes stints as campaign manager to Congresswoman Carol Shea-Porter in 2008, chief of staff to Giffords from 2009 to 2012, and assistant secretary for public affairs for the U.S. Department of Homeland Security from 2013 to 2014 under Obama's administration, a role that earned her a spot on Politico's "50 Politicos to Watch."
While her work in public service was rewarding, especially during what Carusone describes as "an exciting time to live in Washington and be on the Hill," working in spirits was always something she had on her mind. She said, "I always felt politics was temporary for me. But one thing kept leading to another."
After leaving her job in government in 2014, Carusone and childhood friend Rachel Gardner dove heavily into distillery research and in 2015 launched what would become the world's most successful crowdfunding campaign for a distillery. The doors to Republic Restoratives opened a year later. Carusone and her team wasted no time making waves. She put her past experience to good use and not only tackled the red tape involved in opening the distillery and tasting room, but she turned that tape into a big red bow.
Previously, D.C. distillers with tastings rooms were only allowed to pour one-ounce samples of their products, while breweries and wineries could showcase their wares in a much more appealing—and generous—way. Carusone took to the floor to demand change, and Republic Restoratives won the right serve up full-size, featuring cocktails made with the brand's spirits.
The brand's best-seller is the Civic Vodka, distilled exclusively from North American corn and patiently charcoal-polished for a crisp, flawless finish. They also produce Borough Bourbon, Chapmans Apple Brandy, and a hugely popular rye called Rodham Rye named after Hillary Rodham Clinton. The plan was to release it in celebration of who Carusone and Gardner thought would be the country's first female president. When that didn't happen, they thought about putting it on hold but then realized it was more needed than ever. "It's a tribute to women in history, and a tribute to women in our everyday lives," she said.
The toast on that bottle's label reads: "A tribute to the women who make us what we are today. From those who fought for the vote and to end prohibition, our sisters and mothers, and women everywhere who speak out, take risks and raise up the leaders of tomorrow. Here's to you." And so, not only is it one of the best ryes I've ever tasted, but my first sip was very emotional. Drinking it made me both want to cry and smile, so I can only imagine what it must have been like when Carusone's wife Leanne Pittsford, founder of Lesbians Who Tech, recently popped open a bottle with Clinton herself.
Something else Carusone has been able to handle is creating a talented, diverse team to work alongside at Republic Restoratives. She told me, "We highly encourage diverse applicants to apply to work with us. It's okay that you don't have 10 years distilling experience."
Carusone, after all, certainly didn't have that experience when she left politics for distilling. But, as was the case with her former career path, she's winning awards on this one as well. Republic Restoratives has medaled at the American Draft Spirits Association Awards with its Borough Bourbon, Rodham Rye, and Chapmans Apple Brandy. The tasting room is also always packed and often reserved for private events that her former colleague Barack Obama sometimes attends.
"People like it here," she said. "The tasting room serves great craft cocktails that are well-balanced and made with fresh juices and good ingredients." When I ask her what they can expect from a visit to Republic Restoratives, she responded: "A heavy dose of realness."
Read on for more about RR, Carusone's current role in politics, and career advice from several other accomplished women involved in distilling.
Looking at where the country is right now, do you ever think about getting back into politics?
I'm still involved as a consultant, helping candidates shape their message and run their paid communications programs. Honestly, it keeps me distracted from thinking about the utter dumpster fire that represents our current leadership.
You've really changed the industry, not only by being a woman in the business but also by being gay—you're really considered an LGBT power player. Does that come with responsibility, or are you just doing what you do and letting that be an added conversation?
The latter. But I'm an open book in terms of how my career and personal life have influenced each other. My wife is more the gay power player in our house. I like it that way.
Who are some of the other women in the industry doing impressive things?
So many! A few of my favorites are Nancy Fraley, renowned master blender and professional "nose"; Marianne Barnes, Kentucky's first female master distillery and part of the amazing team reopening Castle & Key; and Haley Taub, 2018 Speed Rack winner and leader at Dutch Kills cocktail bar.
You had a pretty drastic career change. Do you have any advice for someone entering the industry?
I would give this advice to anyone starting a new job. It's something I tell new hires from the start: Walk with the attitude and confidence that a straight white man walks with every day. Also, admit when you are wrong. Those two things will get you really far in your career.
For more on women making waves in the spirits industry, check out the following list of inspiring game-changers.
Cheryl Lins is the one-woman show at Delaware Phoenix Distillery. She does it all, from crafting four different whiskeys using early-19th-century production methods to creating three different varieties of absinthe, filling bottles and delivering the product to the store. She pulls no punches when she talks about her business. "I hope it doesn't disturb you that the Delaware Phoenix whiskey and absinthe is made by a girl. And an old one at that," she said. "I only make this point because there are many people out there promoting a certain style or view that men are the only distillers out there and the more facial hair they have, the better they are at (or could be) distilling. So enough with the stereotypes."
Heather Nelson, a farmer's daughter, made history when she became the first woman to head a whiskey distillery by herself. She opened Toulvaddie earlier this year in Scotland with the goal of producing 30,000 liters annually. "I didn't do it to be the first woman to do it—that's just a happy coincidence," Nelson said. "I'm just someone with a passion."
What started with a Facebook event put together by Julia Ritz Toffoli has resulted in a national "experimental cocktail club for women" that celebrates a woman's love of whiskey. Members meet to network, learn, or just enjoy a cocktail in an environment that is supportive and fun. The club now has 22 active chapters around the country with more coming and a membership of over 10,000 women.
Carusone calls Nancy Fraley a professional "nose." She is the owner of Nosing Services out of Berkeley, California, and is one of the most sought-after consultants in the business. Fraley is also the master blender at Still Austin where she is working with local partners to help re-introduce heirloom grains back into Texas as part of the 1919 Heirloom Grains Project. The name makes sense. In 1919, the USDA conducted the first national grain survey providing data on Texas wheat varieties. It is also the year Congress passed the 18th Amendment enshrining Prohibition into the U.S. Constitution. "Still Austin is working with local partners to re-introduce heirloom grains back into Texas and craft spirits our forefathers might recognize."
There is never a shortage of bartending competitions, but there is only one focused on women. Ivy Mix and Lynette Mereo created Speed Rack in 2012 for a few different reasons. Yes, they wanted to empower and celebrate women in the cocktail culture, but they also created the drink-slinging event to raise money for breast cancer research and charities. Speed Rack gets bigger and better every year with 100 percent of proceeds from the events produced in each of the 13 cities going to breast cancer education, prevention, and research.
Bridget Firtle, Founder/Master Distiller Owney's Rum & The Noble Experiment
Bridget Firtle put her MBA to good use when she started Owney's Rum; it's named after Owney Madden, the Prohibition Era mobster and bootlegger who owned the Cotton Club, and it's made with (filtered) NYC tap water. What started as a one-woman show is slowly growing (she has a handful of employees now), and Firtle is all about the giveback. During Women's History Month, 25 percent of sales went to the Tory Burch Foundation, an organization committed to helping women entrepreneurs.