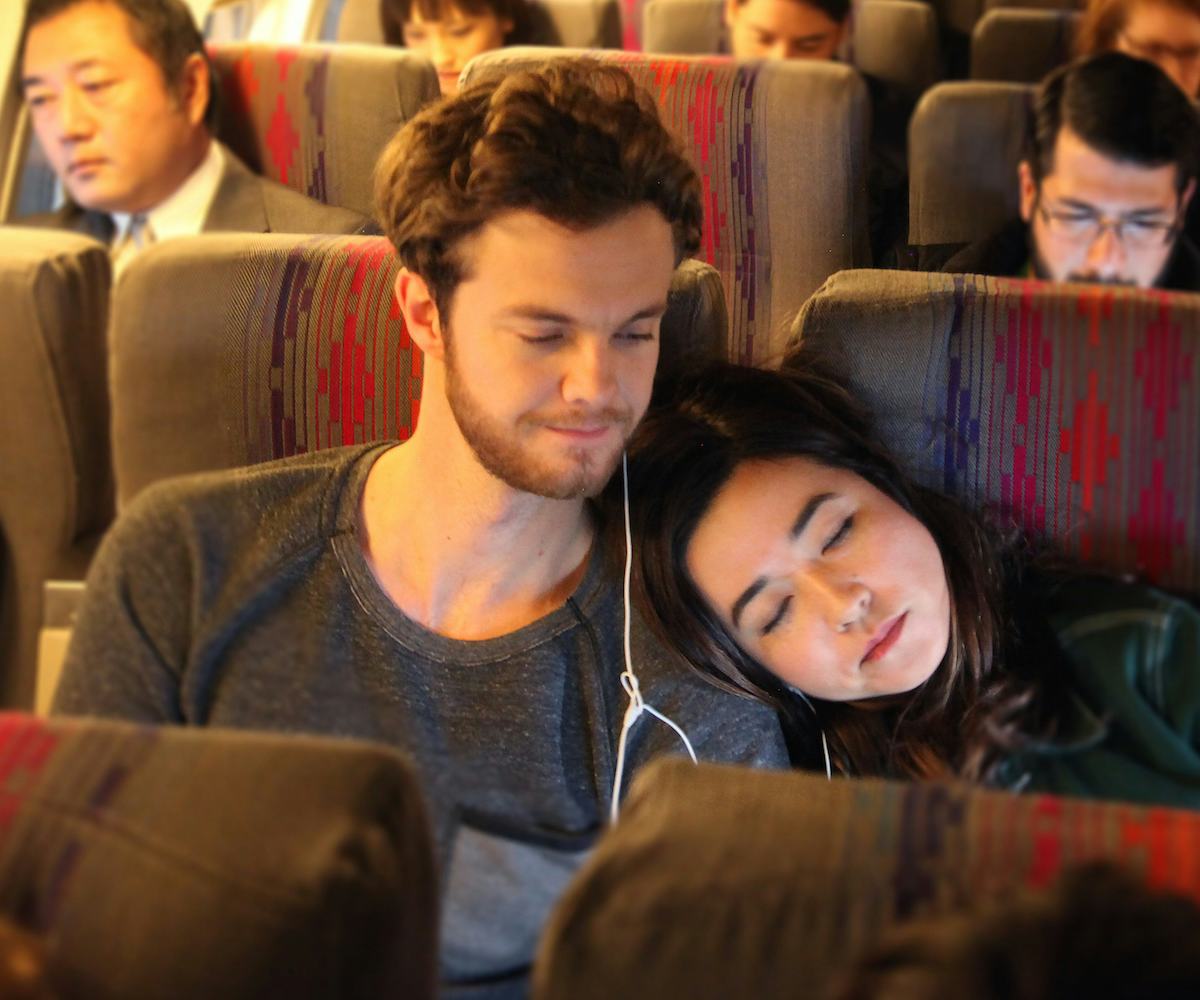 Courtesy of RLJE Films
'Plus One' Is Not Your Typical Wedding Rom-Com
White-knuckle your way through wedding season with Maya Erskine and Jack Quaid
Maya Erskine might have first come to our attention in PEN15, the hilarious show she co-created and stars in with Anna Konkle, in which they play 13-year-olds in the year 2000, but in the just-released Plus One, Erskine is all grown up and engaging in a very familiar adult activity: white-knuckling her way through wedding season.
Written and directed by Jeff Chan and Andrew Rhymer—who just so happen to be Erskine's former NYU classmates—Plus One stars Erskine and Jack Quaid as Alice and Ben, two longtime friends who decide to attend a summer of weddings together, and avoid any of the awkwardness that can come with finding the right plus-one. This is especially important for Alice, who is coming off a bad breakup. Of course, as the laws of rom-coms dictate, nothing stays totally platonic. Beyond that, though, Plus One doesn't fall into predictable rom-com tropes, and instead hilariously explores what it's like to spiral into a quarter-life crisis, all while dressed in optional black-tie. Which, we've all been there, right?
"We kind of use the script as its own therapy," Chan told me recently, when I spoke with him, Rhymer, Erskine, and Quaid, about the film. "We were watching friends who have been broken up for a long time get back together at weddings; we were watching people get really sad and get drunk and start crying... they were breeding grounds for lots of emotions coming to the surface."
And those emotions have the perfect outlet at weddings in the form of toasts and other assorted speeches. Plus One makes good use of that platform by making the wedding speech the hilarious eye of the storm at each of its weddings. These toasts were delivered in the form of scene-stealing cameos—also friends from NYU, of course.
"Almost all of those speeches are based on a real speech Andrew and I have seen," Chan said. "We'd go to a wedding and [we'd think], Yep, that's going in there."
Rhymer adds that they used these speeches as metonyms for the weddings, which made sense time- and budget-wise: "Being an indie film, we obviously produced 12 weddings, but did so kind of cleverly, showing you the rooms or the side rooms where they're rehearsing. We weren't seeing 12 full-blown receptions in all their glory... that would have been, like, millions of dollars."
But perhaps what's most refreshing about Plus One is that it destroys the image of weddings—and, by extension, relationships, and women, in general—as having to be fantasies, as having to be perfect. Because nothing is perfect, and that's what makes life interesting. Erskine, for one, likes being able to show the weirder sides of life, whether as a 13-year-old girl washing a thong with hand soap or a millennial woman who doesn't know what comes next. "There's something really liberating and freeing to show and bear the ugliest parts of yourself—or what society may deem as the ugliest, weirdest parts of yourself—that no one wants to see," she said. "I'm also an over-sharer. So I am drawn to roles that expose more than is typical, and everyone is weird in one way or another."
"I think," Erskine laughed, "it's because I myself am a wacky trash goblin." As it turns out, that's exactly what rom-coms have been missing, until now.
Plus One is in select theaters and available to stream via Amazon now.