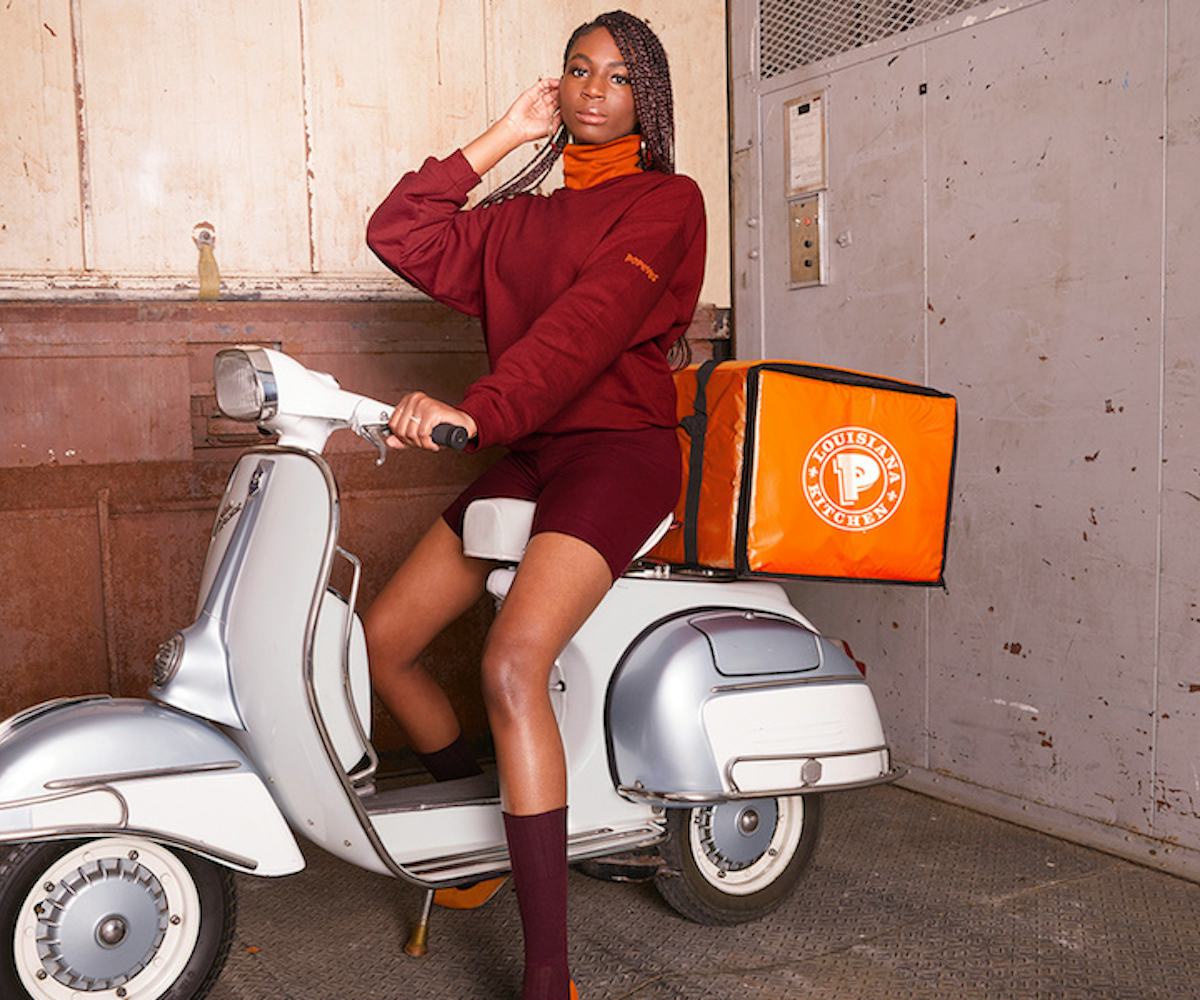 Photo courtesy Popeyes
Thanks To Ivy Park, Popeyes Is Selling Its Uniform As Merch
The popular fried chicken establishment is now selling their own uniforms as merch
Unless you've been living underneath a rock for the past few weeks, there's a very good chance you've seen at least one or two recent videos of celebrities arriving home to find giant orange boxes sitting on their doorstep. Inside, of course, are clothing racks filled with Beyoncé's new adidas x IVY PARK collection. So far, everyone from Yara Shahidi to Reese Witherspoon to Diplo to Missy Elliott to the Houston Hottie herself, Megan Thee Stallion, have received one. In their videos, they all look positively thrilled as they unbox their new garments. As fun as it's been to watch them play dress-up in their new maroon and orange wardrobe, one establishment saw a business opportunity. The delicious Louisiana fried chicken restaurant known most recently for its sandwich feud with competitor Chik-fil-A, Popeyes, is releasing its own Ivy Park-lookalike uniform as merch.
"Love that look? It's our uniform. Has been for a while," the tweet read, slyly referencing the strikingly similar color palette shared by Beyoncé's new collection and the restaurant's own decades-old employee uniform. The tweet also featured a link to a site called "thatlookfrompopeyes.com" where you can buy a hooded jacket, a crewneck t-shirt, a crewneck sweatshirt, a tunic, a half zip-up, a short sleeve polo, a button-down, or choose between three different cap options — all branded with the familiar Popeyes logo. (As of writing, the crewneck t-shirt, crewneck sweatshirt, and the orange and khaki caps are all sold out.) Best of all, nothing costs more than $40. Compare that to Beyoncé's IVY PARK collection for adidas, where the majority of (now sold out) items range in price from $50 to $250. (The cheapest adidas x IVY PARK options were a $25 three-pack of socks and a $25 beanie that came in two colors — maroon and orange.)
In a recent press release, a representative for the popular fried chicken establishment said, "You may have seen in the news that a certain celebrity's fashion collection recently sold out last week and many on Twitter were quick to point out that the new maroon and orange outfits look a lot like Popeyes uniforms. Popeyes is offering fans who missed the boat the first time a chance to score something nearly identical. POPEYES IS NOW SELLING ITS OWN UNIFORMS...literally." Burn.
Hilariously enough, before this beef, Beyoncé and Popeyes were actually on great terms. Over a decade and a half ago, back in 2003, Beyoncé told Oprah that, after finding out she was a fan, Popeyes gave the Grammy-winning singer a lifetime supply of free fried chicken. "[Popeyes] gave me a lifetime membership and every time I go, I can pull out the card and get as much Popeyes as I want," she said, quickly adding that, out of embarrassment, she's never actually used it. Which is a shame since it's possible that with this latest development, the offer might not even stand anymore. Certainly something to think about!
Either way, I know what I'm wearing as my Halloween costume this year. So, I'm glad that's taken care of!