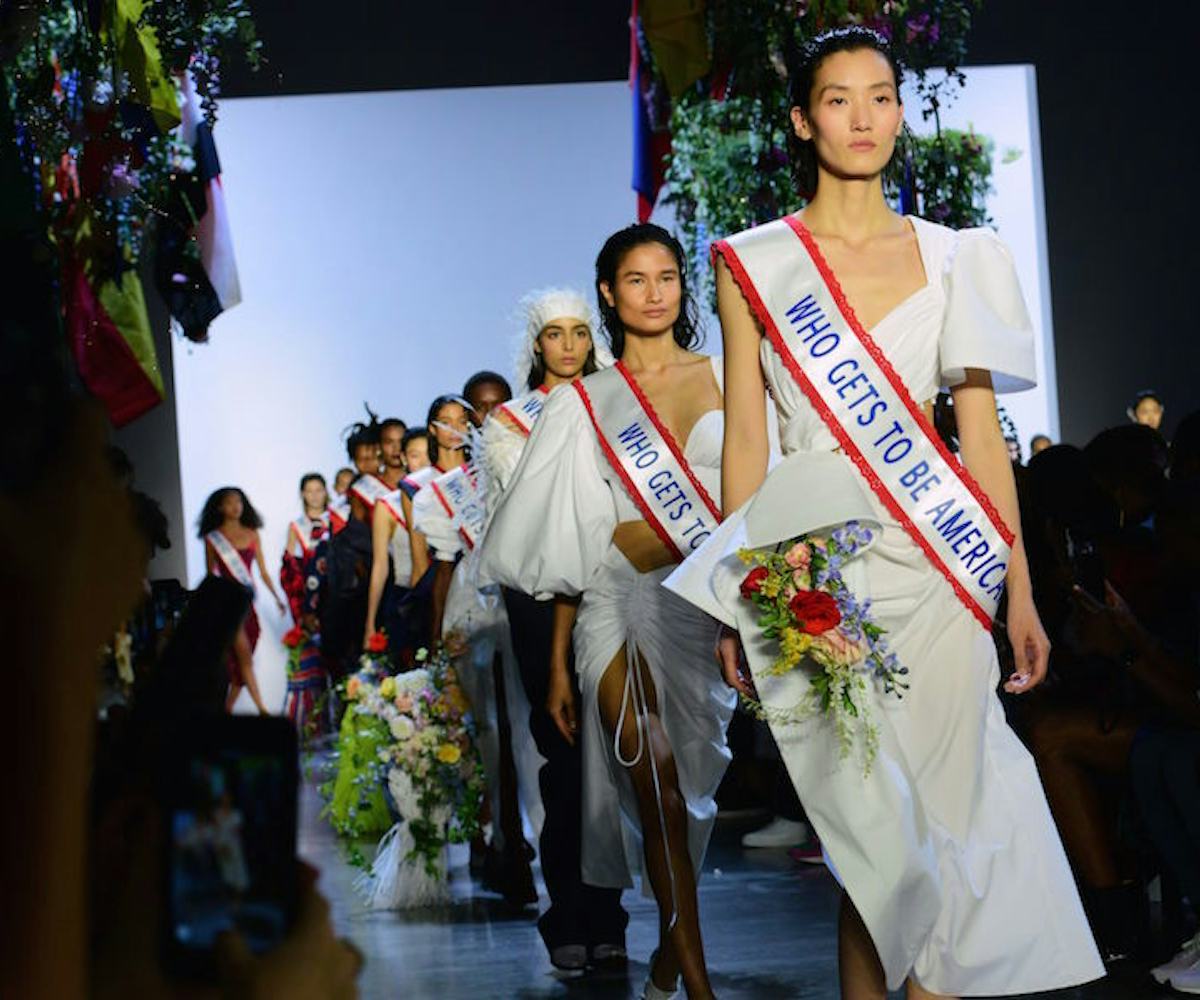 Photo via Shutterstock
Prabal Gurung Aimed To Redefine "Who Gets To Be American" On The SS20 Runway
The designer shared his own story of immigration in a statement
Prabal Gurung elevated his own story of immigrating to the United States and made a clear pro-immigration statement during his NYFW SS20 runway show. Models walked the runway donning pageant queen sashes bearing the question, "Who gets to be American?" in bold blue lettering. In collection notes shared following the show via press release, the designer recounted his history and noted how his own notion of American aesthetics was woven throughout the 10th anniversary collection, released two decades after Gurung moved to the U.S.
Prabal Gurung defines their own vision of America as "a beacon of hope where one's wildest ambitions can come true, a melting pot that is colorful, multicultural, and beautiful." The designer wrote,
In the last few years, incited by the divisive rhetoric of our current administration, I've considered the many faces of America and how we should seek to redefine it. I recall sitting in a business meeting, spiritedly challenging this very notion, and being met with a pointed, "Well, you don't look American, so how can you define what America is?"
This is all deeply personal to me. Though my roots lay with my family in Nepal, this country is my home. America is where my heart is. I am an American. As immigrants continue to birth this "new America," we must remember all versions of our history and take ownership of our past while forging a new legacy. Amidst the deep wounds that are severing the unity of our country, I continue to seek the America I came here to be a part of—the America that I know is still there. And so, with the Spring 2020 collection, we seek to celebrate hope, courage, and present an ode to the true American dream.
Prabal Gurung used the national flower of the United States, the rose, as his "nostalgic motif" throughout the collection, "imbuing a soft pastel dreamscape, a fantastical passageway for remembrance and discovery," particularly nodding to images of old American glamour. Many models not wearing florals carried lush bouquets to carry on the motif; others rocked on-the-nose American nods with red, white, and blue tie-dye looks, even nodding to "hearty twang" (a.k.a., "yee-haw") with gorgeous new cowboy boots from the limited-edition Miron Crosby x Prabal Gurung collaboration. Gurung's vision of old American glamour was a colorful spectacle, in the same vein of Rodarte and Jeremy Scott featuring oversized shoulders, giant gowns, and loads of sequins.
View highlights from the patriotic show, below.