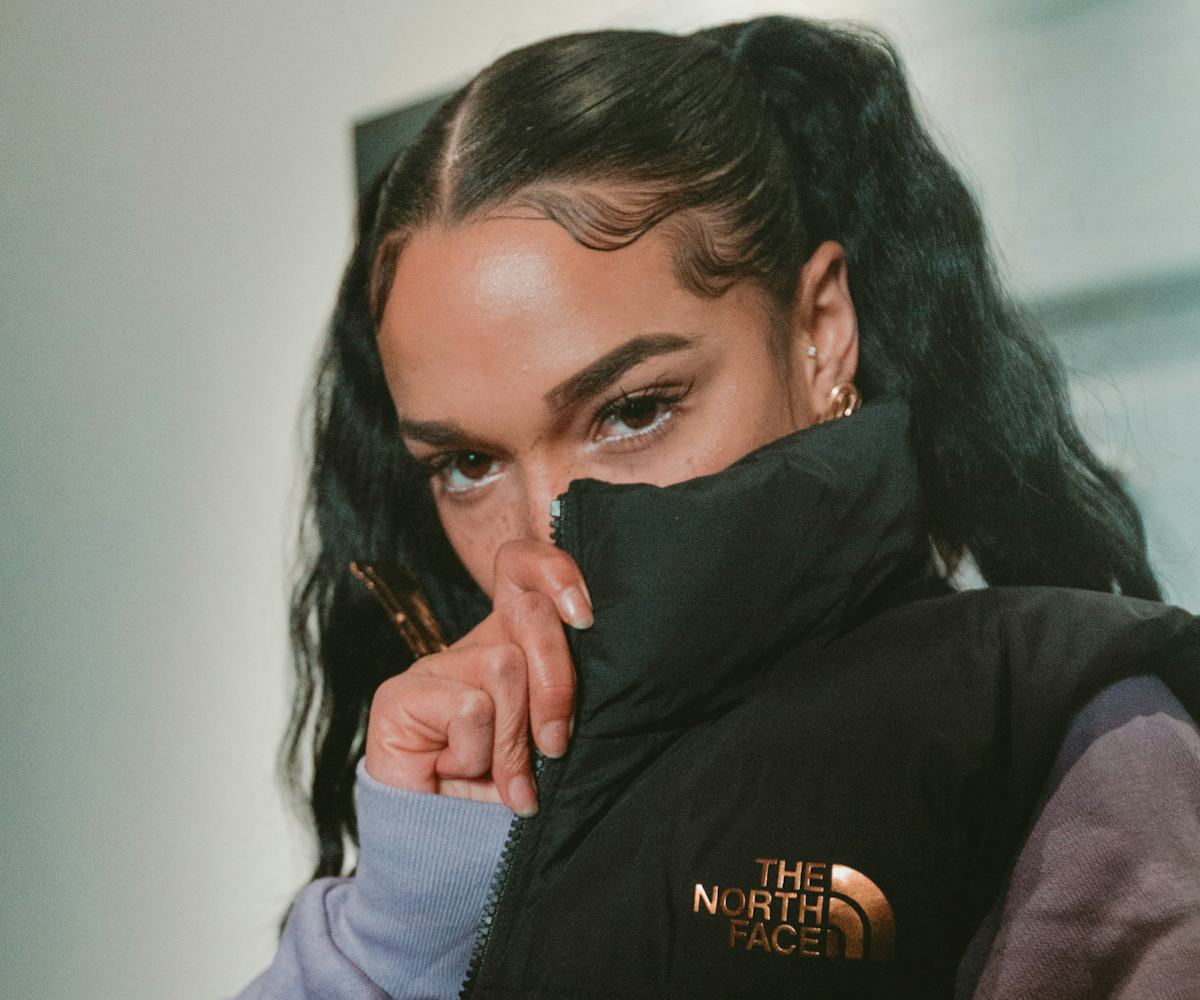 Photo Courtesy of The North Face
Where In The World Is Princess Nokia?
She brings us up to speed
It's been two years since the release of Princess Nokia's debut studio album 1992, and although she revived our playlists with emo EP A Girl Cried Red earlier this year, we're still anxiously awaiting whatever tunes come next.
But even if we desperately want to know when we can expect new music, that's not exactly something she can elaborate on. Right now, she's deep in fashion campaigns—most recently, partnering with The North Face—and is about to flex previously untapped talents when she debuts in her first-ever acting role.
Last week, we caught up with the rapper-slash-model-slash-(now) actress to hear everything she has on her radar, and what's bringing her inspiration as 2018 comes to a close. Let Princess Nokia bring you up to speed in the Q&A, below.
Tell me a little about your collaboration with The North Face.
It's been great, I've been sort of modeling for North Face since summer when they asked me to join their New Explorers campaign. I've had this really beautiful array of experiences, not only being a model and a musician that works with a brand, but also being a regular kid that is able to work with a really cool brand that has a lot of cool people that are from different places and represent things outside of, like, high fashion.
You also had the Maison Margiela campaign earlier this fall. What's drawn you to the fashion world as of late?
I started modeling before 1992, and I had already done Calvin Klein and Target and Gap and Diesel, Reebok, so I had been modeling for a little bit. It was just something that I thought, like, I shouldn't limit myself. And also I just felt it's like a double blessing. Like, I'm still modeling, and I model because I am Princess Nokia. Those are just like some of the best paydays you'll ever imagine.
Is there something specific you look for when you're choosing gigs?
No, not at all, because as a model, sometimes for me, without trying to be too choosy, I just show up and I collaborate. They want me to represent the brand because of who I am, and what I represent. But, at the same time, I'm a model, and I fully understand that my role is to model the clothes.
What projects do you have on your radar right now? Do you have a release that you're working on?
I can't say [music-wise, but] I will say that I have a movie coming out. We shot this movie called Angelfish the entire month of October, on location in New York City. It's a love story set in 1993.
Have you been seeking out acting roles or did they kind of come to you?
They scouted me, but I've been going on auditions and wanting to act for some time.
Music-wise, what album do you have on heavy rotation right now?
Sweetener by Ariana Grande. That's kind of bad.
No, it's really great! I was like, "It's kind of bad," because I listen to it all the time. I love Summer Walker's new EP as well.
Where are you currently finding creative inspiration?
In my insecurities and self-consciousness.
Last year you made headlines for throwing soup at a racist on the subway. Are you seeing anything, or anyone, right now that's politically inspiring, or maybe giving you a bit of hope as we head into the new year?
I definitely think all the women of color that have been elected to Congress and government. Alexandria Ocasio? I think she's dope. I think Yara Shahidi is amazing. I think... Amandla [Stenberg]. I think a lot of the young women who are my colleagues in this industry are incredible activists and leaders. I look to them as inspirations.
What's your New Year's resolution? What do you hope to accomplish in 2019?
I want to continue being healthy, and not putting more poison in my body. I'm trying to keep treating my body good. I just want to purify my body, purify my mind, and make good music and keep living my life. I want to be a better person, but still be the same person. I don't let this evolution change me. I want to still have the same happiness and love that I have now for life next year.
What advice would you have for fans, to keep the positivity alive in the new year?
I just want to tell the children I love them, and that getting up in the morning sucks sometimes, but if you're able to do it and come back at the end of the day, you've done something powerful.