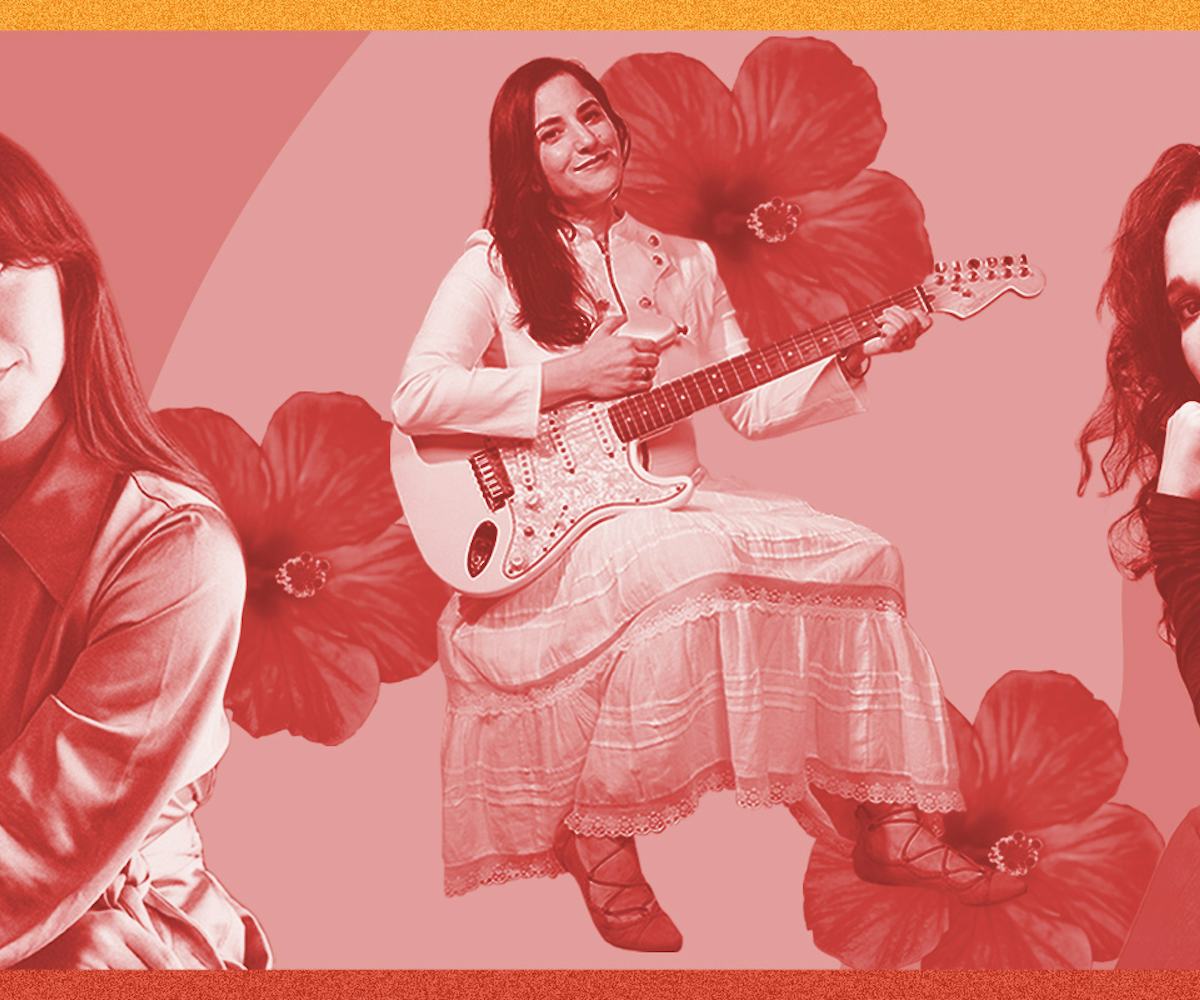 Photos by Pedro Burgos, Bek Andersen, and Cesar Berrios
How These Puerto Rican Musicians Are Soundtracking A Revolution
"Right now we're at a moment of restructuring, of transformation, and that's why it's important to be alert"
The Caribbean island of Puerto Rico has been under a microscope since Category 5 Hurricane Maria made landfall on September 20, 2017, to calamitous effects. Before that, however, there were already complex issues present, including a shortage of doctors, a long-time economic recession, and billions of dollars in national debt; these circumstances have partially been the root cause of a significant emigration from Puerto Rico.
Indie musicians from Puerto Rico are some of the artists exploring these important social issues and their effects on the island. In the case of Grammy- and Latin Grammy-winning, singer-songwriter iLe, she does so on her new album Almadura, in which she grapples with feelings of vulnerability, her surroundings, and how she protects herself from the harshness of the world. The album title is a mix of the Spanish word "alma," which means soul, and "armadura," meaning armor. It can also be read as "strong soul."
"Our history needs to be protected, our culture, our reason for being in this world… it goes beyond any social or political situation. We need to protect ourselves as a human race, it's something more ample, and truthfully right now we're at a moment of restructuring, of transformation, and that's why it's important to be alert," she told NYLON.
Just in the last month or so, there have been arrests of several people with ties to the Puerto Rican government, including the ex-Secretary of Education; a leaked chat where high-ranking government officials, including then-Governor Ricardo Rosselló, made homophobic and other inappropriate, disrespectful comments. The ensuing historic protests contributed to Rosselló's resignation, but the work of Puerto Rican activists feels like it's just beginning.
Notably, one of the songs that was a part of the soundtrack during the time of anti-Rosselló protests was "Afilando los cuchillos (Sharpening the Knives)" by iLe, Residente, and Bad Bunny. The official YouTube video for the song has racked up approximately 7 million views since it was released on July 17.
Being a woman in the music industry isn't easy, but iLe says that she's committed to getting her message out there even though some people may react ignorantly, whether they mean to or not. As a woman speaking up about social issues, iLe said, "there will always be people that will want to underestimate us, that will want to devalue what we want to say, but that's why we… need to be firm with the change that we want to achieve, which is one of understanding."
Ani Cordero is a Puerto Rican singer-songwriter and multi-instrumentalist raised in the U.S., who travels between Puerto Rico and New York often. Puerto Rico, she told NYLON, feels like home. Along with Buscabulla's Raquel Berrios and Luis Alfredo Del Valle, Cordero founded the PRIMA Fund, to help support independent Puerto Rican musicians after Hurricane María.
Cordero's perspective on Puerto Rico has been shaped by her family's—especially her grandfather's—stories about liberation. "That spirit of resistance has been a part of my upbringing," she said over the phone.
In comparison to her previous music, and with Puerto Rico on her mind, Cordero described her forthcoming album as a project in which she explores different feelings such as sadness and anger—the latter of which she says she's not afraid to express now. "Some of the themes remain; like, feminism, it's an ongoing issue for me, just trying to be a woman in the world and in the music industry or in my own cultural spheres and the expectations that are like walls, sometimes," she said. "And then the frustration with corruption… I mean, political corruption; I mean greed."
Cordero has released protest songs related to Puerto Rico in the past, and the name of her next album, El Machete, was inspired by a dream that coincided with nighttime visits from her grandfather, who passed away about 10 years ago. The hurricane refocused her attention back on the island, according to Cordero, and for this album, she's collaborated with Puerto Rican creatives like Alfredo Richner, a designer who runs Puerto Rico Indie, and the band Émina.
For singer-songwriter and guitarist Andrea Cruz, "music is like a type of radio, it definitely informs you about context, about one story, and about the reality of the country."
While the musician doesn't address Puerto Rico's issues as directly as some of her peers, her music also explores emotions and society. According to Cruz, Puerto Rico is part of everything she does, such as the flowers that often accompany her visuals which are a nod to her hometown of Aibonito, or the Puerto Rican words she uses in her lyrics.
One of the topics that she does explore is what it's like to be a woman today, most notably in the single "Véngole," featuring Guatemalan singer-songwriter and guitarist Gaby Moreno. The song centers around menstruation, as can be seen in the official music video.
Cruz explained that her music is meant to make listeners think. She told NYLON over the phone that, "by dedicating yourself to art, you have to take on responsibility. For me, that's a good base, very important, and a decision that I made when I started. [It's] what I'm going to do, because I believe in it and because I believe society demands of me to talk about different things."