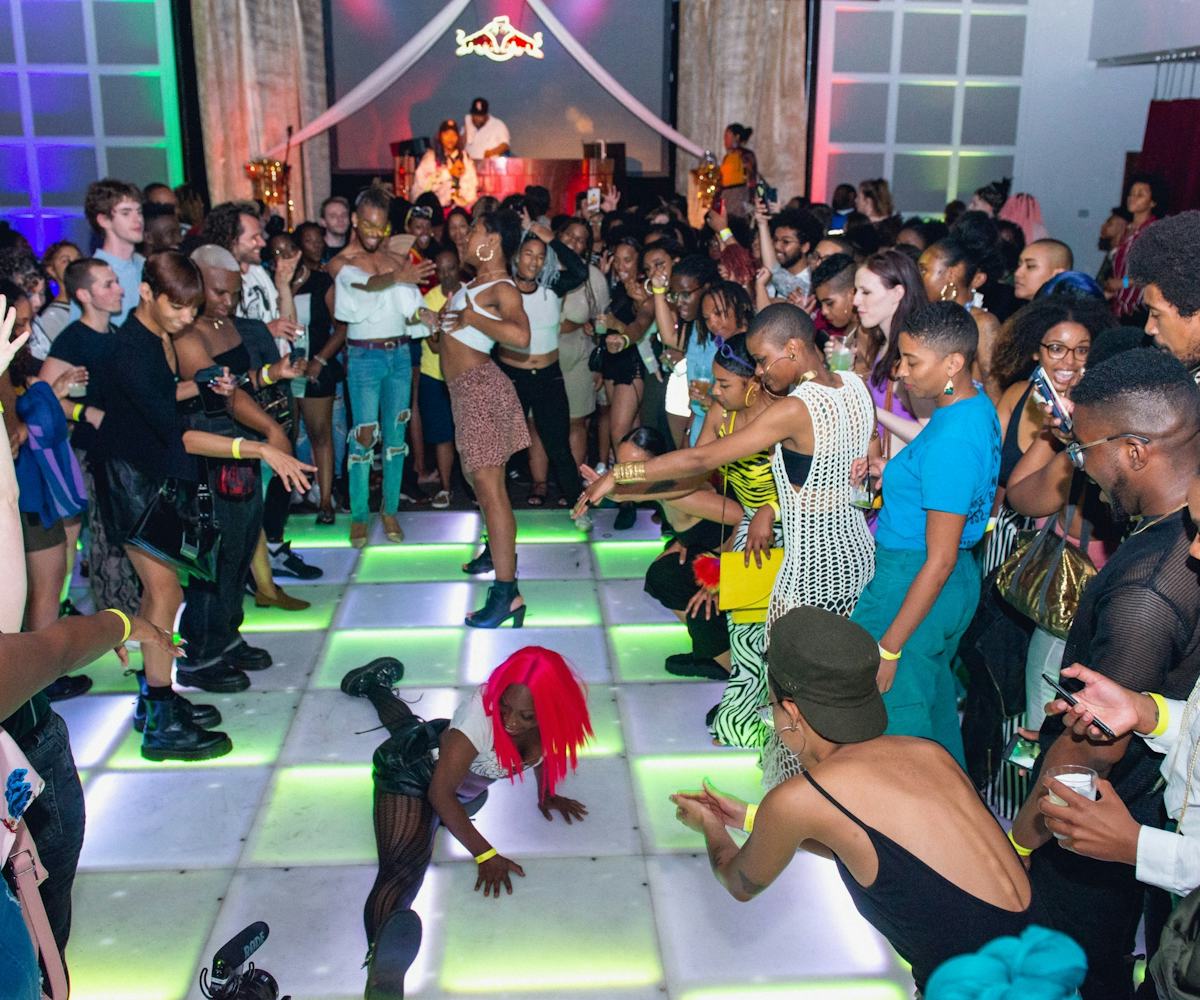 Photo by Zo Rain / Red Bull Content Pool.
Inside Chicago's Underground Pride Celebration
You have to go through Black femmes to find it
Like most LGBTQ celebrations during Pride month, Chicago Pride often feels really white, and even exclusionary to people of color. Extravagant parade floats and fancy parties are typically localized in the city's downtown or North Side areas, which are populated mostly by white, middle- and upper-class members of the LGBTQ community.
But there's another side of Chicago, another group of LGBTQ folks, and another version of pride that offers togetherness, art, and a damn good time for the people who know where to look.
This is the Chicago Pride that Red Bull Music tapped into for their Renaissance One party at the Promontory on Southside. It paid homage to the city's rich LGBTQ culture by ditching the rainbow and going for metallic streamers and a lit up dance floor for a Studio 54 vibe. Performers like TT the Artist and bbymutha were joined by other queer Chicagoans who infused the night with authentic Chicago vibes. The weaves were colorful, the footwork was coordinated, and the multiple forms of self-expression were defiant, both onstage and off.
This was where it was possible to spot Kidd Kenn, a 16-year-old rap phenom who would put the City Girls to shame with his raunchy lyrics and bold assurance. Where the Miami duo has made "period" their signature catchphrase, Kenn fills his silences with "stop playin," spoken in a Chicago drawl that sounds Southern to the untrained ear. He's already built a cult following in the city's queer community which was evidenced as the crowd rapped every word of his songs. I asked him what people miss out on when they sleep on Chicago pride and he said, "The confidence, how much we really don't care. It's a lot of negative stuff put on [Chicago] but we're still just going to do us and rock out." From house parties, to Southside's Jeffrey Pub (one of the city's oldest gay bars) and Promontory, Chicago's QTPOC have made room to honor themselves.
People like DJ Rae Chardonnay are responsible for curating these spaces; not only has she spent the past 10 years providing the sounds for parties and events, gay and straight, across the city, but also, she and her partner, Nick Alder, co-founded Party Noire. This cultural hub celebrates and affirms the lives of queer femmes, women, and non-binary people of color through events and experiences in the Chicago area. Red Bull recruited them to both perform and book talent for the night, not only for their excellent taste, but for the clout the provided. "They had to have us do this party," Alder clarified when I asked about Red Bull Music venturing to the Southside. "This is our home space, and, without our buy-in, the queer community wouldn't have [trusted] Red Bull doing an event at the Promontory."
So, if you're looking for a different kind of Pride experience in Chicago than the mainstream one, it does exist—but, you'll have to go through Black women and butch queens to get there.