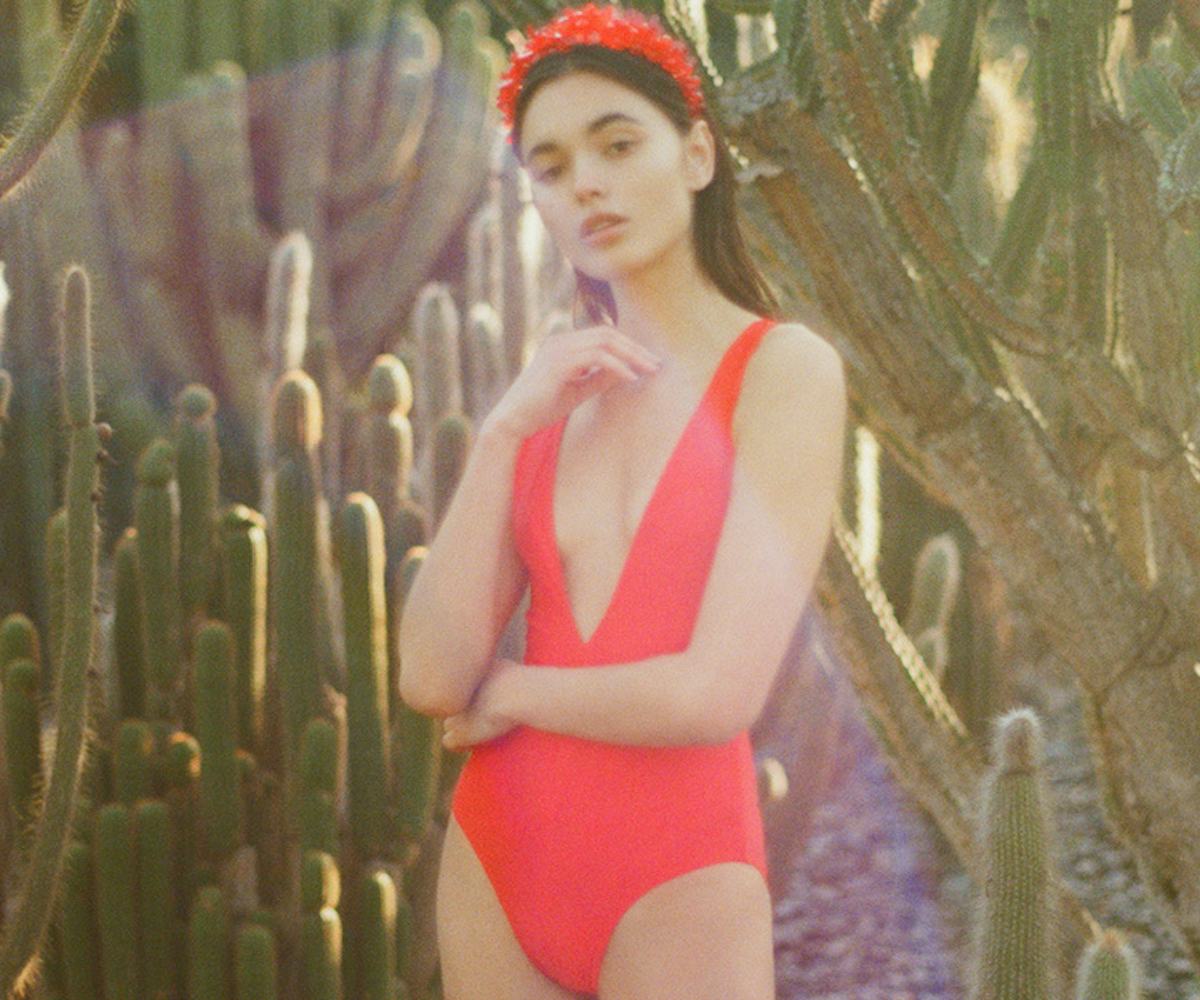 Courtesy of Reformation
Reformation's New Swimwear Line Sends An Important Message
Nothing "sustainable-ish" about this
Reformation has just released its new swimwear collection, and with it, a message about sustainability. The new swimsuits are "sustainable-ish," according to the brand, meaning as close as it can possibly get to being 100 percent sustainable with current fabric options. Currently, in order to eliminate any waste being produced, Reformation is using ECONYL, "a regenerated nylon fiber" that is "made out of things like fishing nets, fabric scraps, carpet flooring, and industrial plastic from landfills and oceans all over the world."
The brand is up-front about the harm that can still come from current fabric options, noting in the press release, "When you wash anything made from synthetics, even recycled materials, tiny bits of plastic called microfibers are shed into the environment. Microfibers are too small to be filtered out by waste treatment plants, so they can end up in our waterways and oceans by the billions."
Note: Sustainability definitely does not equal boring. Along with the increased environmental consciousness, six new stylish prints are available across 12 new styles, including a metallic leopard print and a healthy dose of neon tie-dye. Reformation now also offers a laundry bag, called the Guppyfriend, which, if used in a washing machine, will collect any microfibers that shed from your swimwear as it is cleaned (otherwise, hand-washing in cold water is the most environmentally-friendly option).
Over the past several months, Reformation has introduced a series of efforts in the realm of sustainability, including its partnership with thredUP, that turns your donated clothing into credit for Reformation goods, as well as its collaboration with Cosabella for a line of sustainable lingerie.
Peek through some of our favorite selections from the new styles offered by Reformation, below, and check out the entire collection here.
Reformation, Tide Bikini Top in Feline, $78, available at Reformation; Reformation, Ventura Bikini Bottom in Feline, $78, available at Reformation.
Reformation, Riviera One Piece in Black Nalah, $128, available at Reformation.
Reformation, Topanga One Piece in Piscine, $128, available at Reformation.
Reformation, Cove One Piece in Camilla, $128, available at Reformation.
Reformation, Malibu Bikini Top in Piscine, $68, available at Reformation; Reformation, Laguna Bikini Bottom in Piscine, $58, available at Reformation.
NYLON uses affiliate links and may earn a commission if you purchase something through those links, but every product chosen is selected independently.