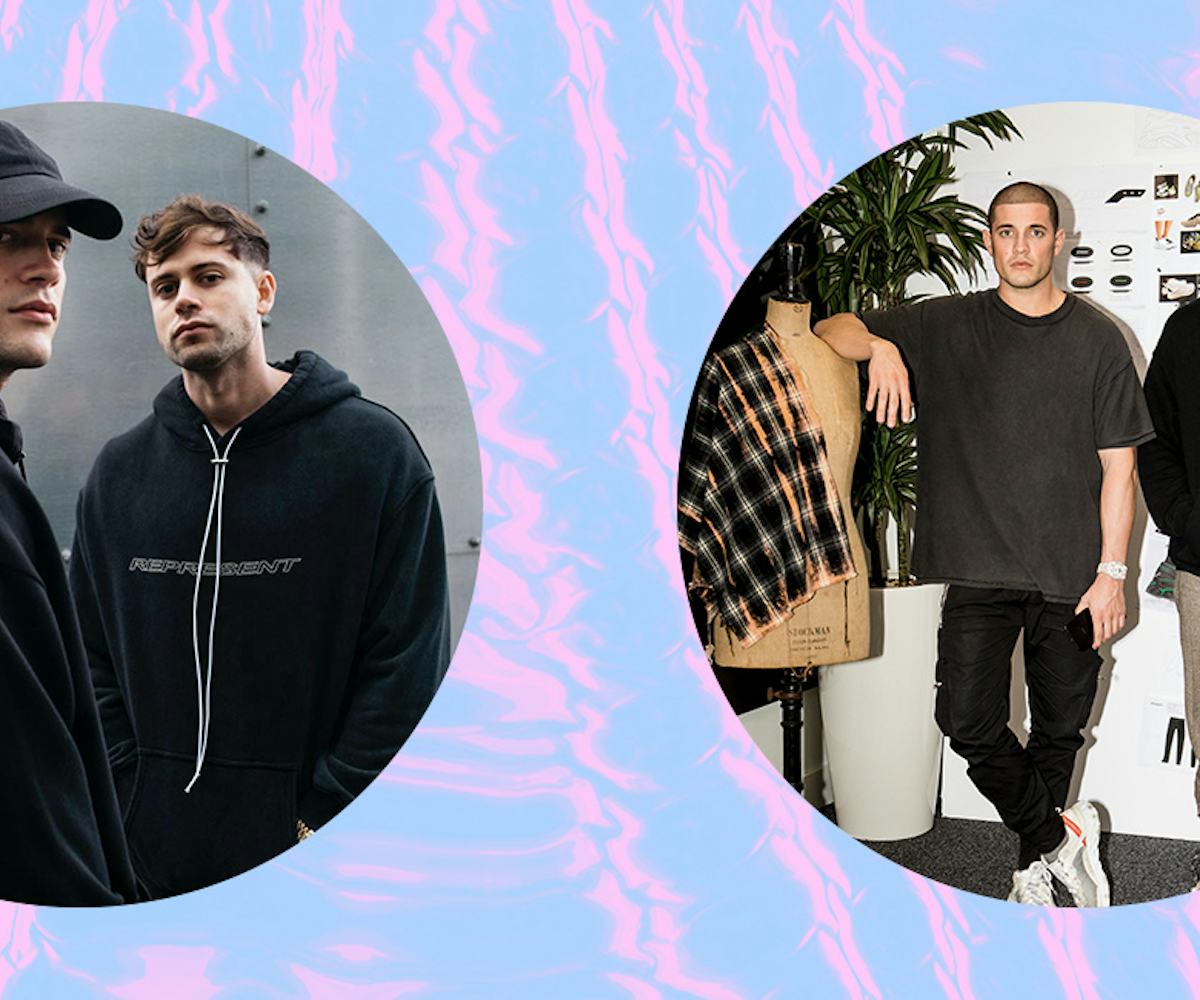 Get To Know Represent, The Brand Repped By Justin Bieber And Machine Gun Kelly
You could call it a British invasion
Brothers George and Mike Heaton launched the Manchester-based menswear streetwear brand, Represent, back in 2012. Since then, it's been, as a Brit might say, full-on for the brothers, who are only in their mid-20s. What started as a T-shirt company has developed into a bona fide fashion house, amassing a wildly dedicated audience along the way—an audience who, by the way, now includes The Weeknd, Post Malone, Justin Bieber, Machine Gun Kelly, Kim Kardashian, Dua Lipa, and Hailey Baldwin.
Things won't be slowing down anytime soon for the perpetually buzzed-about brand, who've shown at Milan Fashion Week the past two seasons. Earlier this fall—thank the fashion gods—womenswear! Spoiler alert for those who are already fans of the brothers' British subculture-inspired duds: There's a lot to fan out over, as proven in the campaign images, in which moody youth replete with detached, fucks-free gazes rock plaid pants, cropped puffers and bombers, and fanny packs pose it up all around an outdoor grimy car park. (No, Larry Clark didn't cast and shoot this.)
Most recently, the brand tapped Luka Sabbat to star in the campaign for its limited-edition capsule collection. "We chose Luka for the campaign because we wanted to create a capsule that involved Luka's style; something we introduced for the first time being straight-leg denim and loose-fitting pants and more graphic-involved garments. It was a nod toward our FW19 season," the brand said. "Luka was a pleasure to shoot with and a perfect fit for the garments."
Given all this, we just had to chat with co-founder and co-creative director George Heaton and design director, James Gullick. Topics included: expansion into womenswear, which famous fan reps (sorry, had to) Represent the best, the brand's penchant for repping (sorry, again) their hometown, and what else is up their sartorial-slaying sleeves that'll surely result in our credit cards getting declined. Again.
Can you explain the role each of you plays within the brand?
James Gullick: George and Mike are both the founders and co-creative directors of the brand. I work closely between them on product design and development. We like to design collaboratively and physically with all initial samples and patterns being made in-house by myself. George focuses his time on strategy of the business whilst Mike is always in the creative process. It's worked really well to date with a great balance between all our strengths.
George, before starting Represent with your brother, what did you think it'd be like to run a clothing label? What's been the actual reality of it? Was it your goal to be what you've now become?
George Heaton: It was definitely a goal at the beginning of Represent to be a successful brand, both online and in stores, like we are today. As the term "streetwear" was a heavy part of our lives when we began with brands like Obey, Diamond Supply, and HUF gaining so much success, it really inspired us to do it ourselves. I remember watching the owners of these brands on YouTube—all day, every day—with the lifestyle that came with owning a clothing brand, which was a major future goal. We then began to attend the same trade shows and started hosting events with them, which was definitely strange at first but has become the norm over time. Going into the fashion industry with no knowledge of the fashion process from studying allowed our minds to be open to whatever came at us in the beginning. We were working 18 hour days every single day whilst juggling university degrees the first three years, which was a huge struggle but that helped us structure a working business by ourselves.
What do you think majorly launched your career? Is there a moment that stands out when you realized that there was a huge interest out there of people who loved and wanted to wear Represent?
GH: In 2014, we released our first collection named "Ghost," paying homage to the British, luxury car manufacturer of Rolls-Royce whilst we laid the foundation of our aesthetic and who we were as a brand. The collection contained custom fabrics, our own silhouettes, and the launch of our signature denim which really shook the market at the time as it was so different. This got posted on blogs and channels globally which grew Represent's social media following, and customer base expanded rapidly both here in the U.K. and globally.
How did you come up with the name Represent?
GH: Honestly, it was from a list of around 20 names, which I'd written down in college at the time. It was originally written as "Representing," which I then crossed out the "ing" and we went straight into working on the logo design.
In terms of your creative process, how long does it take start-to-finish? Are there multiple revisions to a look?
JG: The creative process is a constant journey that, honestly, never really ends. Pieces and looks that we're happy with get revised all the time with different fabrics, trims, or colorways. The two main seasons of the year obviously take longer with more sampling and development required to produce a collection strong enough to both showcase and sell to stores. We always begin with a muse and theme for the collection by which time Premier Vision fabric trade show lands bi-annually. We will spend a few days searching for fabrics and color palettes, which then cross back to initial silhouettes and samples in-house at our studio. There are then multiple revisions of garments and looks in our factories which leads to the confirmed samples pre-show and sales season.
You're still based in Manchester, you use factories in the U.K., your collections often pay homage to your U.K. roots, etc. Why is this important to you? Or, is it just that daily life in Manchester influences your designs?
JG: I think our culture and attitude in Manchester and the north of England generally sets us apart from other U.K. brands. We like to stay away a little from the whole London fashion scene, which allows us to just crack on with Rep without the many distractions within the industry. Celebrating the U.K. through both manufacture and influence will forever be important to us as we're proud to be British, and I think young people in this country should feel the same towards our society. Manchester especially is a hub for creativity, and utilizing that to our advantage is a no-brainer for us. The story of the brand is a personal and sentimental one, which the whole team relates to.
Do you feel like there's a typical Manchester fashion aesthetic? Do you find it much different than London?
GH: Manchester has many varieties of fashion aesthetics, which are very dependent on the location of the city you're in. There are many sub-trends in different areas of the city. Like for instance, the Northern Quarter, which has a completely different vibe in terms of fashion to areas that are a stone's throw away. It's not much different to London as both cities are vibrant and very fashion-conscious.
What led you to make womenswear?
JG: The womenswear introduction came from our Milan showroom for Men's FW18. We had a lot of interest from international womenswear stores, and we put a few girls in the men's collection for our Milan Fashion Week runway show. Accounts then began buying smaller sizes specifically for their female customer. As the brand grew, with the size of the team expanding and the move to our new studios, we had the foundation to test the waters with a capsule for FW18, which we put into our showroom but made no noise about. Around 20 luxury stores from around the world, some not even carrying the men's collection, quickly picked up the women's collection. The collection is heavily based on the men's through both fabrication and aesthetic but with new silhouettes and shapes. The reaction led us to spending time developing a womenswear team to really develop a solid collection for SS19/FW19. It's definitely been a natural progression and we felt now was the right time for us to enter the women's market.
There's a slew of enthusiastic comments re: releasing womenswear on your Instagram. Does social media play a significant role in what you're designing?
GH: The reaction has been amazing, as we've solely been menswear. I wasn't expecting a natural traction when introducing a few images to present the showroom. Social media does play a role in design, absolutely; naturally, a product that gets a good reaction via social media channels will always perform better on the web store and in stores. We work with what is strong in that market as well as working with what we want to develop and create based on our gut feelings and ideas around every product.
Major celebs are wearing Represent. Which celebrity has been the most supportive?
GH: Machine Gun Kelly, who was both mine and Mike's favorite artist from a young age and someone we always wanted to wear Represent. We became friends with him a few years back, and he has really become a quiet muse for the brand. The rock aesthetic he carries with his rap-based career is so in line with our brand.
Which celebrity are you most surprised has worn Represent? Is there someone you really would love to wear your clothes?
GH: Who's most surprised me is a difficult question… It feels good to wake up and see celebrities wearing Represent, from the Kardashians to Justin Bieber, and it certainly gives you a level of achievement. I would still say personally that, as my favorite artist, Machine Gun Kelly first wearing the brand all those years ago was an amazing achievement. And growing that relationship to a friendship over the years has been special.
What will define Represent in the coming years?
GH: Lots of things, we hope.
JG: I think the womenswear is really going to push the development of Represent as a brand on the whole over the next few years. We have high hopes of it surpassing the success of the menswear.
GH: Also, just a regular release of unique product on our own online platform as well as our ever-growing wholesale business will help keep us relevant and accessible. Our British-made collaborations coming later this year are a strong reflection of our brand. And, of course, who we want to be.